The smart industry is bound to witness an array of new developments and innovations in the coming years. From providing smart access control to enabling seamless mobile communications, smart card technology is continuously finding its way into new use-cases. Its application is expanding with the need for the security of applications that employ critical information, documents, and credentials.
Different types of smart cards such as contactless, contact-based, hybrid, and dual interface offer enhanced security and reliability through encryption. The deployment of these technologies across industries is rising amid the rapidly shifting landscape in light of the COVID-19 pandemic.
The COVID-19-induced work-from-home trend has restricted the use of smart cards across numerous sectors. However, the healthcare sector has opened up new opportunities for smart card adoption, with exponentially rising volumes of hospital admissions.
With growing pressure on healthcare facilities amid the COVID-19 pandemic, smart cards are assisting frontline workers in delivering efficient and reliable patient care. These cards not only enable secure storage of patient information which can be accessed by providers conveniently but also ensure security against healthcare frauds.
Accelerated by their expanding use in healthcare settings, the global smart card market size is poised to touch US$75 billion by 2027. Let's explore how smart card technology is disrupting healthcare and take a look at some key challenges that may limit technology adoption in the future.
Smart cards Facilitate Smarter Healthcare
Increasing costs of healthcare services have become a critical issue for governments, hospital facilities, healthcare providers, pharmacies, insurance companies, and many others. Consequently, availing of these services is becoming more and more challenging for patients. Healthcare becomes even more expensive as people get older and require more frequent visits. Also, most patients today see multiple doctors and specialists, making patient medical records difficult to store.
This is where smart card technology comes into play. The introduction of smart card-based e-health services is proving to be one of the highly successful methods of healthcare delivery, especially amid the ongoing COVID-19 situation. Smart health cards can not only manage patient identity but also offer healthcare providers secure and reliable access to medical records.
Several innovations have been observed in the smart card industry in recent years. Some of the recent developments around smart health cards are listed below.
European Commission to debut 'Cancer Survivor Smart Card'
Recently in November 2021, the European Commission announced that it is working on a Cancer Survivor Smart Card. The smart eCard, which also comes in the form of an app, will allow patients to connect with medical professionals, including the survivor's general practitioner.
Funded by the EU4Health Program, the smart card is part of the commission's Better Life for Cancer Patients Initiative. With this technology, the European Commission aims to improve communication between healthcare professionals and survivors.
IDEMIA to Roll out three New Smart Health Cards in Germany
Last year, IDEMIA, a leading provider of smart access control solutions, received approval for three new smart health card products from Germatik, the organization that governs German health telematics.
Recently, IDEMIA renewed a long-term partnership with German Health authorities for the supply of its new-generation health cards. The company's new smart health card portfolio includes:
HBA – a smart card for healthcare professionals including doctors, hospital staff, pharmacists, dentists, etc.
SMCB – an identity card for specific medical facilities such as hospitals, doctor's offices, clinics, etc.
eGK – an electronic smart health card for health insured residents.
Apple to enable New iOS 15 Support for SMART Health Card
iPhone maker Apple made a series of health-related announcements at its Worldwide Developers Conference (WWDC) held in June 2021. Building on years of innovative health features in the Apple Watch and iPhone, the iOS 15 will continue the trend.
As part of its plans to advance personal health innovation, Apple announced that its latest iOS 15 will support the SMART Health Card. This will allow users to store medical records, test results, and immunizations in its Health app.
SMART Health Cards are digital versions of clinical information of patients such as test results or vaccination history.
Regulatory organizations are taking active measures to promote the use of smart cards in healthcare. For instance, the European Commission had mandated patients and healthcare providers to migrate from the existing paper E111 forms to smart cards. Meanwhile, in the U.S., health insurers are considering upgrading insurance cards for commercial applications. Such efforts will certainly augment the smart card market share from the healthcare sector.
Challenges for the Smart Card Industry to Watch Out for
Today, smart cards are virtually everywhere and there's no doubt that the technology is here to stay. But, there still remain some challenges that are limiting its widespread adoption in certain applications. Some of these include concerns regarding security and privacy, especially amid the rising number of cyberattacks.
CardLogix, Cardcom, CPI Card Group, Verifone, Ingenico, NXP Semiconductors NV, Hypercom, Square, Inc., and Infineon Technologies AG are some of the leading developers of smart card technology. While focusing on developing more innovative, secure, and reliable solutions, these companies are exploring new opportunities in emerging markets across developing regions, some of which are considerably lagging behind in the adoption of smart technologies.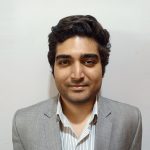 A graduate in electronics and telecommunication engineering, Hrishikesh Kadam has always found writing fascinating. Driven by a never-ending passion for content creation combined with a bit of experience in writing personal blogs, Hrishikesh blends his technical knowledge and expertise to pen down articles for numerous online portals.