Just a few weeks ago (April 20, 2019), while delivering remarks on US 5G Deployment, US President Trump had said in a lighter vein:
"And I guess, at some point, we'll be talking to you about number 6."
Looks like that point of time will come sooner than expected.
I am reminded of Thomas Friedman's 2016 book Thank You for Being Late: An Optimist's Guide to Thriving in the Age of Accelerations and its essential premise:
"planet's three largest forces―Moore's law (technology), the Market (globalization), and Mother Nature (climate change and biodiversity loss)―are accelerating all at once. These accelerations are transforming five key realms: the workplace, politics, geopolitics, ethics, and community."
Driven by this "Age of Acceleration", 6G is upon us even as we are getting started with 5G.
The recent circulation of the draft Wireless Communications and Applications Above 100 GHz: Opportunities and Challenges for 6G and Beyond submitted to IEEE by Theodore S. Rappaport et al is causing much "excitement" in the geekworld (Researchers say 6G will stream human brain-caliber AI to wireless devices). And that too when the world was just about getting started with the deployment of 5G.
The realm of possibilities it opens up are pretty interesting:
Enable wireless devices to remotely transfer quantities of computational data comparable to a human brain in real time:
a wireless drone with limited onboard computing could be remotely guided by a server-sized AI as capable as a top human pilot.
a building could be assembled by machinery directed by computers far from the construction site.
(Potential Use Cases: I can visualize this playing a role in an industrial environment: oil rigs, chemical plants et al. The way edge computing is currently fathomed will also change).
The submillimeter wave spectra will enable enhancements of existing technologies, such as see-in-the-dark millimeter wave cameras, high-definition radar, and terahertz (rather than millimeter wave) security body scanning. (Potential Use Cases: the ability to see behind walls? Safety devices looking beyond visual line of sight?)
The incredibly high bandwidth will also enable a transition from reliance on fiber cable infrastructure to "wireless fiber" for network backhaul and data center connectivity. (Potential Use Cases: reduced latency, quick switching/disaster recovery between data centers, reduced the cost of "connectedness")
Well, still all pie-in-the-sky till associated challenges (including health and safety et al) are addressed but still a good indicator of the shape of things to come. Also, shows what the researcher's priorities are – from their labs today to the streets of the world in the near future. As Ali Niknejad, a professor at the University of California, Berkeley says in this IEEE Spectrum article It's Never Too Early to Think About 6G:
"This is research," says Niknejad, "You're looking at the future, looking well beyond today. 5G research started over 10 years ago. Looking at when 6G will come out, it makes sense to start it now."
Even as others safely hedge their bets ( Are you ready to look at 6G?):
Who knows what 6G has in store for us, but here's to hoping 5G isn't an over-hyped dud.
(The views expressed in this article are the author's own and do not necessarily represent those of his employer)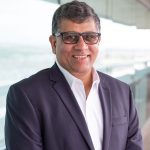 Deepak Seth is Principal Director, Technology Consulting at Accenture. He provides Innovation and Thought Leadership as part of Accenture's CIO Advisory practice for clients in the Resources sector (Oil and Gas, Chemicals, Utilities, Minerals and Mining etc.). Prior to this Deepak has handled diverse and progressively increasing responsibilities at Xerox's IT organization. His last role was as Technology Strategy and Business Transformation leader for Solution Delivery and Acceleration. Deepak is a passionate advocate for innovation and adoption of Cloud solutions, AI/ML, API Microservices, predictive analytics, collaboration tools, blockchain, and other nascent/disruptive technologies into the enterprise to develop new opportunities and applications. Prior to Xerox, he has led several global initiatives for leading Corporations (including Bausch+Lomb, BlueCross BlueShield, Glaxo etc.). He has extensive experience in sales, finance and information technology in Asia, Africa and the Americas.