When I first starting thinking about the subject matter I wanted to address in this article, it was going to be on recent trends in technology for the manufacturing sector – examples of how Industry 4.0 and Smart Manufacturing (SM) Technologies could impact manufacturing operations across the country, around the world. But by the time I got around to writing my thoughts down, Covid-19 essentially turned the world upside down. In a matter of a few weeks, the impact of the virus on the health of human beings brought the world economy to a grinding crawl. And that, in a way, provided me with an impetus to talk about the importance of the human factor in making any Industry 4.0 or SM technology trend successful.

Simply defined, Smart Manufacturing is having the right information, in the right form, at the right time, at the right place in order, for machines and/or humans and/or systems to make smarter data-driven decisions for manufacturing. The building blocks that make this happen are made up of advanced sensing, intelligent control, data analytics, modeling & simulation, machine learning/AI, powered by a framework that allows information to flow seamlessly, in-context, between technologies that create the data and technologies that consume it to provide value.

There are several hundred IIoT platforms out there that will help manufacturers connect their machines, factories and products to the cloud, where there are hundreds of thousands of Apps that will consume that data and help you visualize, analyze and predict using the power of computing. However, the fundamental assumption is that the data has somehow been organized, structured and contextualized in a fashion that the Apps can readily consume it for the purposes they were built for. The reality is far from it. E.g., data analysts will tell you that cleaning up, aggregating, integrating and contextualizing data takes 70-80% of their time. You've probably heard this from many others, so this should not come as a surprise.

So why is it so difficult to solve this contextualization problem? Many claim that this has been solved, but I would argue that it has been solved only for slices of the puzzle. It appears easy to get started with a specific use case, gather the right folks together, build a contextualized model and implement it. But to do that at scale, across the manufacturing line, or the enterprise takes a more comprehensive approach that needs to leverage both technologies as well as human expertise.

Many of the leading manufacturing IT technology providers in the market, and their counterparts in the non-private sector, are already committing to collaborate, create tools and data model concepts that would allow the creation of standards-based, scalable, extensible data models for this purpose. The need for open, common data models that allow us to represent physical things and then provide us with a means to move information in context between functions that provide value is all too clear and present. But this alone will not be sufficient. What goes into these information models is a strong function of what the end-use will be and what problem the data will be used to solve. This is where the role of the subject matter expert comes in.

Creating the right contextualized data structure needs to take into account the multiple lenses through which the data will be looked at. For example, for a unit production scenario, data required to satisfy the needs of those in charge of production, quality, maintenance, performance, recovery and logistics will differ. Data required by engineers and scientist looking to improve material, product or process performance or precision maybe different. These data sets do not need to be mutually exclusive – there may very well be significant overlap between them. But providing the different lenses, and determining the right contextualized structure is precisely where subject matter expertise is key.

It is therefore imperative that the right set of subject matter expertise is brought to the table during the very early stages of designing and developing any Industry 4.0 or SM solution. Those that have been on the SM journey for a while will attest to how important this is. Many will also tell you the amount of investment they had to make in domain expertise to ensure that the technology investments actually work on the shop floor. But these investments cannot take place overnight. They need to be part of your strategy – as an equally important pillar to technology.

Having the right expertise available at the right time and in the right place requires commitment from organizational leaders to create and execute a strategy that includes the key aspects of acquisition, training, growth, engagement and recognition, to name a few. Acquiring talent for the Industry 4.0 era is not easy, as you will hear from many. We have to stop looking for unicorns. Rather, find people with the right balance of hard and soft skills, breadth in capabilities, and then provide them a means to quickly grow the necessary expertise within your organization. Engage them in the early stages of defining the problem and in creating technical solutions. Let them work with cross-functional teams that are creating the SM solution so that they can help develop practical, implementable solutions. Make them part of the success stories and small wins. Celebrate their accomplishments and successes. This may sound like a lot to take on, but what you will get in return is going to be priceless. I firmly believe that investments in talent and expertise will never let you down.

In closing, I would like to ask: At the time when Covid-19 has brought upon us a new reality of social distancing and remote work, might there be an opportunity for us to invest in strengthening and rebuilding our talent, for us to be ready when we emerge on the other side of this? I strongly believe there is!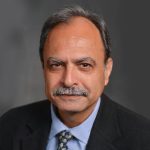 Haresh was appointed Chief Technology Officer of CESMII starting March 1, 2018. He brings over 29 years of experience in industrial RD&E covering development and deployment of Smart Manufacturing technologies, including sensing, automation, control, modeling, simulation and analytics for applications in continuous, hybrid and discrete manufacturing operations. Haresh oversees the technology mission, road map and objectives of CESMII. He is responsible for developing the institute's project portfolio for Smart Manufacturing technologies spanning advanced sensors, controls, modeling, analytics and platforms for manufacturing. He also oversees the development and application of the nation's first open, collaborative Smart Manufacturing technology platform for industrial applications.