The worldwide nanotechnology industry was estimated at $1.76 billion in 2020 and is expected to grow at a CAGR of 36.4% between 2021 to 2030 to achieve $33.63 billion. Manufacturers are now able to operate at scales as small as one billionth of a meter because of a succession of advances in materials and techniques. The best example of this is healthcare.
At micro scales, it is easier and conceivable to construct materials that perform uniquely as per our requirement: be it their size or technology because they are relatively inexpensive and easier to experiment with.
Thanks to it, we can now manufacture things easily that were impossible to make. So, even though nanotechnology in manufacturing is still relatively young, it has already been utilized in large-scale manufacturing.
Let's understand this in detail. Read on ahead!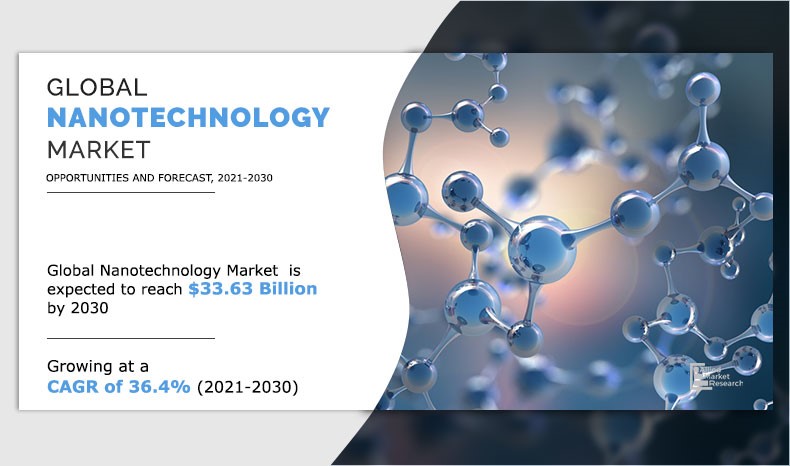 Source: Alliedmarketresearch
Bottom Up or Top Down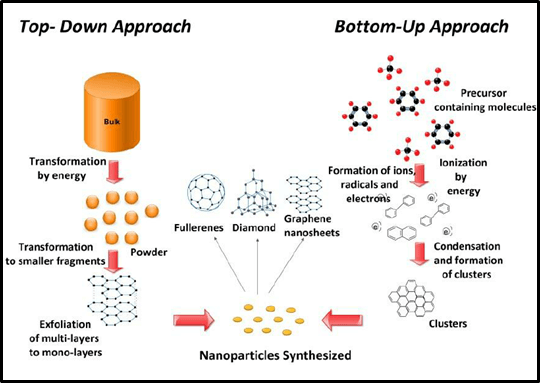 Source: Nanografi
Nanomaterials, architectures, technologies, and systems are produced at scales that are affordable, and efficient. These next-generation goods offer better performance at a cheaper cost and increased sustainability.
To achieve this, nanomanufacturing is done in one of two ways— top-down or bottom-up. Top-down manufacturing begins with a slab of raw material which gradually gets broken down into nanoscale items.
The bottom-up technique gives engineers more building alternatives because products are developed from atomic and cellular components, given these nanofabrication methods combine fundamental units into more complex ones using chemical or physical forces that act at the nanoscale.
Bottom-up methods are an increasingly significant complement to top-down methods in nanofabrication as component sizes get smaller. Bottom-up strategies find their inspiration in natural systems, where evolution has used chemical forces to make all the structures required for life.
Researchers attempt to mimic nature's capacity to generate small clusters of particular atoms that can subsequently self-assemble into more complex structures. The following cutting-edge procedures enable bottom-up nanotechnology in manufacturing:
Chemical vapor deposition: By combining chemicals that react, exceptionally pure, high-performance films are created.
Molecular beam epitaxy: It is a technique for depositing single crystals that is particularly helpful in producing semiconductors.
Atomic layer epitaxy: It is a method for adding layers to a one-atom-thick surface.
"Dip pen" lithography: It involves writing on a substrate surface with a chemical solution by dipping the end of the atomic force microscopy (AFM) into it.
Roll-to-roll technology: It creates nanoscale devices in large quantities on a roll of extremely thin metal and polymer.
Self-assembly: It is the process by which different chemical or biological molecule structures naturally associate with one another to create an ordered structure without external guidance.
So, using the bottom-up approach of nanotechnology in manufacturing has sparked work on developing molecular parts that can self-assemble into a particular structure without requiring outside interaction.
Let's discuss the applications that provide verifiable proof of the fate of manufacturing.
Applications of Nanotechnology in Manufacturing
Various industries use nanotechnology to create goods with enhanced capabilities or lower production costs. Instances of how nanotechnology is currently assisting manufacturing include:
i). Industry of Semiconductors
Recent research has shown conclusively that the semiconductor industry's technological advancements have significantly boosted productivity growth and raised living standards in the United States.
In 1950, the semiconductor business had sales of just a few thousand dollars but today it generates hundreds of billions of dollars.
The dimension of the transistors, for instance, "a switch" used by us on a day-to-day basis is the primary indicator of technological advancement in this sector.
So, the growing market of such smaller transistors has been the axis of this sector. One such advancement to achieve this aim are the nanoscale structures of carbon nanotubes (CNT) that provides flexible electrical characteristics. Researchers at IBM have manufactured a simple computer entirely built of CNT transistors!
Recently, scientists following the footsteps of CNT, have also created graphene semiconductor chips using nanomanufacturing methods.
They're being considered to be a revolution that will create the next generation of tiny transistors (known as "gate-all-around" transistors) for microchips using silicon nanowires with diameters only a nanometer long.
ii). Nanomachines
Researchers have successfully created functional nanomotors, nanorobots, and nanomachines from physiochemical to biological molecules. These nanoparticles self-assemble into programmable, useful machines at the nanoscale.
They have a lot of potential in the realm of medicine since they are small enough to penetrate through the circulatory system. For instance, they could be microscopic robots that locate and eradicate cancer tumors by penetrating the tumor and releasing tiny chemical payloads.
iii). Fuel Economy
To create compounds for adhesives, sealants, coatings, potting, and encapsulating, polymer nanotechnology entails dispersing nanoparticles into an existing polymer matrix.
These applications may acquire properties like thermal properties, moisture and resistance to chemicals, better tensile strength, and even fire resistance by using nanoparticle fillers.
iv). Friction Reduction
The application of nanotechnology in manufacturing lubricants has opened the door to more creative manufacturing options. Nanoparticles can be utilized where lubricants are usually used to lessen friction between two objects.
These nanoparticles reduce the possibility of heat, wear, and oil failure by rolling between both the surfaces like tiny ball bearings. This discovery could be transformational for the industry's future and the environment due to the finite availability of fossil fuels.
Even though a nanometre is only a fraction of the planet's size, nanotechnology is very important.
Advantages and Disadvantages of Nanotechnology in Manufacturing
There are always advantages and disadvantages to everything and nanotechnology is no exception.
Advantages
Thanks to nanotechnology, almost every produced product is made quicker, sharper, safer, greener, and with more precision.
New materials are already becoming available thanks to nanotechnology, which might completely change the manufacturing industry.
For instance, aerogels, are made of extremely light and durable material with extraordinary insulating qualities.
Nanites and nanobots are only a few nanometers long and can be used to create innovative materials and products. They're already being used to revolutionize medical device construction.
Disadvantages
The absence of employment in traditional farming, manufacturing, and the industrial sector due to the rapid advancement of nanotechnology is one of the most significant drawbacks the world is currently experiencing.
To operate more quickly and correctly, nanotech devices and machines have replaced humans, diminishing the significance of men's power in the world of practical work.
Non-material and manufacturing at an industrial scale have several effects on the environment and human health.
FAQs
1. Can consumers trust manufacturers to assure the quality and safety of the products?
Yes, they most certainly should. Most American businesses are motivated to create safe products, and standards, recommendations, guidelines, and laws because of abiding by laws and statutes set by the governmental regulatory agencies, trade groups, advisory bodies, and other organizations.
If anything terrible happens, as it recently did with safety concerns over Toyota cars, they could face government fines and lose market share. Companies will face legal action even if they strictly adhere to the laws.
2. Should labeling be placed on consumer items that contain nanoparticles?
In general, Nanomaterials' safety and labeling is still a matter of debate. Nanotechnology in manufacturing is subject to a few laws, including those only for the public's benefit, such as labeling. Cosmetics using nanomaterials must list them on the label in Europe.
Any user of nanomaterials in Berkeley, California, must inform the city of their nanomaterials and any information on their environmental wellness and safety qualities.
The Bottom Line
It's only recently that nanotechnology has been applied widely. But recently, the technology has quickly risen in popularity as new studies, and innovative experimental approaches have demonstrated the potential of these nanotechnologies.
Prominent nanotechnology, like CO nanotubes, is already produced in large quantities and used in producing a wide range of products, including spacecraft parts, bicycle frames, and sailboat hulls.
Thanks to nanoscale design, highly flexible gadgets and circuit boards are being produced in electronics. Nanoscale robots, also known as nanomachines or nanites, may soon change the design of medical devices.
Manufacturing and nanotechnology will soon be connected in forms that will influence future procedures.