Organizations all over the world are taking initiatives to transform their business processes to become digital-first enterprises. To successfully achieve this goal, they are required to adopt critical technologies such as the Internet of Things (IoT), cloud, artificial intelligence (AI), machine learning (ML), and others. The adoption of these technologies has led to the creation of a wide-area network (WAN).
But enterprises face several complexities while managing their wide area networks (WAN). These new technologies devour limited bandwidth, as a result of which these existing networks are stretched beyond their intended lifespan, causing increased operating expenses and frequent downtime.
In addition to these issues, COVID-19 has forced enterprises to increase emphasis on remote working. But different locations often involve their own unique networking requirements. Not to forget the increased usage of the Internet of Things (IoT) and bring-your-own-device (BYOD) policies, which require robust security, scalability, and flexibility to meet fluctuating demands.
All these challenges can be mitigated by leveraging the services of enterprise networking solution providers. System and device interoperability, better internal and external data management, insight, and data accessibility are some of the topmost benefits that direct enterprises towards implementing enterprise networking solutions.
However, a smooth transition from outdated infrastructure to new software-driven architecture is a big challenge several enterprises face when making the switch.
Additionally, mobile devices are ubiquitous today, which has led to several vulnerabilities and safety issues. So the enterprises are looking for enterprise networking companies that can offer reliable, robust, secure, and comprehensive enterprise networking solutions that address all these challenges.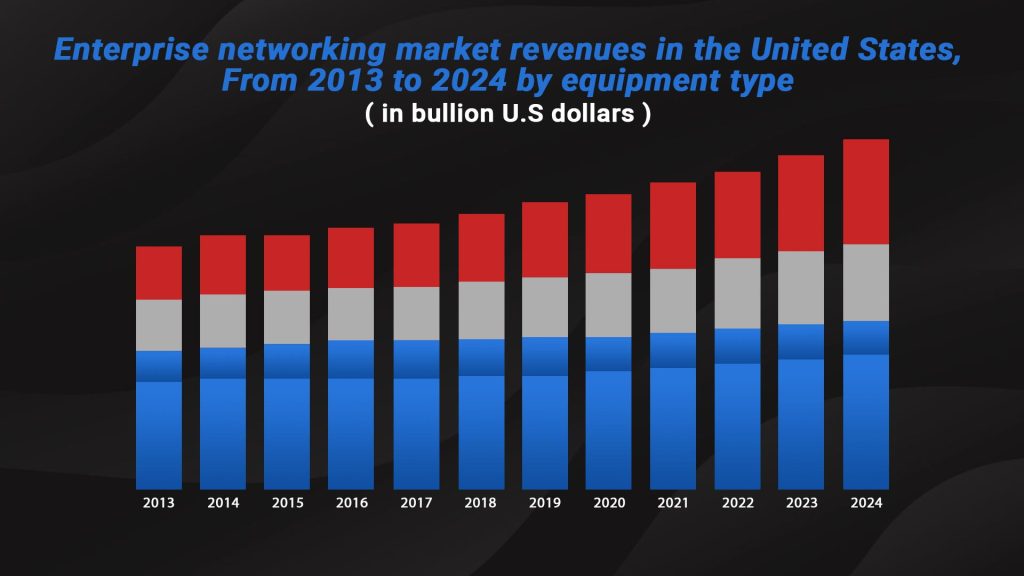 The above graph represents the enterprise networking market revenues in the United States, from 2013 to 2024 by equipment type.
Finding reliable enterprise networking software providers to accommodate their different business needs is essential now more than ever for enterprises to give their companies a competitive edge.
So we present to you top enterprise networking companies that continually improve their solutions to address different business needs and have a demonstrated track record of successful deployments.
Enterprise Architecture Solution Providers

All Categories

Enterprise Architecture Solution Providers
All Years

All Years

2018
2019
2020
2021
2022