Contact center software provides a technological solution that improves a contact center's efficiency. It focuses on improving relationships between consumers and contact center personnel. A contact center software's essential function is to redirect customer contacts to representatives while tracking and reporting crucial metrics about those interactions.
Contact center software has user-defined rules that route communications to employees with the necessary skills to handle diverse queries. However, contact center software has evolved to be capable of routing contacts across numerous channels. These channels include email, chat, SMS, and even social media.
Contact center software was traditionally an on-premises service that required significant upfront capital. The migration of software to the cloud has become relatively economical. Many also use the "pay as you use" format, making it more accessible to a broader spectrum of enterprises.
However, the primary reason businesses prefer contact center software is its numerous advantages. For one, Automatic Call Distributors, or ACDs, a critical component of contact center operations, route incoming calls. The routing happens depending on rules related to agent availability, the type of complaint, agent capabilities, etc.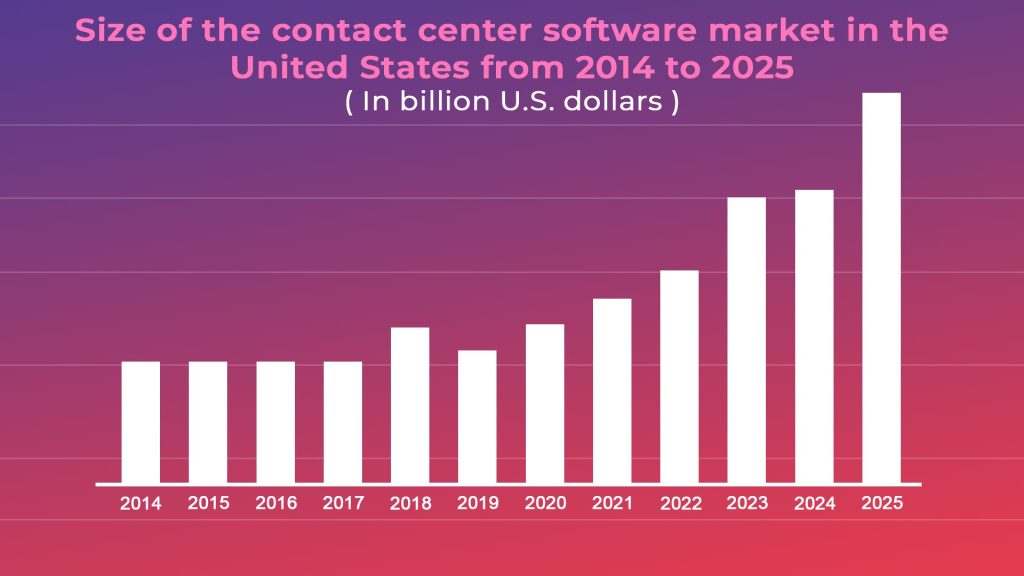 The above graph represents the size of the contact center software market in the United States from 2014 to 2025.
Advanced ACDs also route contacts from digital platforms and include extra routing parameters into their algorithms, such as consumer sentiment.
IVR systems, also known as interactive voice response (IVR) systems, greet callers and allow them to engage with menus. This engagement eventually directs them to an agent. IVRs can also be connected with ACDs.
This is because the information obtained by IVRs improves the effectiveness of ACD routing. In fact, newer IVRs employ voice recognition to allow users to vocalize their requests or menu selections simply.
Additionally, contact center software packages often comprise workforce management (WFM) systems, which automate volume predictions, operator scheduling, and intraday monitoring. Advanced WFM software also includes omnichannel capabilities, AI-infused forecasting, and the ability for agents to modify their schedules.
Besides that, contact center software also includes call recording systems, enabling contact centers to record, archive, and retrieve calls. Moreover, reporting solutions enable data-driven contact centers to keep track of crucial key performance metrics.
The better systems also provide many pre-built reports and allow end-users to construct their reports quickly. However, the best call recording software assists firms in remaining compliant with regulatory requirements. Furthermore, they are well-matched to the organization's needs.
Therefore, make informed decisions and pick a contact center software that fulfills all your business's demands. After all, there are many at your disposal!
Contact Center Solution Providers

All Categories

Contact Center Solution Providers
All Years

All Years

2018
2019
2020
2021
2022