When it comes to cybersecurity threats, no company or organization is immune. This implies that having robust risk and security management solutions is vital to remaining safe and protected against cybersecurity attacks. But the challenge for almost every organization is how?
Cybersecurity threats were already growing rapidly before the pandemic, but the numbers surged after the pandemic outbreak. FBI reported a 400% increase in the cases of cyberattacks post-coronavirus. As work environments shifted from the office to the home, cybersecurity became a top concern among businesses across industries.
Businesses worldwide had to adapt to their workers operating from different locations in the face of the pandemic. As a result of this shift, potentially vulnerable technology surfaces grew exponentially. A scattered workforce made businesses prone to various online attacks and opened the door to many security threats, such as malware, phishing, ransomware, SQL injections, DoS attacks, etc.
Fortunately, as the cybersecurity threat grew, so did the market for cybersecurity technology and many businesses opted to outsource a portion or all of their IT security and threats to third-party cybersecurity solution providers. Some even sought the help of the top cyber security companies, who help businesses stay secure with their set of advanced offerings.
While hackers are constantly looking for ways to find security loopholes and penetrate networks, cybersecurity solution providers and their professionals work around the clock to stay one step ahead and outsmart the malicious attackers.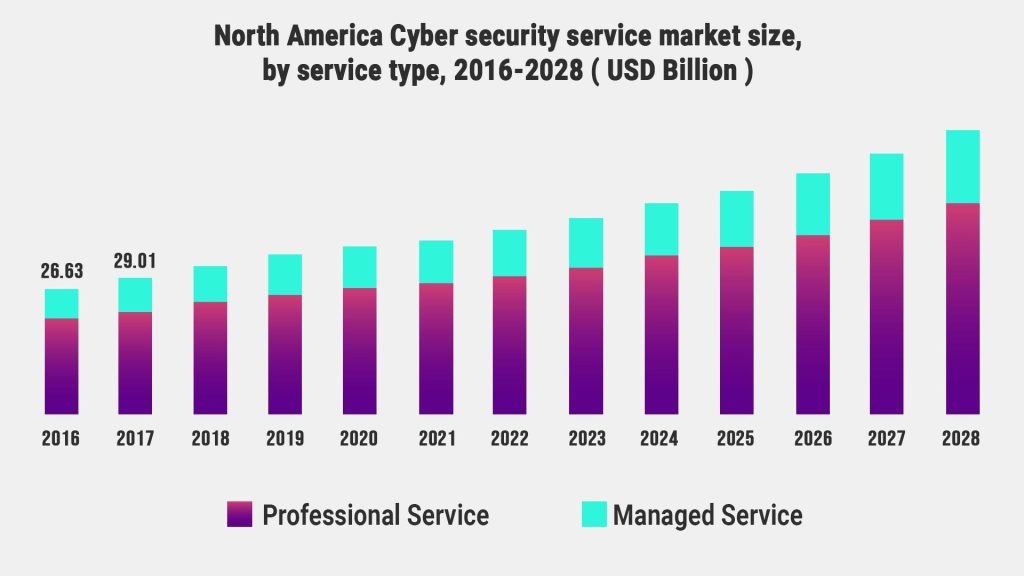 The above graphs represent the North America Cyber Security market size, by service type, 2016-2028 (USD Billion).
To help companies navigate through the best-of-breed cyber security solution providers, we have compiled a list of top cybersecurity solution providers representing some of the most technically advanced and innovative organizations in their approaches to protecting customers.
These top cyber security software providers provide comprehensive and proactive software solutions to ensure customers are protected against a wide range of cyberattacks and their valuable data and infrastructure are always secured.

Cyber Security Solution Providers

All Categories

Cyber Security Solution Providers
All Years

All Years

2018
2019
2020
2021
2022