With massive amounts of information and content being generated within companies, how it's being managed directly impacts business efficiency, IT infrastructure complexity, employee productivity, and, most importantly, turnover.
Most companies realize they need a robust enterprise content management (ECM) solution after encountering overarching business challenges, like unstructured information causing bottlenecks or handling too much paper when accessing, processing, or storing the information.
To solve all the above problems, businesses are turning to enterprise content management (ECM) companies. ECM software providers provide software platforms that comprise all the activities needed to manage content under one roof.
The solutions provided by the top ECM software companies enable enterprise-scale organizations to organize, store and retrieve their content intelligently. Besides, using ECM software enables the automation and digitization of businesses along with several other physical advantages, such as – enhanced productivity, minimized risks, user validation, better security, improved customer experience, maximum ROI, etc.
When it comes to ECM software providers, there are myriad vendors to choose from, which can often be confusing and frustrating for organizations looking to choose from the top ECM solution companies that can help them manage and alleviate their content management woes.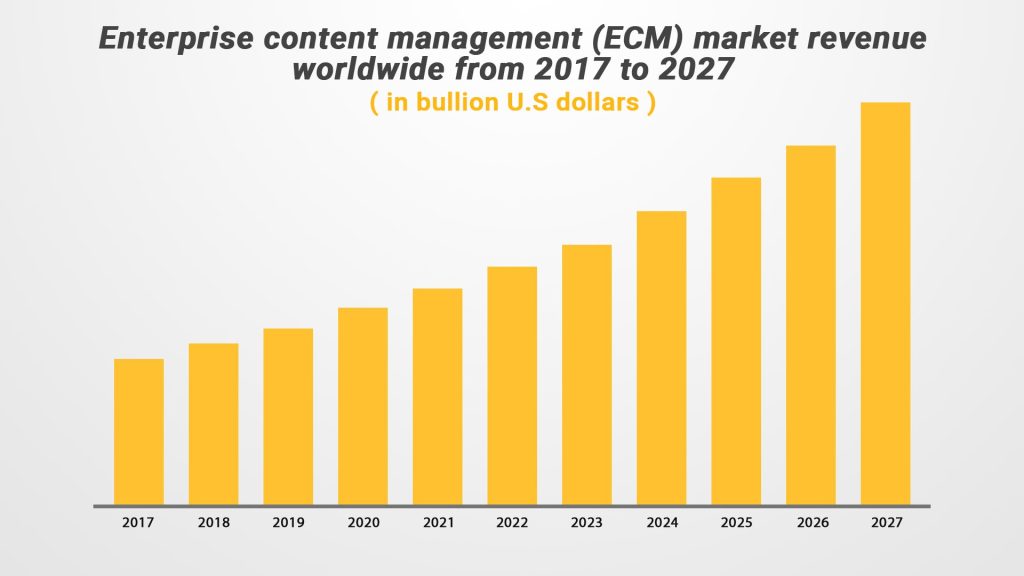 The above graph represents the enterprise content management (ECM) market revenue worldwide from 2017 to 2027.
There are many things that should be taken into consideration before choosing an ECM provider, such as alignment with business objectives, ease of use, ease of integration with existing systems and applications, scalability, cloud readiness, mobility, security, etc.
To acquire all this information about the ECM solution providers, a lot of research and time is required. You have to sort through all suitable options and choose the best one as per your business needs.
To save you time, effort, and resources, we present the best Enterprise Content Management Tech Companies 2021 that have made a mark on the market for developing innovative and effective ECM products.
ECM Solution Providers

All Categories

ECM Solution Providers
All Years

All Years

2018
2019
2020
2021
2022