Globally, the aerospace solutions market is experiencing significant disruptions due to the latest innovations, digitization, and transformation resulting from it. Aerospace is among the first sectors to embrace innovative advanced manufacturing approaches due to the unique challenges that exist in designing aircraft and spacecraft.
Besides the unique needs of the industry, it's the booming passenger travel after the pandemic and flaring global military expenditure that has led to a surge in demand for innovative aerospace solutions.
Therefore, it's essential for top aerospace & defense solution providers to make innovative solutions available at competitive prices that support atmospheric and space flight for both commercial and military defense applications and address their unique challenges.
Additionally, as the avionics and equipment being utilized by top aerospace & defense companies are getting complex with time, the traditional ways of manufacturing do not serve the aim.
It is for this reason; that digital manufacturing is fast gaining traction due to its ability to design, develop, and manufacture intricate aerospace parts that are cost-effective, aerodynamically superior, and fuel-efficient.
In the below graph, check the US Aerospace and defense materials market zine, by product, 2016-2027.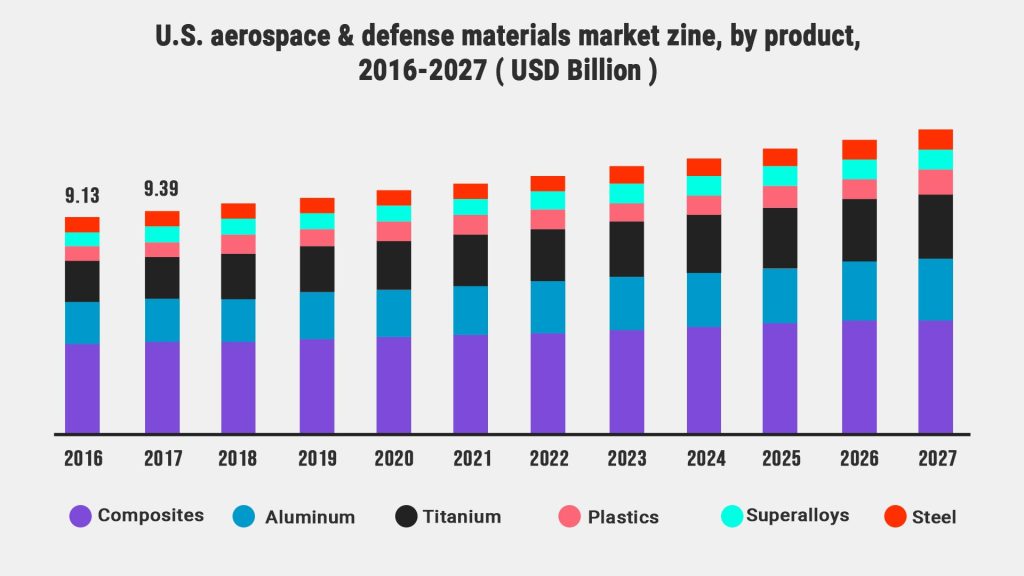 EDM Machining, for instance, is a digital manufacturing process; which yields high-precision equipment in a much shorter time, from designing to final output. Another technology is additive manufacturing, which is used for designing parts with advanced materials and unique geometries.
Aerospace & defense solution providers are putting in a tremendous amount of effort and dedication to innovate at a record pace and make more such technologies available to businesses in the aerospace and defense space.
None of the designing and developing processes would work successfully if not for the aerospace solutions providers. Today, the market is brimming with a plethora of such tech providers.
To help you avoid confusion and choose only the best vendor for your business, we present to you top aerospace & defense software providers in 2022 that possess unique sets of capabilities that are crucial to ensuring aircraft are safe, reliable, and efficient.
Aerospace and Defense Solution Providers

All Categories

Aerospace and Defense Solution Providers
All Years

All Years

2018
2019
2020
2021
2022