The enormous changes in the retail industry are facilitating the rise of modern business strategies. Therefore, giving the top retail software providers a competitive advantage.
The ever-evolving shopping behaviors have improved the retail solutions and produced specialty kiosks and pop-up shops.
The retail technology solution providers have gained flexibility at a low cost. Moreover, these new-age technologies have enhanced analytics of catching the consumer's attention.
Innovative AI-Powered Solutions in the Retail Sector
The need for automation from the top retail software providers has grown due to the quick service demand.
Innovations like automated robots in grocery stores or warehouses have helped top retail software companies skyrocket their sales. Furthermore, these AI-powered entities have dedicated programming to clean the premises and identify trip hazards by minimizing human efforts.
In addition, these robots designed by the top retail technology solution providers can operate with efficiency. They can improve shelving systems, automate tasks and take care of inventory.
Hence, saving time and satisfying consumers.
Retail Companies Are Feeding On AI-Technology
The solutions put forward by the top retail software providers have given rise to an avenue for value-added services. It is why retail companies are harnessing the advantage of virtual and augmented reality to satisfy customers.
The retail technology solution providers have come up with a computer vision solution. It helps cut down on many facets in the retail sector, in turn improving sales opportunities.
Retailers are leveraging this software by enhancing their compliance and shelf management techniques.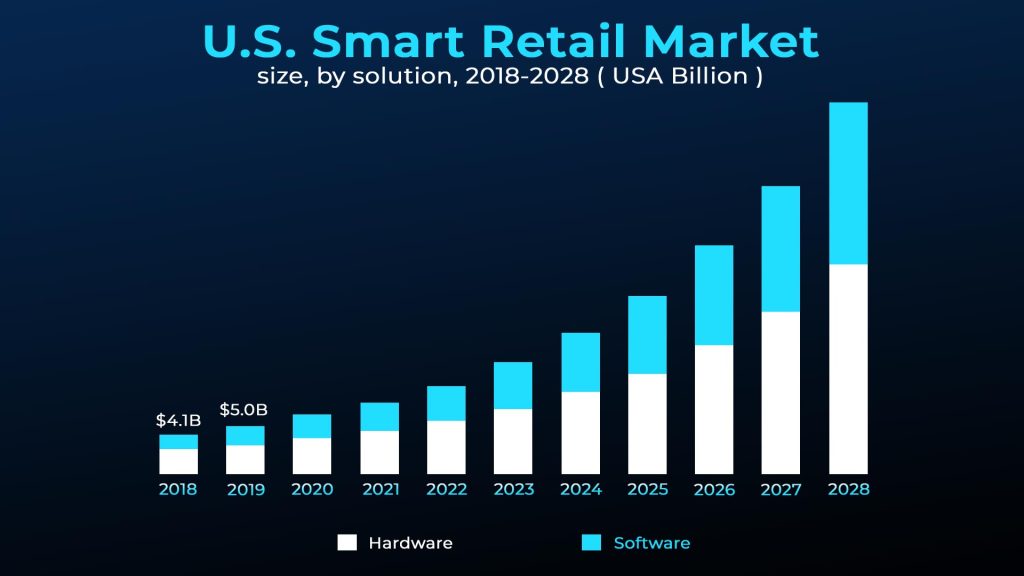 In the above graph, you can clearly analyze how rapidly US Smart Retail Market is rising.
Furthermore, new retail technology solution providers are emerging and providing the latest technologies. Consequently, offering retailers the solution to optimize and streamline their supply chain and customer experiences.
All the recent innovations put forward by the top retail software companies have a bright future. The software works towards implementing engagement strategies with consumers and a proper management process as well.
Retail Solution Providers

All Categories

Retail Solution Providers
All Years

All Years

2018
2019
2020
2021
2022