A country's growth and well-being are determined by its Government's ability to perform seamlessly at federal, state, and local levels. Governments have recognized the value of digital government transformation and understood that their agencies must be agile and innovative to succeed in this tech-savvy world.
A new wave of scalable and versatile technologies is driving government efficiency and helping it to transition into the vision of digital governance seamlessly.
Big data, cloud, predictive analytics, automation, intelligent sensors, and several other technologies have redefined what more to expect from government services. Government Tech solution providers leave no stone unturned to aid different government functions and solve real-world problems with their technology and business expertise.
Without proper support from the technology providers, it will become really arduous for the government entities to survive in the modern digital world. For instance, IoT technology providers and top government technology solutions or government software providers are helping public agencies worldwide to capture the potential of these breakthrough technologies to make the vision of smart cities come alive. 
Besides, technologies such as artificial intelligence and machine learning are also helping governments to deliver effective citizen services. Advanced networking allows government organizations to enjoy a spectrum of connectivity for the transformation of obsolete operating models.
From 5-G technology to edge computing to advanced cybersecurity solutions, technology providers are helping governments to usher into an environment where they can better serve their citizens and meet their specific requirements.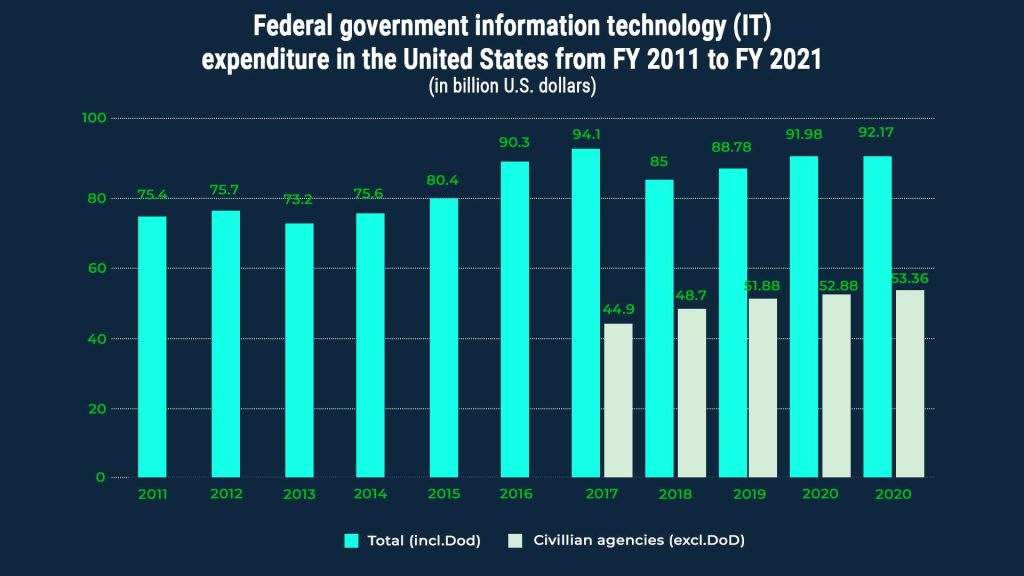 The above graph represents the federal government information technology (IT) expenditure in the US from FY 2011 to FY 2021. 
The tech solution providers enable governments to adapt to changing environments and support citizens with greater confidence and speed. Their contribution to today's world is invaluable.
So, we present to you the "Top Government Tech Companies" that have translated their expertise into successful technology deliveries to address the unique challenges of Government. These top government tech solution providers also provide governments with unique solutions to fulfill their obligations and provide efficient governance.
Government Solution Providers

All Categories

Government Solution Providers
All Years

All Years

2018
2019
2020
2021
2022