Technology has disrupted virtually every industry. The legal industry is no different. Manual work has been replaced by modern software and machine intelligence that streamlines legal operations and narrows the scope of making mistakes.
The legal landscape has changed significantly, and legal technology has made great strides in the last few years.
With the emergence of legal technology and Top Legal Tech Solution Providers, the efficiency of legal offices and the productivity of clerical workers have increased.
The transparency between legal firms and clients has improved greatly as the clients can keep track of the day-to-day progress of the lawyer on their case.
Advances in technology such as artificial intelligence, machine learning, and modern software allow heaps of legal documents to be scanned for streamlined communications and finding relevant casework for lawyers.
Electronic billing is rapidly replacing traditional paper invoices across many law firms. Legal research solutions help lawyers remain updated with each and every change in the regulations.
Top LegalTech Software Providers have designed applications that make it easier for legal firms to manage their files with ease. They can create and store all the files in one place and manage folders electronically.
Law firms produce voluminous amounts of data that can be used to gain valuable insights by leveraging data analytics. Using the power of analytics software, legal firms can look at any fact/evidence from different angles and utilize it to understand cases better and more effectively.
Besides the above benefits, technology also gives lawyers a clear understanding of what issues clients face these days and helps them develop relevant solutions.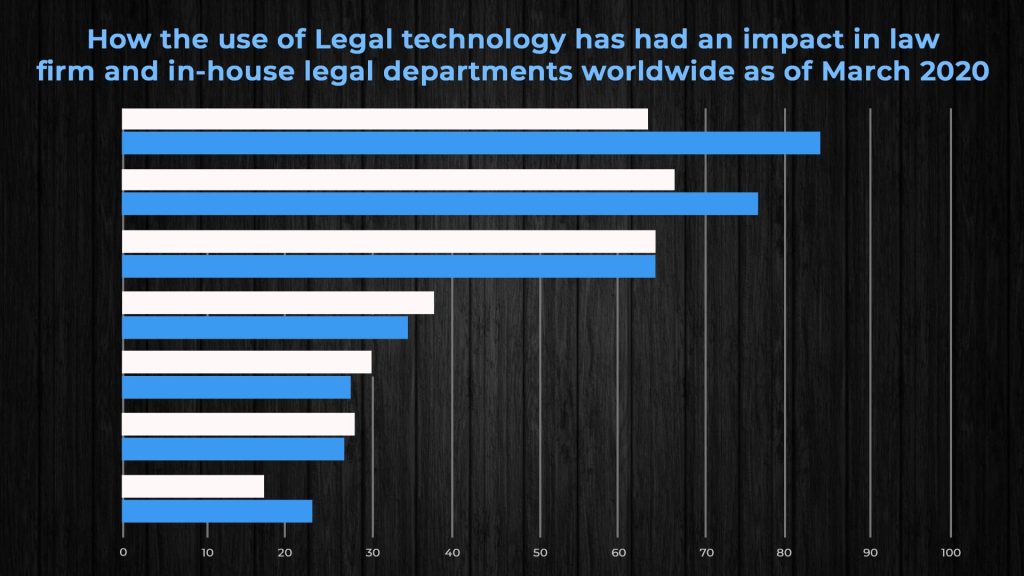 The above graph represents how the use of legal technology has had an impact in law firm and in-house legal departments worldwide as of March 2020.
Today, we have several Top Legal Tech Companies that provide end-to-end solutions for legal practices.
Legal Technology solution Providers empower firms and legal professionals to reap all the above benefits and ensure the smooth functioning of the legal system.
But the legal landscape is crowded with many providers. So, to help you find the best legal tech companies, we have curated a list of the Top Legal Technology Companies leading the Legal Tech industry with their robust and unique tech solutions.
Legal Solution Providers

All Categories

Legal Solution Providers
All Years

All Years

2018
2019
2020
2021
2022