In today's global business environment, escalating consumer demands affect every aspect of the supply network. Due to next-generation transportation and logistics administration technologies, worldwide supply chains are becoming speedier, smarter, more ecological, and more customer-centric.
As the finest 5G wireless technologies come online, supply chains will get unparalleled transparency into every step of their processes. This is primarily due to the increased use of IoT technologies.
Furthermore, sophisticated data analytics will become an essential component of supply chains in the future to aid in strategy development, resource utilization, and asset control.
Conversely, AI's potency is progressively becoming apparent with the first few implementations. That includes digitizing various supply chain operations such as sales forecasts and predictive upkeep. In line with blockchain, integrating technology can address long-standing issues in complicated supply chains.
As a result, more companies adopt 'Supply Chain as a Service' (SCaaS) business strategies. They are outsourcing tasks such as shipping, manufacturing, and inventory control.
Each organization with a supply chain has its own set of requirements and operations, creating different obstacles in customization and data gathering.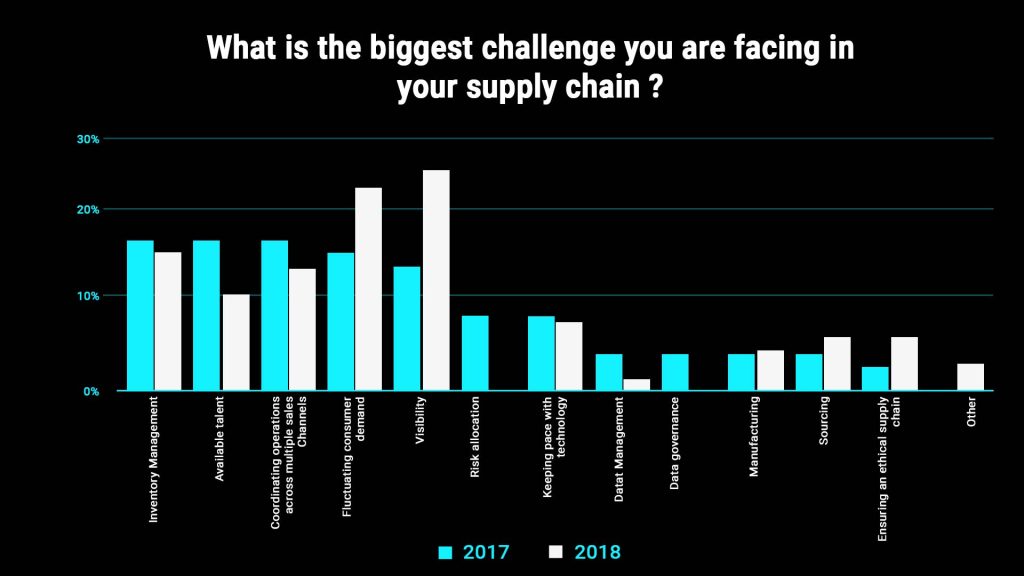 The above graph represents the top challenges you face in the supply chain. Companies that embrace automation and react early to developing workarounds will be better positioned to succeed in the breakneck sector as supply chains get faster, bigger, more adaptive, and more complicated.
SCM software helps companies optimize processes, minimize expenses associated with overage charges or production delays, gather information for improved efficiency and forecasting, and strengthen connections with customers and suppliers.
Numerous customer-facing enterprises seek to partner with other organizations for their product and manufacturing processes. This is similar to the trend in other sectors of outsourcing specialized services.
It frees up resources to focus on high-level development and their primary business strategy. Contemporary supply chains are complex and need powerful centralized management tools and improved transparency, which SCM systems claim to provide.
SCM software enables businesses to better organize their distribution and supply networks by establishing and automating pricing, shipping, and payment processes while remaining sensitive to the waxing and waning of client demand.
Finding the correct SCM solution is a time-consuming research procedure that may take months to finish. Choosing the ideal solution for your organization might be strict with multiple alternatives. Rather than selecting the most commonplace software, list each company's key attributes.
Before making a decision, it's also a good idea to watch a product demonstration video. Make sure the software you select integrates with other technologies you use to streamline workflows.
Supply Chain Solution Providers

All Categories

Supply Chain Solution Providers
All Years

All Years

2018
2019
2020
2021
2022