In today's digital environment, customer demands are becoming more taxing. They anticipate receiving their products the following day. They'd like to see how the consignment is coming along. Moreover, they have high expectations and would not settle for anything except the best logistics solutions.
Like most other sectors, logistics services are undergoing significant transformation, bringing both peril and potential. In recent years, technological innovation, new competitors, new consumer demands, and groundbreaking business models have all emerged.
There are numerous ways for the industry to evolve in response to these difficulties, some progressive and others transformational.
Pfizer, for instance, could not have been able to become one of the world's leading sterile injectables providers in 2021 without the assistance of logistics solutions providers. They also couldn't keep the COVID-19 vaccine at ultra-low temperatures while storing, transporting, and distributing it to multiple countries.
Temperature control, delivery path optimization, cold storage management, tracking vaccinations in transit, and dissemination oversight are examples of how the logistics and distribution industry was at the vanguard of technological disruption in 2021.
The primary purpose of technological advancement is to make operations more cost-effective and practical. That is especially true in the logistics industry, where resources are limited, manpower is insufficient, and consumer expectations are higher.
The logistics industry has already seen significant advancements, and as modernization continues, things will only get better.
New technologies like IoT will encourage logistics solutions providers and shippers to use mobile applications more frequently. Inventory control, barcode scanners, fleet management, cargo monitoring, order tracking, customer support, and other applications have been developed.
Logistics companies can use an application to extract information and competencies to manage resources and meet demand. Furthermore, logistics solutions serve as a "powerhouse" for all logistics interactions and activities, such as route planning and optimizing, freight inspection and payment administration, carrier supervision, etc.
Additionally, logistics programs have transitioned from terminal-based to cloud-based solutions, lowering deployment delays, eliminating downtime constraints, and improving reliability all at the same time.
Organizations that use automation technology can considerably increase their warehouse and delivery capabilities and lower their conventional workforces.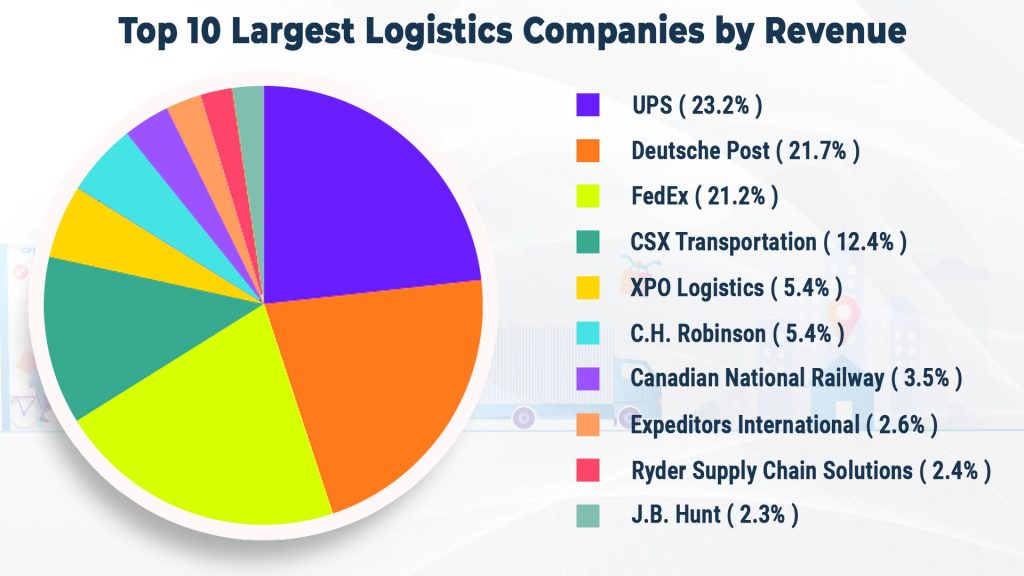 The above represents the top 10 largest Logistics Companies by Revenue.
Choosing a logistics software is one stage in streamlining the logistics and distribution management cycle. A unique logistics management system that can satisfy each provider's requirements is necessary for optimal administration of each step from purchasing through delivery.
For example, a firm without an in-house logistics division requires a software management solution that can loop around and improve its current process.
Organizations can install logistics software solutions suited to their needs by working with a cloud-based solutions company. Firms ranging from exporters to wholesalers to e-commerce can benefit from bespoke logistic solutions developed by leaders in custom software design.
Logistics Solution Providers

All Categories

Logistics Solution Providers
All Years

All Years

2018
2019
2020
2021
2022