Safeguarding your house, valuables, and dear ones will always remain a top priority, irrespective of where you reside or who you are. Individuals from many walks of life want to be protected from dangers, potential calamities, and infrastructure damage in this uncertain environment.
Enrolling in house, vehicle, medical, or other types of insurance can provide a sense of security. However, as anybody who has attempted to traverse the insurance marketplace knows, it's frequently more challenging than it sounds.
The insurance sector desperately needs a facelift, with so many complex coverage alternatives, intricate eligibility rules, and legalese to sort through. Fortunately, numerous insurtech companies have sprung up to help.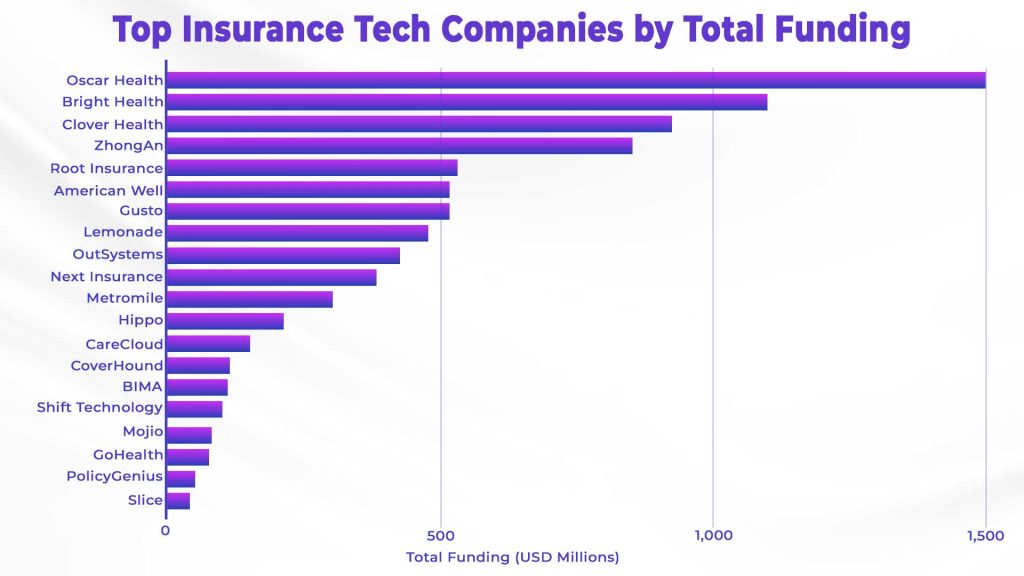 The above graph represents the top insurance tech companies by total funding.
Insurtech firms combine significant industry experience with technology sector know-how. They enable insurance providers and agents to become more simple, profitable, and productive. Insurtech pioneers use AI and machine learning to automate repetitive operations.
They attempt to adapt plan offerings to the specific needs of each consumer, expediting the process from inquiry to registration. As insurance firms strive to offer immersive services to their consumers, insurtech companies have steadily grown in prominence.
Most Insurtech firms are technology-driven insurance companies. They concentrate on the health industry through telehealth, healthcare-focused digital platforms, and fair claims valuation mechanisms that make it simpler for consumers to traverse.
They provide customers with a wide choice of tailored products and services. For enterprises worldwide, several organizations offer cloud-based payroll, perks, and personnel management solutions. Data processing and preventive services significantly improve patients' health.
Surprisingly, a few alternatives recognize when people require medical attention and engage with their network of registered nurses and counselors to save both the customer and the health insurer's money.
Organizations frequently reward small target groups with cash back incentives if they stay claimless after a year. These Insurtech companies have revolutionized the insurance sector.
They've successfully made the research and buying process more customer-centric and have influenced other industries to follow suit.
Insurtech is the application of technological advancements to improve the efficiency of the contemporary insurance system. Even though rules sometimes limit innovation, the sector is booming as we move toward a more interconnected digital world.
Consumers must expect the rapid expansion to be driven by the breakthroughs of the world's best insurtech companies.
Insurance Solution Providers

All Categories

Insurance Solution Providers
All Years

All Years

2018
2019
2020
2021
2022