The agriculture sector has been transformed heavily by the innovations of agriculture technology. Agriculture technology, also known as agritech, has revolutionized the expectations and operational processes of the agriculture industry.
Like any other sector touched by technology, the agriculture sector also must keep up with the changes brought forth by the technology, such as updates in equipment, changing work styles, changing customer expectations, etc.
Best agritech Software Companies and other agritech companies are working round the clock to ensure these requirements are met. Because of the dedication of such innovators, the agriculture sector has achieved tremendous strides in terms of technology, and the coming years are looking great for progress and innovation.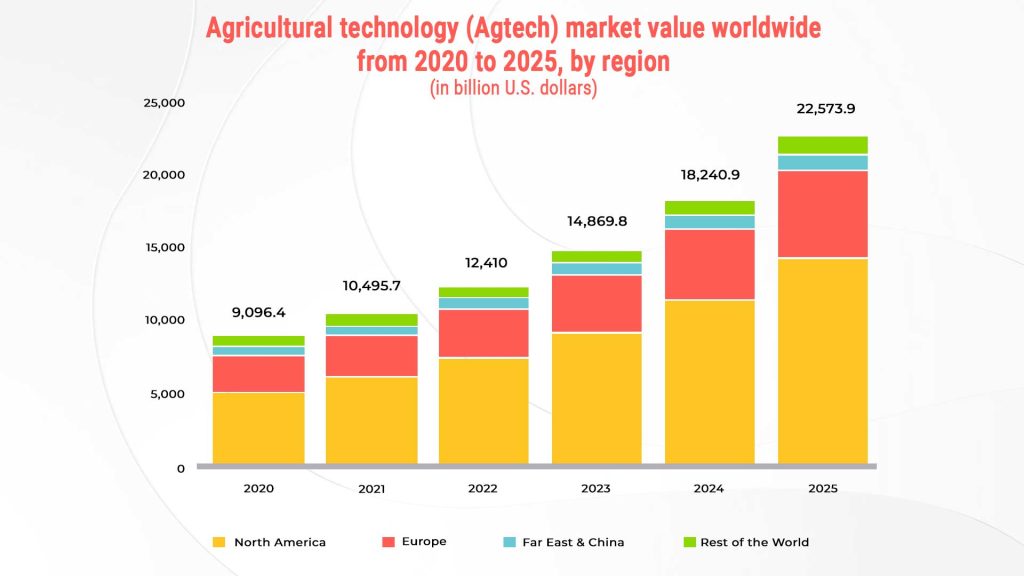 The above graph represents the Agricultural technology market value worldwide from 2020 to 2025 by region.
Today, each component of the food supply chain is being digitized. Digitization is not only solving the food supply chain issues but also alleviating labor issues prevalent in the agriculture sector from the very beginning.
Farm machinery and innovations developed by the agritech solution providers automate existing farming practices to increase safety and productivity and reduce the dependency on human labor.
Technologies such as – monitoring sensors, drones, and analytical software provided by the top agritech software providers make it possible for farmers to monitor and manage their farms and detect the issues to take proactive measures.
New technologies are being developed, such as aquaponics, vertical farming, and mixed farming extra, which enable the farmers to regulate every factor affecting their crop growth, leading to safer, cleaner, and healthier growth activities.
With so much potential for innovation and advancement in the agriculture sector, several agritech solution providers have entered the market with their advanced and integrated tech offerings. We reviewed many such agritech players in the market and selected the top agritech solution providers who are playing an active part in transforming the agricultural landscape.
So here's our pick for the Best AgriTech Software Companies 2022.
You May Also Like: How AgriTech is Helping The Industries Deal with The Climate Change
Agri Tech Solution Providers

All Categories

Agri Tech Solution Providers
All Years

All Years

2018
2019
2020
2021
2022