For businesses, uncertainties and risks are nothing new. Whether big or small, every business must learn to anticipate, quantify and mitigate risks. But what if a natural or man-made disaster strikes? What if you suddenly lost access to your business data? For many businesses, this means heavy losses and even permanent shutdown.
With reliable disaster recovery solution providers, you can get your business back on its feet again, reduce downtime and restore business operations to prevent more losses.
So how do the top disaster recovery companies function? Business Continuity planning and disaster recovery services host and replicate their clients' data and applications when natural or man-made disasters strike, leading to hardware and software failures. Such service providers allow businesses to continue even in the event of system failure.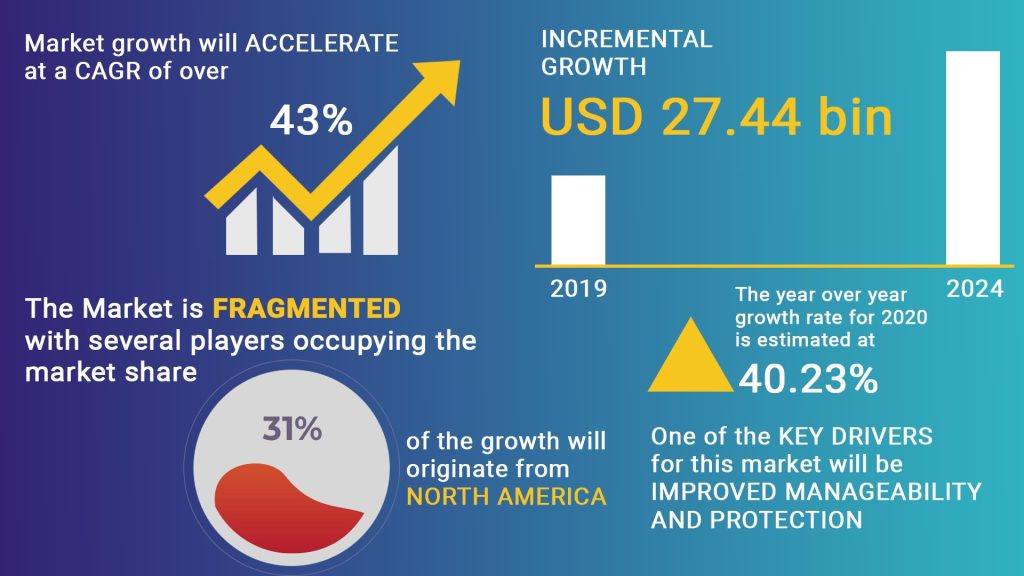 In the above graph, 43% of market growth will accelerate at a CAGR; 31% of the growth will originate from North America, and 40.23% is the year-over-year growth rate for 2020. In fact, the market is fragmented with several players occupying the market share.
On the other hand, when disaster recovery services were not available, companies had to build and maintain a disaster recovery (DR) site to ensure business continuity, but with the availability of top disaster recovery software providers today, disaster recovery and backup is no more costly and complex.
This has especially benefitted small businesses that couldn't pay for the upfront costs and ongoing expenses of maintaining a backup site.
For most organizations, disaster recovery plans include supporting their core IT infrastructure with a secondary Disaster Recovery site at a separate geographic location.
But with technological advancements, cloud computing is increasingly becoming a mainstay of enterprise data safety. By using cloud-native disaster recovery, even organizations with small budgets can back up their data using a pay-per-use pricing model and enjoy complete peace of mind.
However, every business's requirements are different. Therefore when choosing from the disaster recovery solution providers, it is very important to identify your mission-critical applications and data and how much downtime your business can afford before suffering a complete shutdown. After having defined your priorities, it is then good to do thorough research before choosing your data recovery partner.
To help you choose the best Disaster Recovery and backup partners, we bring to you top disaster recovery solution providers that are well-equipped and well-experienced to assist in your seamless recovery and business continuity if a disaster ever happens.
Disaster Recovery Solution Providers

All Categories

Disaster Recovery Solution Providers
All Years

All Years

2018
2019
2020
2021
2022