The healthcare industry has transformed significantly with the advent of digitization and focus on personalized, patient-centric, and outcome-based care models.
It has created a robust ecosystem with the inclusion of e-Pharmacy, e-Diagnostics, Electronic Medical Records (EMR), Hospital Information Systems (HIS)/Hospital Management Information Systems (HMIS), and many other technologies.
Health IT opens up several avenues of exploration and research, allowing Top Healthcare Software Companies to make healthcare more effective and efficient than ever.
Healthcare professionals can now retrieve patient data from anywhere. For those conducting epidemiological research, studies, or clinical trials, healthcare technologies allow for the instant collection of data from a diverse and larger population, which enables them to stay on top of cutting-edge techniques and trends.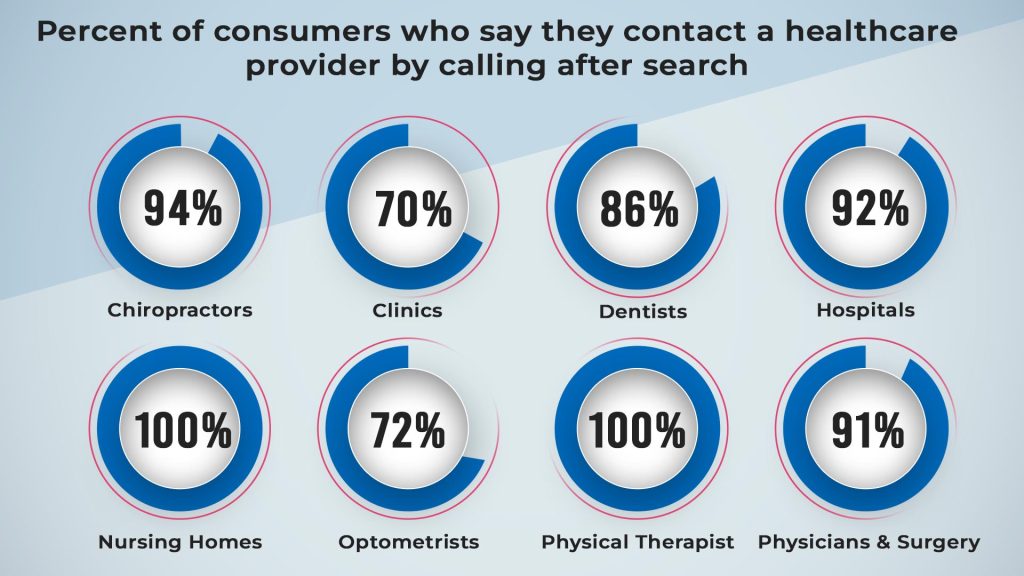 The above graph represents the percentage of consumers who say they contact a healthcare provider by calling after a search. Actually, 94% depict Chiropractors, 70% depict Clinics, 86% depict Dentists, 92% depict Hospitals, 100% depict Nursing Homes, 72% depict Optometrists, 100% depict Physical Therapists, and 91% depict Physicians & Surgery.
Access to EHRs has resulted in centralized storage of all patient health information and faster access for improved care and better outcomes. EHRs have also revolutionized medical billing and made them smoother and easier.
Automation enables healthcare organizations to streamline their manually intensive processes and eliminate errors from medical records, order entry, and decision-making.
With telehealth capabilities, patients can access quality care remotely through digital information and communication software.
Several healthcare apps are available today that enable patients to monitor their health and diseases and allow the healthcare providers to quickly check on test results and access other vital information they need urgently.
In the face of these advancements, we have several Top Healthcare Tech solution Providers that provide operational and tech solutions to various categories of customers in the healthcare continuum. But they are so many in numbers that it's easy to get confused.
To make your job easier, we've compiled a list of the Top Healthcare Technology Companies.
with extensive business knowledge and competence in delivering trustful solutions that meet the needs of modern customers.
By using this list of Top Healthcare Software Providers and other health tech vendors, you can foster productive partnerships and enhance growth through the integration of robust health tech solutions.
Healthcare Solution Providers

All Categories

Healthcare Solution Providers
All Years

All Years

2018
2019
2020
2021
2022