Enterprise Asset Management (EAM) is a collection of software, systems, and services used to manage and maintain assets and equipment within an organization. EAM assists in improving asset quality and use, enhancing productive uptime, and lowering operational expenses.
EAM software companies in 2022 generally include the following features:
Asset maintenance
Environmental, health, and safety (EHS)
Planning and scheduling
Supply chain management
Work management
Organizations of all sizes own unfathomable amounts of assets. Furthermore, assets exist in a variety of forms and sizes. Best practices in EAM assist maintenance teams in gaining greater control of such complex settings.
EAM functions are similar to solutions in CMMS or Computerized Maintenance Management Systems. But they provide a more comprehensive, analytical approach to asset management.
This comes in addition to preventative maintenance and inventory scheduling, work order management, and asset monitoring. It provides tools for lifecycle planning, workflow analysis, predictive maintenance approaches, and sophisticated metrics to estimate an asset's future reliability.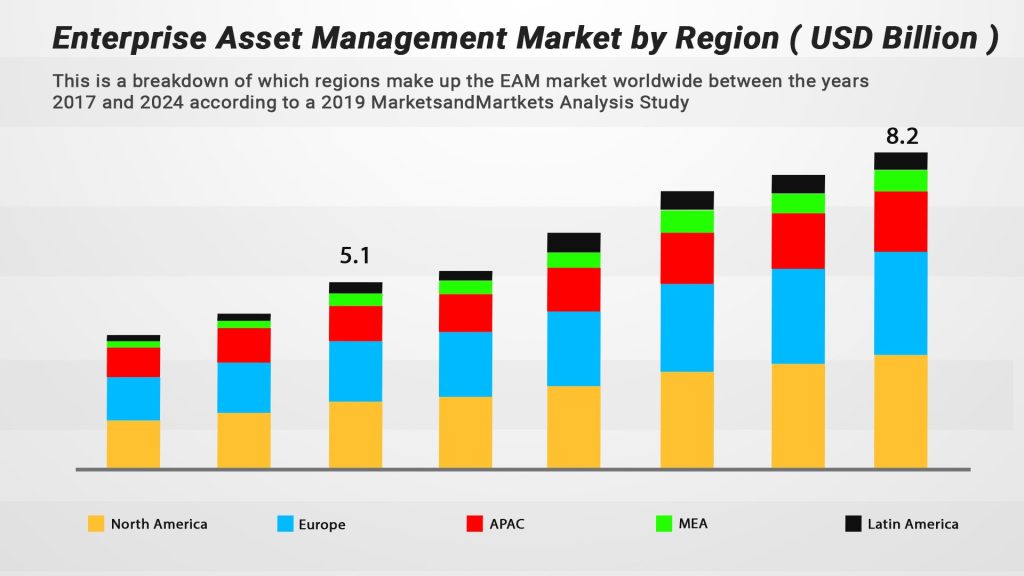 The above graph represents the EAM Market by region.
Since systems must send all asset activities and financial data collected by EAM software to ERP and accounting software, integration is crucial. EAM software may also require integration with other forms of maintenance software. These include facility management, fleet management, and aviation MRO software.
As part of EAM, a CMMS notifies maintenance managers of the whereabouts of an asset and other maintenance-related details. It also automates and makes necessary asset management operations accessible and auditable.
Furthermore, asset management software includes preemptive maintenance features to keep equipment running. Further, it ensures warranty compliance and eliminates roadblocks that hinder production.
Moreover, AI-powered remote monitoring offers insight into the real-time and anticipated statuses of the assets. It combines data from several departments, resulting in reduced, more accurate alerts and improved decision-making.
Furthermore, EAM maximizes asset efficiency. They gather historical and real-time data from diagnostic and analytical tools as well as IoT devices. This contributes to the accessibility, reliability, and usability of the assets.
In addition, to increase ROI, equipment lifecycles are prolonged through better-informed maintenance methods and by incorporating risk management into business operations. Further, asset monitoring and traceability meet extremely complex environmental, health, and safety standards.
Most importantly, EAM helps create a universal technological system to manage almost all types of assets. It consolidates and standardizes processes throughout a company for various asset functions.
With all of these advantages, it is only fair that a company adopts a stance for EAM software that one against it. After all, it streamlines the maintenance and monitoring process to increase the asset lifecycle!
EAM Solution Providers

All Categories

EAM Solution Providers
All Years

All Years

2018
2019
2020
2021
2022