Enterprise security and cybersecurity are two terms that are often used interchangeably. However, enterprise security is different from cybersecurity since the latter safeguards digital assets on an organization's network. On the other hand, enterprise security covers cyber protection and data security during transit and traveling to servers, networks, and end-users.
Enterprise security is defined as the overall methods and processes used to safeguard a company against malicious agents. These malicious agents can be either outside the organization or within it. Therefore, enterprises, small and big, should implement enterprise security solutions.
More specifically, businesses need to pinpoint best practices and cyberspace defenses to guard against data breaches and prevent attackers from exploiting undiscovered gaps.
Moreover, Today's enterprises must deal with advanced persistent threats or APTs. APTs often demand a proactive and always-on stance toward cybersecurity.
Organizations with an enterprise cybersecurity plan are better prepared to defeat new and emerging threats. In certain instances, an enterprise security solution may also eliminate sources of risk. For example, they can develop and implement a more secure network design that decreases attack surface area.
Moreover, enterprise security solutions and security services also improve vulnerability detection. Vulnerabilities are commonly found in outdated or unpatched systems.
These can be identified through a vulnerability assessment so that businesses can update the systems before an attack happens. Simultaneously, businesses may put a patch management system to guarantee that future software updates are released regularly.
Enterprise Security Solutions provide threat intelligent protection. Organizations can incorporate knowledge about emerging risks into their cybersecurity strategy by monitoring threat intelligence. This narrows the window in which attackers may target businesses.
The below graph shows that the Share of IT managers set to increase enterprise security solution spends worldwide in 2020 by category.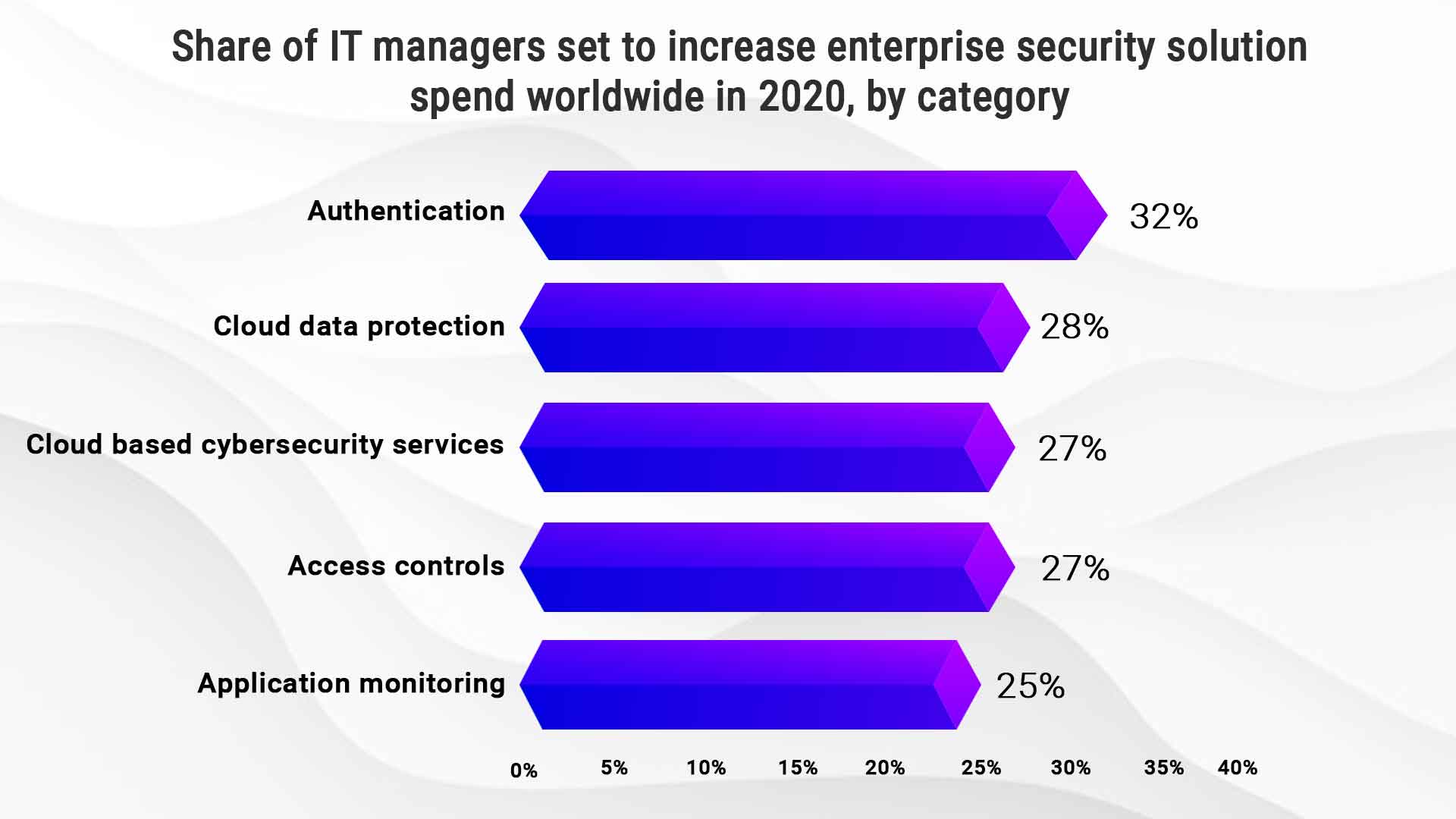 In addition, the portfolio of business network security solutions includes the development of a security strategy that helps enterprises become more resilient and develop a cybersecurity forward strategy. In fact, most information security regulations are risk-management approaches to cybersecurity.
Therefore, enterprise security policies must include industry-accepted cybersecurity best practices. Furthermore, they must consider the amount of risk, risk tolerance, and threat capabilities.
Lastly, a successful enterprise security solution will guarantee the implementation of robust access control mechanisms. Due to restricted access, access control strategies reduce a threat's capacity to migrate horizontally through network systems.
Now that you know all the reasons to adopt enterprise security solutions, we hope you will find one that perfectly suits your requirements.
Enterprise Security Solution Providers

All Categories

Enterprise Security Solution Providers
All Years

All Years

2018
2019
2020
2021
2022