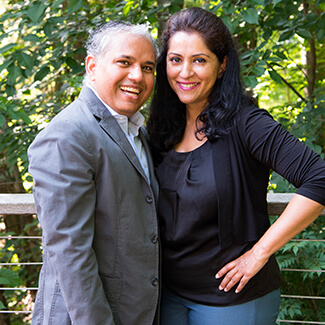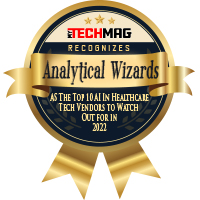 Analytical Wizards is revolutionizing healthcare analytics, combining artificial intelligence (AI), machine learning (ML), technology, and healthcare expertise to accelerate business performance to improve patients' lives.
These three critical pillars differentiate Analytical Wizards' vision from others.
Analytical Wizards delivers actionable insights and facilitates data-driven decision-making, enabling speed to insights, efficiency and scale.
Leading a team of visionaries, Ram Sharma recognized the need for change. An industry veteran himself, Ram brought together Ashish Jha, Managing Principal, and Sanjeev Bhalla, CTO, to help bring his vision to life and tapped into his life-partner Jaya Subramaniam, Chief Strategy Officer, and pharmaceutical executive. A culture of innovation became the foundation from which Analytical Wizards grew. Today, working with more than 30 Life Sciences Companies, Analytical Wizards is experiencing a high-growth trajectory thanks to the tremendous impact of every client engagement.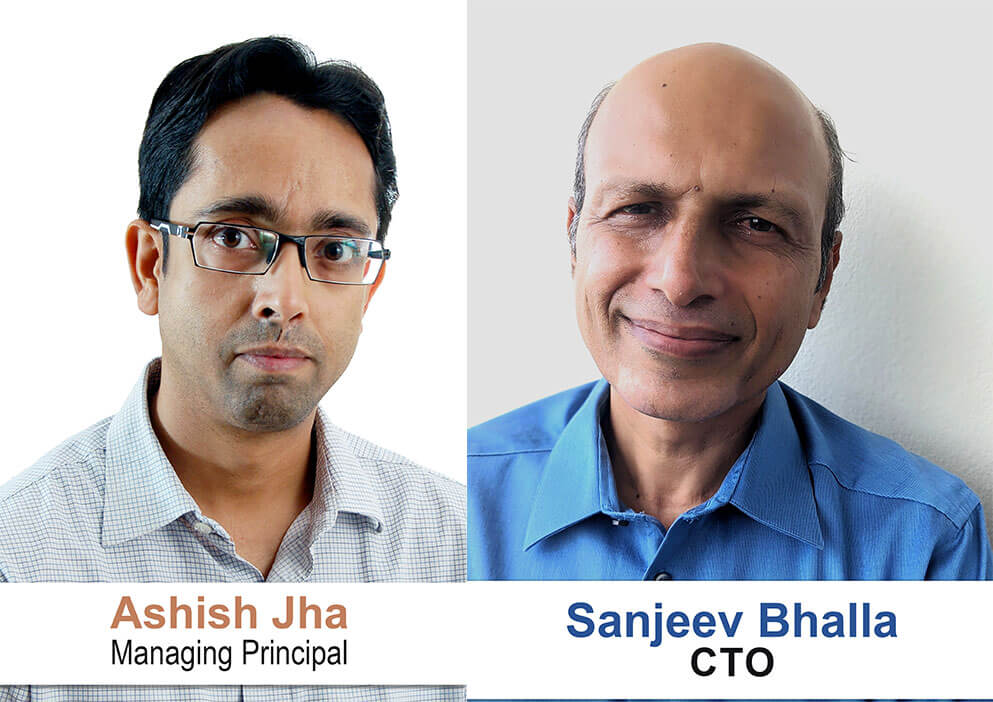 A global company with US Headquarters and offices in India, Analytical Wizards values innovation and enables a culture where talent can grow. Every employee is encouraged to speak up with ideas. Nurturing relationships through a virtual community continues to be a standard at AW, as many teams have members on both sides of the ocean. AW values include integrity, respect, teamwork, accountability,energy and diversity. These values contribute to a culture of "team" demonstrated by employee reviews and extremely high retention rates.
Analytical Wizards has also created a successful, unique and thoughtful approach to quickly deliver high performing skilled talent.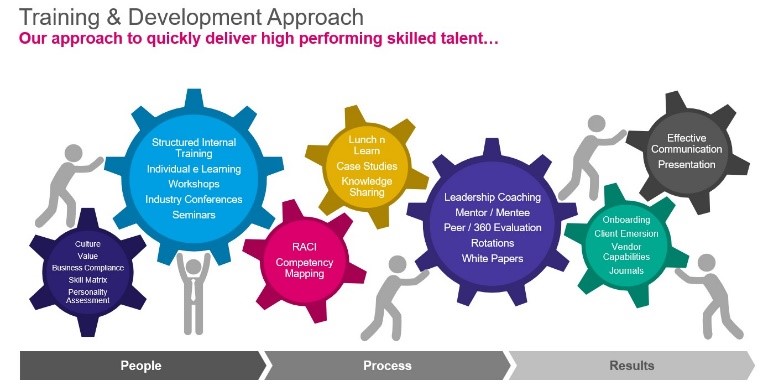 Data agnostic and data-independent, AW has built a solid knowledge base of data assets, knowing the strengths and weaknesses to leverage for varying client business needs.
AW's capabilities reach across the needs of any pharmaceutical organization, from pre-launch and early-stage assets to commercial stakeholders in almost every role, making possible speed to insights, efficiency and scale.
Transforming healthcare analytics to deliver the promise of AI and ML
Healthcare analytics is ripe for transformation, lacking scale, efficiency, and speed.
It takes a village to bring a pharmaceutical asset to market, so pharma organizations are complex with cross-functional teams. The result is that analytic budgets and decision-making are divided by function and business need.
In addition, pharma data is disintegrated and de-identified, requiring merging different data sets and integrating to glean insights.
Pharma analytics, traditionally siloed by functional specialization, required a resource-heavy approach to insight mining. These scattered actions result in an inability to see the forest for the trees.
Healthcare Analytics, projected to grow exponentially in the next 5-10 years to $50B, is riding on the wave of healthcare IT, where growth is tapering. There is an opportunity to scale insight generation and create efficiency within and across functional teams and budgets within the life sciences industry.
Traditional Platform Solutions in Pharma focus on a single DATA Source (e.g., Definitive Health, Komodo Health) or IT-Data Warehousing/Management, or a single CRM Platform (e.g., Veeva, SalesForce). AW's data-agnostic analytical engines work in any client, vendor, or cloud environment.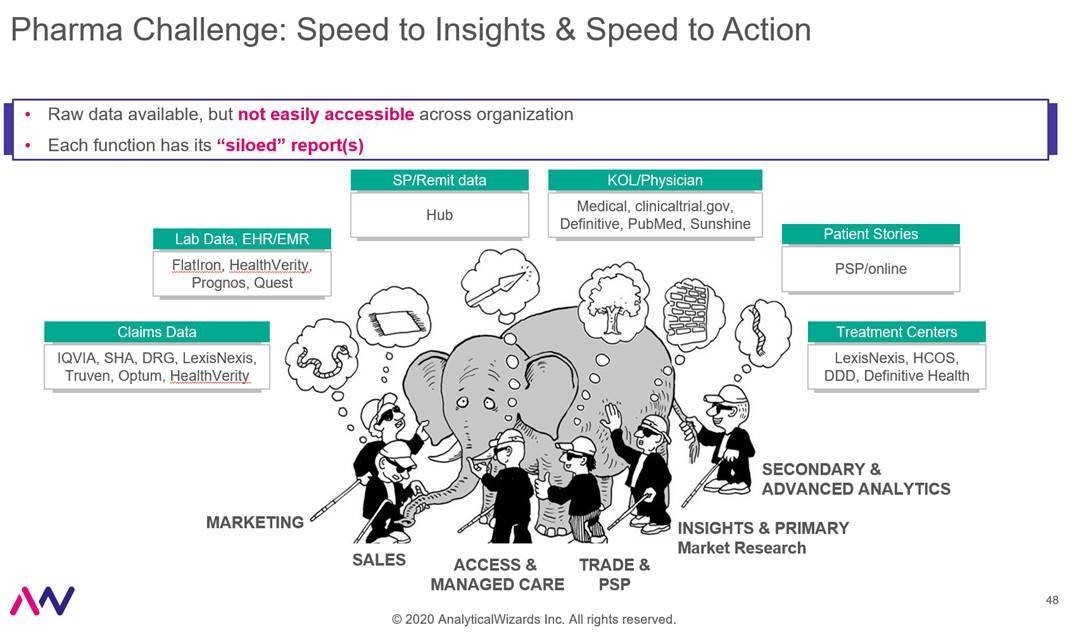 The differentiating advantages of the Analytical Wizards approach are data-agnostic and data-independent. These include scale and automation that lead to accelerated speed to insights, delivering quick answers and responsiveness, efficiency, and integrated insights that enable deeper actionable insights with a single version of the truth.
AW Platforms enable solutions across pharma and biotech teams with back-end scalability within and across offerings and front-end customization to meet business needs. Stakeholders include research and development functions along with commercial business units. These platforms empower CRM and Customer facing teams with real-time intelligence and bring data alive for business users across function teams and lifecycle. AW Platforms automate the redundant and repetitious process and enable Data Scientists to quickly apply advanced analytic algorithms at scale and speed, creating agility needed to make fast business decisions and pivot when market events require change. The sheer efficiencies this creates are unprecedented.
Value delivered with AI and ML
The AW leadership team of former pharmaceutical industry executives provides deep pharma and biotech business and analytics experience (including oncology). The plug-n-play technology designed by the AW Teams is fully transparent (no black box) with analytic model choice customizable or built-in selections. AW employs international standards of data security, privacy, and integrity. AW platforms are cloud-agnostic, adaptable, and integrate easily into any legacy pharma environment. Successful operational experience deploying AW platforms across more than 30 companies and more than 18 countries with seamless customer experience contribute to Analytical Wizards' fast growth.
The utilization of artificial intelligence and machine learning is growing as life science companies begin to see the advantage and multiple ways to use these advanced analytics techniques. AW is a leading player applying the latest advances in AI/ML predictive analytics to healthcare business problems and successfully operationalizing AI/ML predictive triggers & alerts to drive business & patient outcomes
WIZ Omnichannel Promotion Analytics Platform Optimizes Investments
AW's patent-pending WIZ Omnichannel Promotion Analytics Platform is a best-in-class, cloud-based analytics platform deployed on-premise or hosted by AW that integrates, transforms, and analyzes data to help optimize marketing investments across all channels. Analytical Wizards' promotion performance approach empowers flexible modeling, ROI analysis, and scenario planning. Dynamic promotion scenario planning predicts potential returns based on desired outputs. The benefits are the speed to market for promotion mix allowing more timely frequent promotion optimization.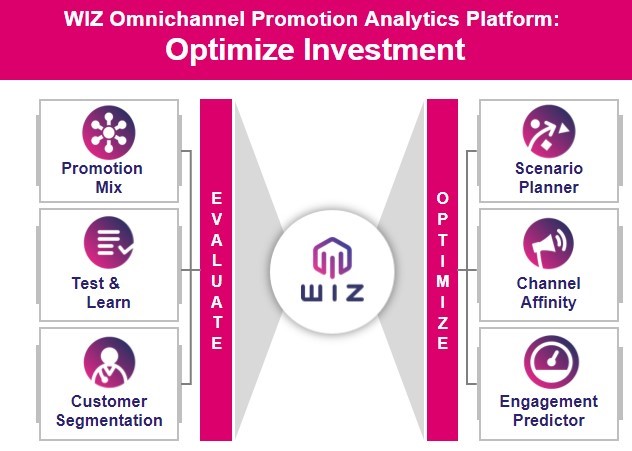 As the customer engagement model becomes more complex and interwoven within Pharma and digital platforms to communicate proliferate, Omni Channel optimization and strategy become increasingly relevant. The WIZ Platform from Analytical Wizards is the leading Omni Channel platform designed with a modular approach. It includes tools for evaluating your promotional mix and then optimizing the mix. WIZ evaluates promotion mixes and provides testing and learning capability for campaign improvements and customer segmentation to identify which customer groups require different channel strategies. WIZ Optimization modules include scenario planning, choosing the right channel mix, channel affinity to understand the likelihood of customer impact by channel, and engagement predictor, which uses AI to predict when, how, and what to communicate to increase the likelihood of impact.
One case use of WIZ (driving analytics efficiency) was for a large pharma company looking to shift away from a consultant-heavy promotional analytics approach. Utilizing WIZ enabled them to remove the dependency on past consulting teams, enabled the ability to provide analytic insights in real-time, created efficiencies and productivity gains, and resulted in an annual savings of $1M+.
Another use case shows how a global top 5 pharma company dynamically manages global resourcing. The company was looking to optimize and improve its budget/investment across six regions while maximizing long-term revenue goals while identifying risks and opportunities within the revenue stream. The company's annual budget was over $4.2B across all brands and regions. AW deployed WIZ across all regions. WIZ enabled scaling from a yearly focus on only the Top 10 markets to quarterly refreshes across 60_ markets. They were also able to dramatically decrease consultant dependencies, transitioning from 50+ consultants to a team of five Analytical Wizards. These activities enabled them to recognize a 7% lift in the first full year of implementation. Their successful use of WIZ is ongoing year over year.
WIZ Analytics Platform increases speed to insights by reducing analysis time by more than 50%. WIZ facilitated real-time analytics at scale while lowering analytics costs by 30% or more. WIZ provides direct access for customers to build analyses or AW to build them for the customer.
IZE Insights Engine Accelerates Performance
IZE Insights Engine enables all Pharma functional teams to integrate and analyze relevant data assets for instant and deeper insights to accelerate performance. IZE Engine has valued applications across a pharma asset's lifecycle from pre-launch planning to post-launch commercialization and performance tracking & optimization.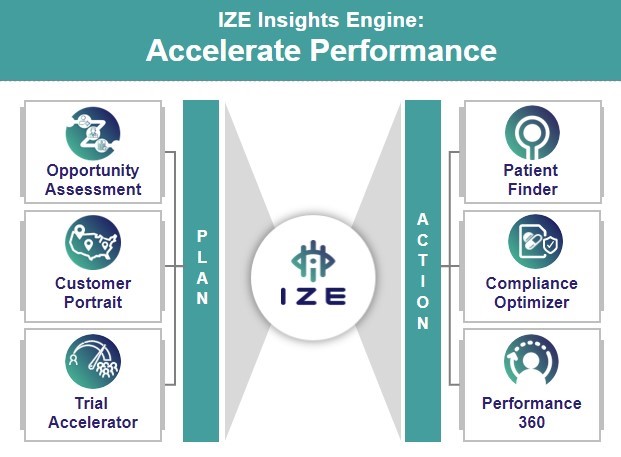 In the pre-launch planning phase, the Opportunity Assessment module helps customers quantify & map dynamic treatment flows and patient journeys and identify leverage points and market size opportunities. The KOL Intelligence module is an automated  Customer Intelligence tool that helps sift & filter KOLs and physicians/customers by any relevant criteria to identify key opinion leaders (KOLs), map influence networks, and benchmark competitor behavior. The Trial Accelerator module, also used in the planning phase, enables faster time to market and accelerated trial enrollment by identifying eligible patients, investigators, and sites. This module uses AI to predict clinical trial sites most likely to enroll at a faster rate. A recent innovation, the Trial Accelerator module, has seen rapid uptake and adoption and significant impact when deployed.   We're amazed at the powerful results of a particular Biotech that deployed the module across three different trials. Changing their site selection strategy accelerated trial enrollment by 10x (from 3 patients per month to 30 patients per month, completing trial enrollment of the remaining 80% of patients in the next 12 months. Cost savings estimates ranged near $10M while receiving FDA approval one year earlier than expected was estimated at $150M in extra sales.
The IZE Patient Finder module predicts eligible patients and enables dynamic targeting of physicains with eligible patients at a given point in time for products in the market. The IZE Compliance Optimizer promotes patient compliance and enables targeted interventions by Patient Support teams. It harnesses AI/ML to predict the patient-specific risk of non-compliance, with likely reasons for non-compliance using explainable AI that triggers timely and targeted intervention.
The IZE Performance 360 Module is the flagship module of the IZE Engine. It comprises an Analytics On-Demand Data Layer that integrates data assets and structures them to create an Analytics-ready data environment, the IZE Editor, a no-code AI-ML tool, and a Big Data processing and Dynamic visualization dashboard. IZE Performance 360 Module has been successfully deployed at multiple Big Pharma and Biotechs. It enables any Pharma Functional team to track and monitor KPIs and performance metrics dynamically. Their Brand teams, Sales teams, Payer teams, Medical Affairs teams, and Insights and Analytics teams use this module to scale, integrate, and streamline reports, accelerate speed to insights and performance, and generate 33-40% efficiencies in Analytics budgets.
AI technology provides predictive power and precision to facilitate business decisions in Pharma. Technology-driven analytics enable efficiencies, cost savings, and productivity with speed to insights, and the "speed" gets faster over time. Visionary and strategic in its approach to business challenges, Analytical Wizards utilizes the power of AI/ML, advances in Data Science, Scalable Technology & Pharma Domain expertise to revolutionize healthcare analytics.