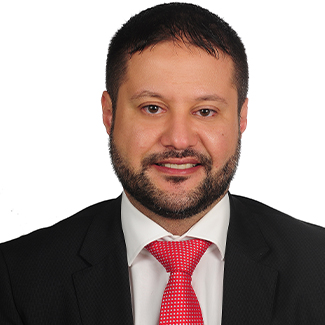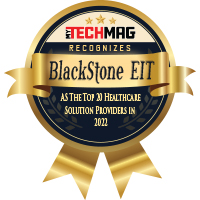 "The BlackStone eIT chatbot platform offers a scalable cloud backend with a powerful AI suite of rapid development and deployment tools"
Searching for a healthcare provider is a frustrating maze of bewildering choices and unanswered questions for most consumers. Modern consumers want fast, easy access to information, a self-service option, and their interactions to be engaging and personal. The healthcare industry is no exception.
Using powerful AI-driven algorithms, chatbots help patients, in their native language, along every step of their online journey, from choosing a doctor and finding the nearest location to researching symptoms or accessing refills – and are available 24/7. Chatbots can even follow the patient home as a mobile application with prescriptions, appointments, therapy reminders, or post-treatment follow-ups. Chatbots even drive revenues by converting web tra­c into appointments and quickly filling the appointment calendar.
The BlackStone eIT chatbot experts and chatbot platform make the planning and execution easy, providing a rapid ROI. The BlackStone eIT chatbot platform offers a scalable cloud backend with a powerful AI suite of rapid development and deployment tools. Extended your chatbot solutions with our ecosystem of advanced functionality such as video or voice authentication, contextual facial or object recognition for situational awareness or IoT asset management. BlackStone eIT also provides proven and customizable vertical-focused ChatBot solutions.
AI chatbots are built on Machine Learning (ML) and Natural Language Processing (NLP) capabilities. Deep learning algorithms mean that chatbots can learn from every interaction and incorporate that feedback so that their performance is continually improved over time. The BlackStone eIT chatbot supports 30 key languages, including Arabic.
Healthcare Chatbot from Blackstone eIT enhances how healthcare organizations operate internally and externally, offering intelligent process automation that maximizes internal efficiencies and leads to better client outcomes. Blackstone healthcare bot provides an ability to engage customers in the right place, at the right time, with the right information in a cost-effective manner so your staff can focus on higher-value activities. These efficiencies allow patients to navigate the healthcare system and get answers and services they need anytime, anywhere, with any device.
The company's healthcare bot empowers every person to access health information and resources in a highly personalized way, leveraging conversational intelligence, rich user understanding, and world knowledge. Their agent bot technology provides health-related answers with deep personalization with health plan information, services, benefits and costs, and referral to proper resources. They also provide service providers lookup and scheduling, food logging, habits tracking, and reminder settings.
It is pertinent to mention that Blackstone eIT is also offering advanced AR solutions using medical imaging to capture and overlay detailed patient anatomy feed in real-time to show guided examinations, assist in surgeries, improve medical training, or provide interactive consultations along with holographic assisted surgeries, training, and consultations.
BlackStone eIT is a global team passionate about transformative enterprise solutions & intelligent design. Their solutions and strategies are out to reshape the way people interact with technology. BlackStone eIT supplies innovative solutions to automate and digitally transform human and information-intensive processes. They empower breakthrough business results with more intelligent workflows, augmented business intelligence with AI insights, and real-time situational awareness, which all drive better business outcomes.
BlackStone offers a portfolio of next-generation solutions, tools, and technologies to be used as a platform to transform traditional organizations into modern smart organizations. Their solutions are designed to dramatically reduce operating costs, increase competitiveness, mitigate risk, boost internal productivity, improve the customer and employee experience, and make the previously impossible possible.
Coming from a Microsoft, Google, and Amazon pedigree, the BlackStone eIT executive team brings that same level of innovation, quality, and vision to Intelligent Business Process Management (iBPM), Digital Process Automation (DPA), robotics, and AI-based innovation. They are passionate about creating transformative enterprise solutions and intelligent designs that reshape how people interact with technology while offering the customers a competitive advantage. The company's industry-leading approach to enterprise-wide transformation helps align clients' technology strategy with their business strategy, assisting the business to become agile and capable of profitable growth. "As trusted partners in your digital journey, we incorporate emerging technology with a secure digital foundation into your business to modernize and transform it from end-to-end," says Amina Fdaili, Senior Marketing Manager, Blackstone eIT.
Headquartered in Seattle, WA, the company has quickly expanded to service its global customers with regional headquarters in UAE and offices in KSA, Jordan, Kosovo, Morocco, Egypt, and Lebanon. With its presence in four continents, Blackstone eIT provides local knowledge with global experience and will soon begin operating from Ukraine , Holland and South East Asia.