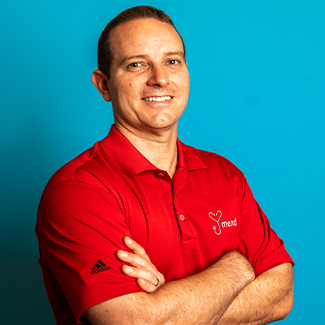 "Mend's technology allows providers to alun a simple and reliable solution for telehealth, patient payements, and patient engagement –  all accessible on one platform."
A future of high quality, effectiveness, and efficiency is aimed at the health care system. However, many issues remain today. The healthcare system is plagued with high costs, incomplete coverage, and declining or stagnant quality, among other challenges. Healthcare service providers face challenges with long patient revenue cycles, high no-show rates, low patient satisfaction, and staffing issues.
Mend is an enterprise-grade patient engagement and telehealth platform designed to help healthcare organizations profitably scale their practice and care for more patients. Founded in 2014, Mend is on a mission to revolutionize healthcare delivery so that every patient can receive extraordinary care. Mend makes it easy for healthcare providers to communicate with their patients and colleagues securely and efficiently without concerns of violating HIPAA compliance or misplacing patient information. Mend provides integrated in-office and virtual care experiences for over 89 specialties with more than 5 million patients.
Mend's comprehensive platform works hand-in-hand with all significant EHR and PMS software to facilitate more than 400,000 telehealth visits per month, increase patient satisfaction by up to 23%, reduce no-show rates as low as 4%, radically improve staff productivity, and help providers drive more revenue through better patient attendance.
As the demand for efficiency and connectivity in healthcare is constantly growing, rising care costs and inefficiencies threaten patient outcomes and the stability of healthcare organizations all over the United States. Mend has responded to this need by taking Mend tools and services nationwide. Today, thousands of providers, practices, and institutions across more than 89 specialties use Mend to see more patients speed up the time to visit and increase practice revenue.
"AI is a critical part of the vision for our platform. We have AI reports to proactively identify who might have issues connecting before a telemedicine visit. In the near future, AI can play a significant role in patient engagement by collecting vital signs, predicting no-shows, and removing language or other communication barriers," says Matt McBride, CO-founder & CEO of Mend. "Mend Free and Mend Enterprise allow users to launch the #1 telemedicine software platform fast to meet the needs of their patients."
Mend Free is a lightweight but competent telemedicine offering for small practices. It supports full HD video, ad-hoc visits, scheduled encounters, and more. Mend Enterprise is a complete patient engagement solution before, during, and after the visit. The easy-to-use tools are HIPAA-compliant and create opportunities for providers, patients, and businesses to thrive. Mend takes a holistic approach to custom implementation, adapting a full suite of patient engagement and digital front door features to an institution's operations. "Our solutions can streamline clerical tasks, reduce staff burnout with EHR integration, digital forms, and payment capture, and empower patients to take an active role in their healthcare with self-scheduling, reminder messages, and telemedicine," adds Matt. "We offer HD video appointments for individuals and groups to connect with current patients and reach new communities. With Mend Enterprise, you can connect patients with care they need, equip the staff to work efficiently, and grow your business."
Mend's key differentiators are customer service, hybrid care, automation, custom workflows, and patented technologies. Mend creates easy, frictionless experiences for patients, staff, and clinicians with robust patient engagement, patient financial engagement, or telemedicine across both virtual and in-person visits. Their unique solution allows customers to consolidate vendors and integrations into a single experience to solve patient revenue cycles, no-show rates, patient satisfaction, and staffing issues.
For instance, Cambridge Healthcare Alliance (CHA), a Harvard Medical School Teaching Hospital located in Cambridge, Massachusetts, partnered with Mend in the Spring of 2021 as they expressed the importance of working with a patient engagement solution that could be agile to the needs of their unique patient population. Mend was able to interface with Epic to create an integrated workflow that has allowed their providers and healthcare workers to engage in over 85,000 Telehealth appointments alone over the past 3 months. After implementing Mend in 2021, Cambridge Healthcare Alliance has integrated HIPAA-compliant telemedicine and patient engagement workflow into their on-site and remote Epic workflows. While maintaining the organizational focus on increasing access to care, CHA has provided versatile telemedicine to marginalized populations within their community and beyond.
Mend is focused on expanding its enterprise customer base of healthcare organizations with 50 or more providers. Matt states, "Mend is a game-changer for numerous care providers, and we aim at elevating our services so that all healthcare providers can offer the best of care."