A recent study by Gartner revealed that Chief Information Officers (CIOs) in 2022 fall under two categories – those who are ready to handle disruptions and those who need to address priorities for an agile business environment.
One unique thing about CIOs is their position in the IT industry, which grants them a cross-functional view of the organization's data, transactions, and other processes. Since these C-suite executives get a bird's-eye view of the organization they are in an ideal position to transform into a thought leader.
Are you a CIO reading this blog, second-guessing yourself? This is your confirmation to stop doing so! In tandem with a few innovative strategies, your position can become a valuable asset to your organization.
You can not only impact the functioning of the internal departments but also influence tech adoptions and general processes. This guide will help you understand your 'Golden Triad' position and how you can leverage it to establish yourself as a thought leader in the IT industry.
Learn all about how CIOs become IT thought leaders!
The Golden Triangle Where CIOs Stand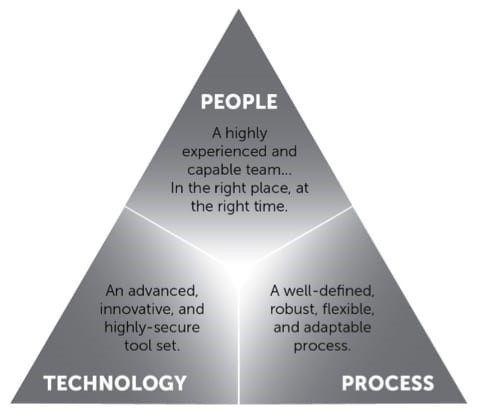 Source: Lastline
CIOs stand at a crucial intersection – business and technology. This does create much pressure on these C-level executives to become Jack of all trades in a tech-focused world. The first step begins with blooming where you're planted. This includes three main areas (the Golden Triangle) –
Solid Understanding of IT Mega Trends
Hardware and software technologies have advanced at a lightning pace. These include innovations in the areas of Machine Learning, Artificial Intelligence, blockchain, cybersecurity, facial recognition technology, cloud computing, and more.
Often, it's tempting to think that advancements in these areas are nothing new, which is only partially true. With time, these technologies are only bound to become more function-rich. They will be integrated into production IT systems shortly.
Though there is nothing wrong with focusing on the existing internal technologies in your company, there are other areas you should focus on as a CIO to establish IT thought leadership. CIOs become IT thought leaders when they shift attention to:
Novel technologies that hold promise for your business and its specific needs
Current technologies that may be used in different ways
Technologies your competition is focusing on and why
Technologies that your most tech-savvy customers are loving
Technologies that were traditionally used in other industries
Solid Understanding of Your Industry
CIOs become IT thought leaders or better executives when they have a thorough understanding of the industry they operate in.
As such, you should focus first on general aspects such as the legislation related to your industry (both Federal and state), business economy, customer demographics, and other external factors.
You should also focus on specifics such as your business partners, industry trends and how your company keeps abreast with them, the competitive landscape, and the role your company plays in the market. Also, measure performance and gauge how well you are achieving those goals.
Keeping the Triad aside, industry understanding offers other professional benefits such as:
Better anticipation of client needs
Better current job performance
Being seated at the strategy table
Solid Understanding of the Intersection Where You Stand
The third leg of the Triad is about moving from a knowledge gatherer to a knowledge provider. While a solid understanding of the industry and the mega trends set the first steps, there are other aspects you need to consider:
Looking at the big picture as much as the details
Thinking innovatively to identify new business opportunities
Effective communication with peers, team members, and those in leadership positions
These skills will work with those mentioned above to enhance your overall IT value and professional reputation
Beware of Self-Deception!
As CIOs become IT thought leaders, there are several self-deceiving statements they believe in. These form a tangled web of wrong decisions, goals, and wishful thinking. Inevitably, you will also be tempted to fall for self-deception. Don't believe the following lies:
All systems are 100% secure – check, check, and then check some more!
Our business is well-aligned – are you sure?
The only time any software needs an upgrade is when the new version offers high business value – what about the obsolete old?
For the big project that we're behind schedule, we can easily catch up in the next phase – time and clients wait for none, right?
Our business is pretty agile – is it only because you use the terms?
Always double-check your decisions, IT production systems, and outcomes. Once the lies are out, your journey towards becoming an IT thought leader automatically becomes much smoother!
Top Tips for CIOs to Become IT Thought Leaders
CIOs become IT thought leaders when they consistently push away the lies and make room for the truths (the good, the bad, and the ugly). The new role that you're about to assume will put so much at stake; you can start by incorporating the tried-and-true tips and strategies given below –
Develop a Semi-Objective Perspective
Top CIOs-turned-thought-leaders would recommend taking the seat of an external observer. This makes it easier to remove biases and focus on others' perspectives easily. Even while you're drafting content, think that you're addressing a skeptical audience.
This also means regulating the frequency of posting content. There is no need for an hourly content barrage; a fixed number of solid, valuable posts every week should be enough to stir your audience.
Remember that it's not about the quantity of your words or posts but the value they hold to move your readers. You need not try to be counter-cultural, but you need to come up with something new.
Examine all areas of your industry, identify the scope for improvements, and discover novel ways to fix the issues. Run your draft with trusted friends and family, refine it, and then communicate the same to your audience. Be assertive, but most importantly, be authentic.
Hone One Area of Expertise
You may likely have genuine interest and expertise in several areas, which is excellent and something you should continue cultivating. However, as CIOs become IT thought leaders, their credibility comes from their niche expertise.
So, figure out that one area that you're not only good at but would love to learn and speak about to your audience. For instance, out of all niches, you've chosen cybersecurity for yourself. Even in this niche, you need not post about every other data breach that takes place.
Develop an eye for what's essential and what's redundant. Learn more about nested issues that plague key decision-makers and stakeholders, and create topics surrounding those issues. Plus, you can surely participate if a tweet is circulating about these areas.
Consider Your Content Platform
CIOs become IT thought leaders when they consider their content platform well. The more insightful your blog posts or YouTube videos are, the more people will share them on their personal social media accounts and the more exposure you will receive.
This also helps cement your image as a credible thought leader in your chosen niche. Plus, given the variety of tools available today, developing an interactive video or engaging blog is easy.
Remember that creating a personal brand is indispensable to becoming an IT thought leader. As a beginner, you can start with Twitter, share ideas, and post at least twice weekly. From there, gain momentum and build your presence on these non-negotiables –
Personal website for branding
Strong LinkedIn presence
Personal blog
No matter what you do, keep in mind that consistency breeds followers, so ensure you have a solid content strategy in place.
Develop Compelling Content That Sparks Conversations
Content that acts as food-for-thought is how CIOs become IT thought leaders. It all starts with identifying your audience correctly. Who are you writing for? Business executives, government managers, etc.?
Once that is determined, develop content that resonates with your target groups. You don't need to create lengthy posts, but it is important to come up with fresh ideas that challenge your readers to make positive changes.
Be as specific as possible to help your audience understand your perspective, but keep your views agnostic when it comes to technology. Leave the conversation open for the reader to make an informed choice.
As you do that, you also need to start building your network actively. Connect with influencers and other tech biggies within your industry and start meaningful conversations. The aim is to exchange ideas to enhance your knowledge.
Some top outlets to grow your thought leadership in tech would include:
Regular blog posts that are thought-provoking and engaging
Educational explainer videos
Expert interviews
Guest appearances
Social media posts
Wrapping Up
Finally, becoming a thought leader is a mammoth task and comes with its share of risks and challenges. Keeping the deceptions aside, it is possible that you might receive public criticism for your posts.
Remember that the platform you receive is open to public scrutiny and might inspire discourse. But, that is simply a part-and-parcel of transforming into a thought leader.
Rigorously review content before posting, and stay prepared to tackle any feedback that comes your way. Also, strike a balance between your unique voice and the company's values. This will help you stay unique yet objective with your audience.
Most Common FAQs
1. What is the importance of CIO thought leadership in tech?
Tech is the fastest-growing industry in the world today. As technologies emerge and evolve, companies are looking up to tech thought leadership to keep abreast with the changing market. Now is the best time for CIOs to establish themselves as IT thought leaders.
2. How can CIOs grow thought leadership in tech?
Four sureproof ways CIOs can grow thought leadership in tech include expert interviews, regular blog posts, social media content, and guest appearances on credible platforms.