INTRODUCTION
Research – and experience – have shown us that emails are distracting. According to one study, it takes upwards of 20 minutes for an employee to regain momentum following an interruption, and with the average office worker receiving about 126 emails each day, it's clear that companies are losing out on massive amounts of employee focus. Especially in the context of a legal firm, emails represent important matter communications and documents that need to be read, digested, filed, and secured – which is why many attorneys anecdotally "live out of their inbox" – often cobbling together filing systems to use as running task lists, file storage, and more. This is where email management systems can help.
Email management involves the systematic control of all email communications within an organization in order to mitigate the risk of a compliance or data breach.
TABLE OF CONTENT
WHAT IS EMAIL MANAGEMENT AND WHY DOES IT MATTER?
CHOOSING THE RIGHT EMAIL MANAGEMENT SYSTEM
HOW TO IMPLEMENT AN EMAIL MANAGEMENT SOLUTION
CONCLUSION
ABOUT NETDOCUMENTS
SOURCES
Download Full White Paper Here
CONCLUSION
Professional service providers are overwhelmed with email. Not only due to the sheer number of communications they receive in a day, but because of the work required to properly digest, file, and organize email communications. By adopting an EMS, businesses provide employees with the tools they need to stay focused on tasks and adhere to compliance procedures – leading to more time spent on production, increased data protection, and most importantly more time to devote to providing world-class customer experiences.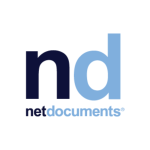 NetDocuments is the leading cloud-based document and email management solution to securely and easily store and organize documents on one secure platform. With NetDocuments, users can create, open, edit, version, and save documents in the context of projects or matters. Additionally, users can share and collaborate with others, or file email to a shared location. With 20 years of experience, 2,750 customers (companies) worldwide, and our ability to manage billions of files each day, NetDocuments is a critical component of any organization's digital workspace. Make the move to NetDocuments and get speed, mobility, and industry-leading security.