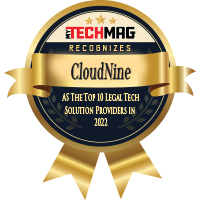 "Your data tells a story. CloudNine is uniquely prepared to gather and managed today's modern data to piece that story together so that it's cohesive, compelling, and complete."
CloudNine addresses challenges for corporate, law firm, and government clients looking for continuous improvement in the litigation workflow. The CloudNine Suite includes the industry's only investigation platform built and prepared to handle today's modern data types (chat, text, social media, mobile system data) and streamline evidentiary data from disparate sources so that it's cohesive, compelling, and complete.
The industry-leader allows clients to control costs and mitigate risks by reducing complexity and streamlining data management processes without requiring expensive consultants. The CloudNine Suite serves as an end-to-end eDiscovery platform and helps companies complete projects in less time without sacrificing.
"We can uniquely support traditional and modern data (chat, text messages, social media and mobile system data) in its native format. Our cloud-based solution is dynamically scalable to meet growing capacity demands and is designed for ease of use," says the steadfast leader. "We offer near-constant technical support (telephone, email, answer center, training resources) and are constantly pushing out seamless updates and innovative features based solely on the feedback we receive from our clients."
Georges Sabongui, CEO of CloudNine, is an innovative and forward-thinking executive with over 30+ years of experience in eDiscovery, SaaS, and enterprise software at private and public companies.
He states, "We build seamless and frictionless solutions that put power behind data, eliminate unnecessary stress, and offer highly competitive, transparent pricing models.  We want to help investigators uncover the data that lives outside of traditional documents and make it streamlined, merging disparate conversations into one view." The company is always looking ahead of the curve to anticipate client needs with the flexibility and agility to pivot as the market evolves. In addition to enhancing their SaaS-based business model, Georges is focused on developing features into their software that help clients get the job done effectively and efficiently.
As the industry still manages traditional and modern data with an "image" approach – meaning they create an image of the data, CloudNine offers a rich native view of all data, which results in a dynamic workflow that can accommodate additional data during the matter or allows for a change to the workflow as you learn more about the case. CloudNine's native view for modern data is a leap forward for the industry, similar to when we started reviewing spreadsheets in a native view.
They continue to look for tools and products that fit the clients' unique needs to add to their stack, with a SaaS-focused model that aligns with industry trends of cloud computing.. "Our decision to increase investment in SaaS solutions is one that aligns with our clients' long-term needs. On top of an improved security posture and scalability, moving to the Cloud reduces clients' internal infrastructure demands and hardware costs, eliminates time-consuming installs, upgrades, and system downtimes, and provides backups and disaster recovery backups," adds Georges.
In the future, CloudNine will continue to make advancements and innovations based on industry trends and client needs.  Georges adds, "We will continue to focus on SaaS-based solutions. Working in the Cloud offers our clients the cost and time savings and the security they need to grow their successful businesses, and we want to be their trusted partner as they continue to scale."
Gracie Johnson is a Senior Content Writer at MyTechMag. She is an enthusiastic learner and loves to explore all the areas of technology.