Introduction
Law school didn't teach you how to evaluate the risks technology poses to your client data, but with cloud-based software quickly becoming the norm, it's more important than ever that lawyers understand the tools they're using.
Table of Content
WHY ARE FIRMS MOVING TO THE CLOUD?
THEY DIDN'T TEACH YOU THIS IN LAW SCHOOL
5 QUESTIONS YOU SHOULD ALWAYS ASK
DRAWBACKS TO COMMERCIAL FILE STORAGE
LEGAL-CENTRIC DOCUMENT MANAGEMENT CAN HELP
NETDOCUMENTS IS THE PREFERRED SAAS CLOUD PROVIDER FOR LAW FIRMS
Download Full White Paper Here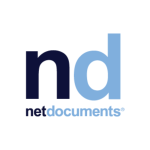 NetDocuments is the leading cloud-based document and email management solution to securely and easily store and organize documents on one secure platform. With NetDocuments, users can create, open, edit, version, and save documents in the context of projects or matters. Additionally, users can share and collaborate with others, or file email to a shared location. With 20 years of experience, 2,750 customers (companies) worldwide, and our ability to manage billions of files each day, NetDocuments is a critical component of any organization's digital workspace. Make the move to NetDocuments and get speed, mobility, and industry-leading security.