The real estate industry is an ever-growing sector that employs a huge workforce. One of the most prominent professions in the industry is a real estate agent. According to a survey, 52% of home buyers choose a real estate agent to find their dream homes.
So, real estate agents are in massive demand by buyers, real estate developers, and brokerage firms. Being an agent can be the perfect way to shape your career graph in real estate. However, it all starts with getting the license. Earning the license may take around 4 to 6 months.
There's a lot of information you need to know about getting the license. Factors like educational requirements, country, state, and expenses will come into play.
This post will walk you through everything that'll help you understand how long it takes to get a real estate license.
Why Get a Real Estate License?
It is very simple – you need to get a license to be able to sell real estate properties. The legal document allows you to broker or rent properties to interested buyers. You might work for a real estate brokerage or project development firm to handle real estate properties.
All this will be possible only after you obtain a real estate agent license. It will pave the way toward a brighter and more profitable future.
Curious about the benefits of obtaining a real estate agent license? You'll be glad to know that real estate agents have a median salary of around $49,040. Furthermore, the lowest income for agents is approximately $25,100 per year, and it can go up to $112,410.
After getting the license, you can gain relevant experience and develop your skills. The sky is the limit when it comes to real estate sales!
Time Required to Obtain a Real Estate License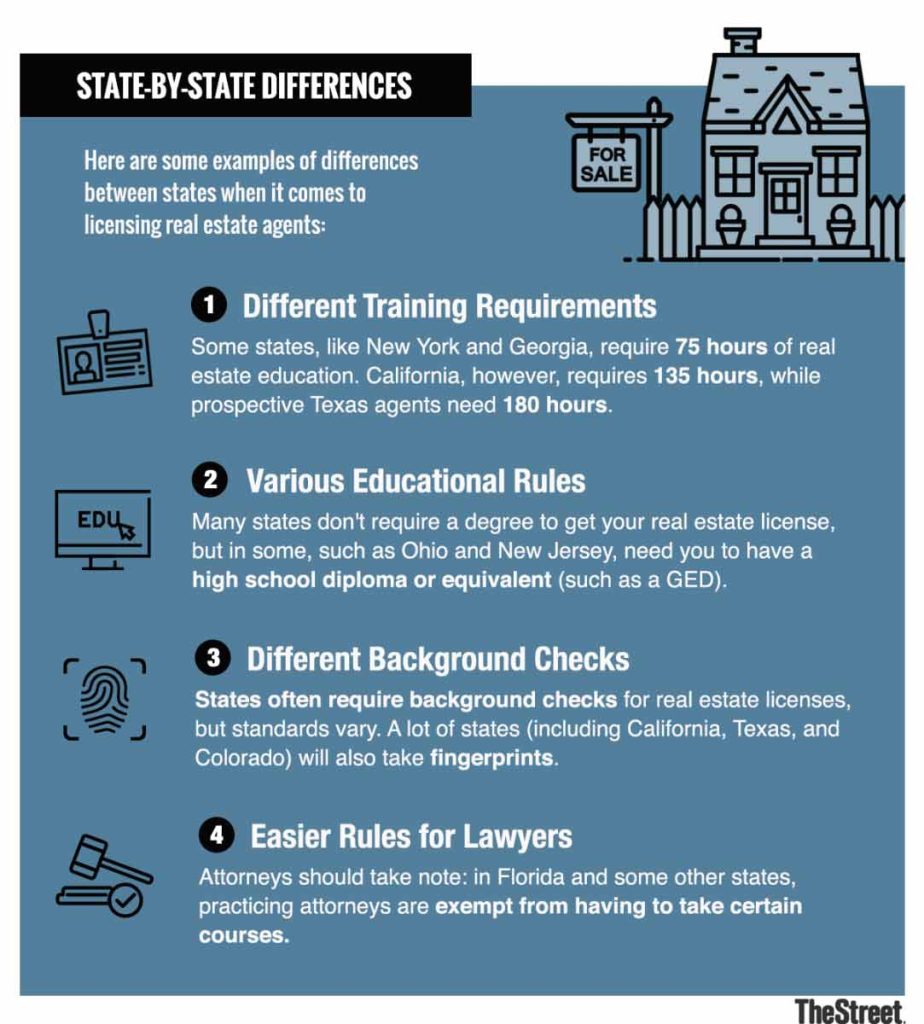 Source: TheStreet
You might be wondering how long does it take to get a real estate license. The answer will depend upon several factors. You need to consider factors like the country and state's real estate licensing requirements.
It might include anywhere around 40 to over 120 hours of formal training and education. Moreover, you have to consider the time taken to apply for the license, sit for the examination, and receive the license.
So, you might have to wait almost 3 to 6 months to become a licensed real estate agent. If you take relevant online courses on real estate, you can complete the required training quickly. It will enable you to apply for the licensing exam faster.
Then, you just have to wait to get the license and start working. However, it will depend upon how fast your state's licensing proceeding goes.
Procedure to Obtain a Real Estate Agent License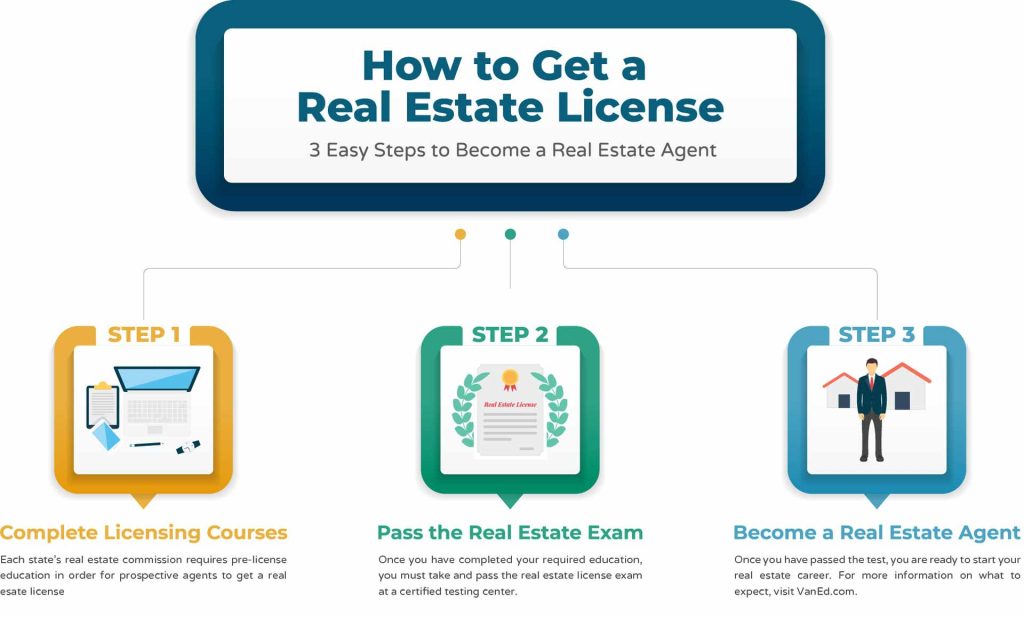 Source: Vaned
If you aim to become a real estate agent, it's vital to understand the licensing, educational requirements, license application, and other aspects. Although the rules may change from one state to another, the basics remain the same.
Here's a breakdown of all the steps you'll need to earn your desired real estate license.
Step 1: Figure Out the State's Licensing Pre-Requisites
The first step in getting closer to the license is understanding the state's licensing rules. As these rules are different for each state, refer to your state's official real estate regulatory department website.
You'll find that each state has specific pre-requisites such as –
A college degree in real estate fundamentals like property ownership, deeds, and property valuation
Your minimum age needs to be 18 years
Permanent residency proof of the state and country
Criminal history background checks and fingerprinting
Professional background
If you want to work as a real estate agent in two states, see if your state offers a reciprocity agreement with the other state. The agreement allows you to get licensed in your state and use it in the other state without another licensing exam.
Step 2: Figure Out the Educational Pre-Requisites
Most states require you to have a college degree, GED, or high school diploma to be eligible for the licensing. However, the rules might differ based on the hours of college coursework. It can be anywhere from around 60 to 180 hours of education.
You must take the course from an accredited licensing school. You'll find that most of these institutes offer multiple options to complete the pre-licensing courses. For instance, you might have to attend weekly classes or self-paced online courses.
Select the best educational program that suits you. If you don't prefer attending classes, taking an online degree will be better.
While analyzing the courses, check the quality of instructional materials and the teachers. A decent faculty will guide you in clearing the licensing exam successfully. Additionally, this is also an appropriate time to compare the prices and see which course fits your budget.
Step 3: Complete the Pre-Licensing Course and Prepare for the Exam
After selecting a suitable course, you need to complete it on time. Try to study the material in-depth, and understand the basics, trends, and scenarios to fulfill course requirements.
It's now time for the big event – the licensing exam registration. If you feel confident about what you've learned, start preparing for the exam. The first step is to apply for the licensing examination.
For this, you need to visit the official website, register, and pay the exam fee. If you're unsure about the process, ask your teachers. It's usually a simple process similar to other online exams.
Then, you need to see how many credit hours you need to complete for the exam. Some states let you appear for the test without completing all your educational hours. So, this might save a lot of your time and speed up the exam application process.
Step 4: Appear for the Licensing Examination
After completing the registration application process, you'll be set for the exam. You must have sufficient preparation for the exam to clear it in your first attempt. Moreover, you must check out previous years' question papers to better understand the exam pattern.
The general licensing exam details include –
The test can have 100 to 200 multiple choice questions
The duration will be around two to three and a half hours, which might differ based on the state
You'll receive questions on state real estate laws and general laws
Each state will decide on a minimum passing mark. However, you must aim to score around 70% to qualify for the license
The exams might have a passing mark for each section
In case you don't qualify, some states might offer you another chance to pass the exam. You can talk to your instructors and the exam coordinators to know more. Moreover, you need to consider the time you need to wait before your next attempt.
Step 5: Apply for the license
If you passed the licensing exam, congratulations! Pat your back as you have achieved your dreams. The next step is to apply for the sought-after real estate license.
You have to submit the application fee, exam results, and other documents asked by the state. Some states might conduct a background check for criminal activity during the process.
Along with this, you also have to fulfill specific criteria for the application. For instance, you need to be 18 years old, and most have citizenship of Indians. Also, you will need the authorization to work in your state and country. Furthermore, educational qualifications like GED and high-school diplomas will be essential.
In some states, the application process for a real estate broker salesperson will differ. So, make sure you're visiting the real estate regulatory website and verifying the details.
What Happens After Application Approval?
After the regulator body receives and accepts your licensing application, they'll start preparing your license. The process might take one or two months to complete.
In some states, you'll receive a temporary real estate license to start working immediately. But, in other states, you have to wait until your test results are analyzed and then send the application. The process might be time-consuming, but it depends on your state of citizenship.
When the state finalizes your application, they'll mail the license to you. Moreover, they will register you as a licensed real estate agent on their official website, but you need to wait until you have the license in your hand. So, this waiting period is also a determining factor for the exact time it will need to issue a license for you.
Step 6: Start Looking for Job Opportunities
When you finally receive the real estate license, you will be set to start your job hunt. Begin by searching for entry-level jobs in real estate development companies and brokerage firms. Entering these companies will offer you excellent industrial exposure and the skills to prosper.
Another option is to begin your independent real estate agency, where you sell properties in your area. It can be challenging in the initial stages but will provide you a fantastic revenue.
Tip: If you find states with reciprocity, establishing a business in those states can be a lucrative option. It will allow you to capture the customer base in both states and scale your business.
Step 7: Keep the License Updated
You might be gaining big bucks with your real estate license, but it's essential to renew the license from time to time to avoid any complications.
You must check the state's license expiry dates and associated regulations. The expiry period can be 2 to 4 years, depending on the state.
Keeping the license current will always keep you well-prepared for any sales opportunity. Even if you're working in another state, a renewed license will enable you to explore local real estate projects and try selling them.
Frequently Asked Questions
Here are some important questions that will improve your knowledge of real estate licenses.
1. Where do I need to visit to appear for the licensing exam?
Every state has dedicated examination centers where you need to visit to take these exams. Local real estate regulatory bodies run these centers. So, after you apply for the exam, you'll come to know the location details.
Usually, this information will be available online on the state department site.
2. How many times can I appear for the exam?
Even if you fail to clear the licensing exam on your initial attempt, you can retake it. So, you can jump-start your career in real estate without any delays. However, there are certain factors you need to consider for retaking the exam.
Number of times you can appear for the exam
The time you need to wait between exam attempts
Any other formalities you need to follow
Remember that all these factors will depend upon the state you belong to. So, you need to search for the information on official sites.
3. What are some tips to prepare for the real estate license exam?
Developing a solid foundation in real estate basics and technical advancements is crucial for exam preparation. Here are some other tips you must follow to ace the exam –
Study all the concepts in your syllabus in-depth
Refer to old question papers for understanding the exam pattern
Ask real estate agents to share their inputs about the exam
Work on national and state sections separately
Always maintain a study schedule and manage your time
The Bottom Line
Becoming a real estate agent will allow you to work independently or with an agency. For that, you'll need to obtain the license and follow the necessary instructions.
Along with looking for reciprocity in other states, you must also take other exams to improve your career options. Surf online about exams to become a realtor and their associated pre-requisites.
Remember that earning a real estate license is not a very complex process. You just need to follow the regulations at each level and stay prepared. In addition, keep an eye out on the official websites for the latest updates on the licensing exams.
Read Also:
Gracie Johnson is a Senior Content Writer at MyTechMag. She is an enthusiastic learner and loves to explore all the areas of technology.