The real estate industry faces many challenges, from a lack of listings to a shaky sales process. Amidst these existing issues, most property dealers also fail to leverage cutting-edge technology. However, one of the solutions to rectify most practical problems is the utility of customer relationship management (CRM) software.
The CRM segment has a global revenue of approximately USD 70 billion. Hence, you now have plenty of options to explore and choose a suitable CRM software for real estate. Such a tool can help generate leads, simplify contact management, and offer features like referral tracking.
Still, abundant real estate CRM software options can make it difficult to shortlist. This blog saves the hassle of conducting in-depth research.
So, scroll ahead and choose the most suitable system for your property business.
What to Look for In A CRM Real Estate Software?
As a real estate agent, follow these steps before venturing out to explore the top real estate CRM software:
Identify your budget
Assess your needs
Prioritize ergonomics
Evaluate features
Choose a reliable developer
After going through these steps initially, identify these must-haves in CRM real estate software:
Lead segmentation
Notifications and alerts
Third-party integrations
Device compatibility
Ease in operation
Features like reporting and checklists
CRM real estate software varies in terms of features and pricing plans. A platform with all or most of these six aspects can prove highly lucrative. You want high ROI from a customer relationship management tool. The following section enlists ten software that ticks most right boxes.
The Top 10 CRM Software for Real Estate
Here are the best CRM tools that can refine your lead generation and contribute to augmenting your real estate sales.
1. Salesforce
Statistics are sufficient to testify to the role of Salesforce in the CRM software segment. This US-based platform leads the customer relationship management application market.
It has a market share of over 20%, making it a recognized and preferred CRM tool.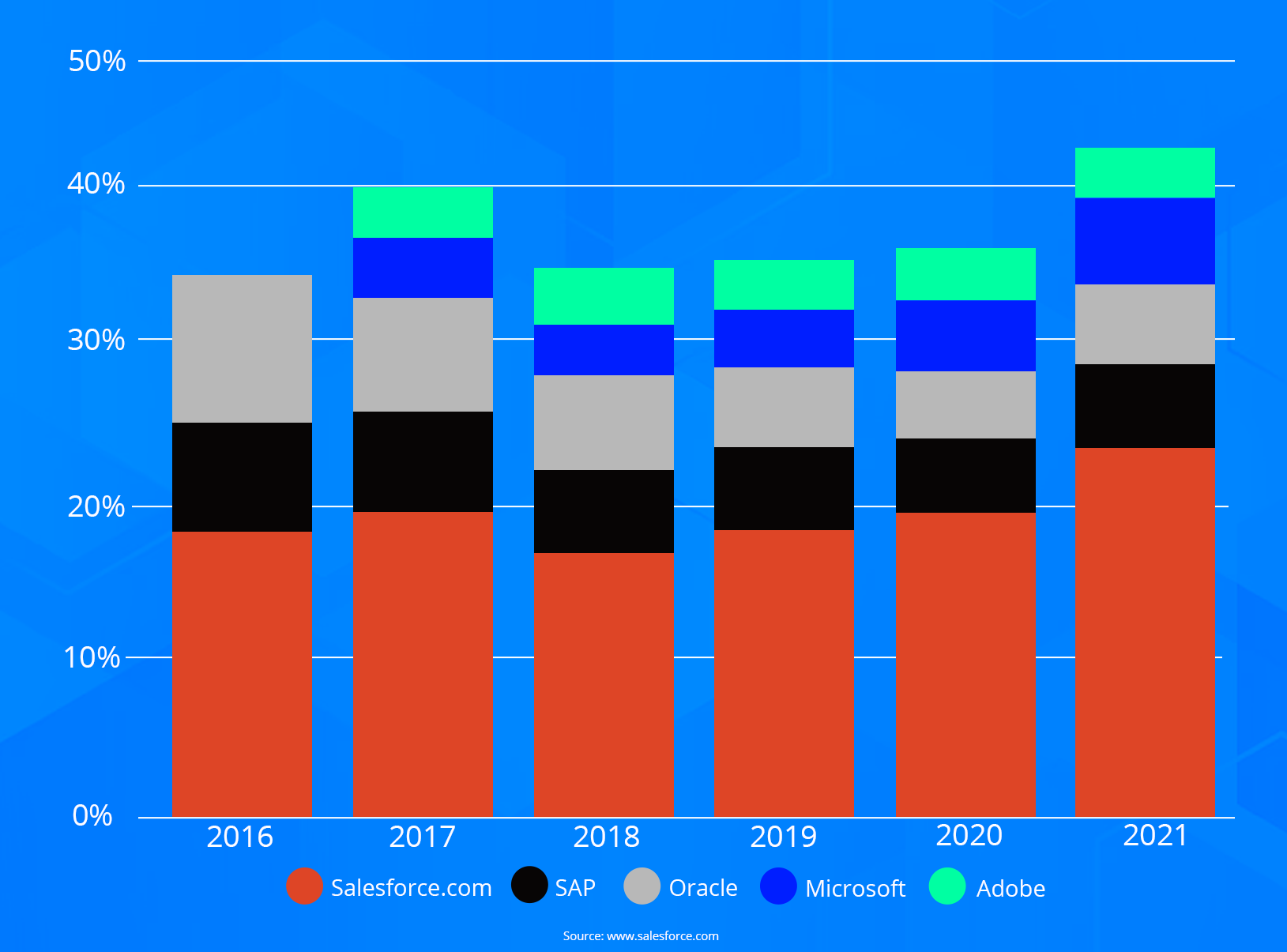 So, why can Salesforce become your top choice in the real estate software CRM hunt? Here are some solid reasons:
A broad range of features
Marketing automation
Ability to streamline high-volume sales
Customizable plans
Existence of a trial period
Notably, this cloud-based CRM support over 3,000 integrations. You can perform activities like planning email marketing campaigns, streamlining sales processes, and analyzing lead metrics.
All these reasons make Salesforce a popular option as a robust CRM real estate software.
2. HubSpot CRM
Features like pipeline management tools, sales automation, and predictive lead scoring make this platform worth considering.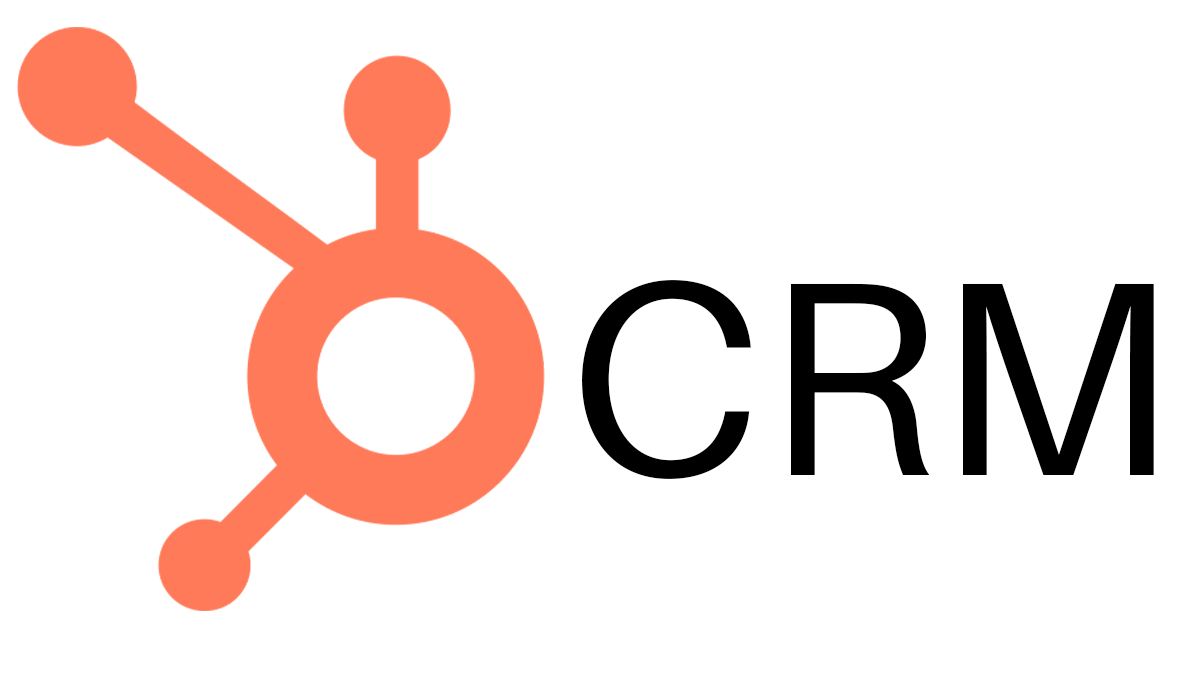 Here are the main benefits of this CRM software for real estate:
You can clean, sync, and manage data through automation
It is possible to track real estate leads in the sales process
You can prioritize outreach based on the tool's analytics
It is possible to develop personalized email messages
One of the HubSpot CRM highlights is its ease of utility. Moreover, the application marketplace contains over 500 apps. The remarkable customer support ensures query resolution at any instant.
On the contrary, the free plan does not allow you to automate activities. Also, the upgrades are a tad expensive. Choosing this CRM real estate software is reasonable if you have an adequate budget.
3. Top Producer
CRM marketing has become the need of the hour to generate profitable leads. Platforms like Top Producer prove beneficial for such purposes.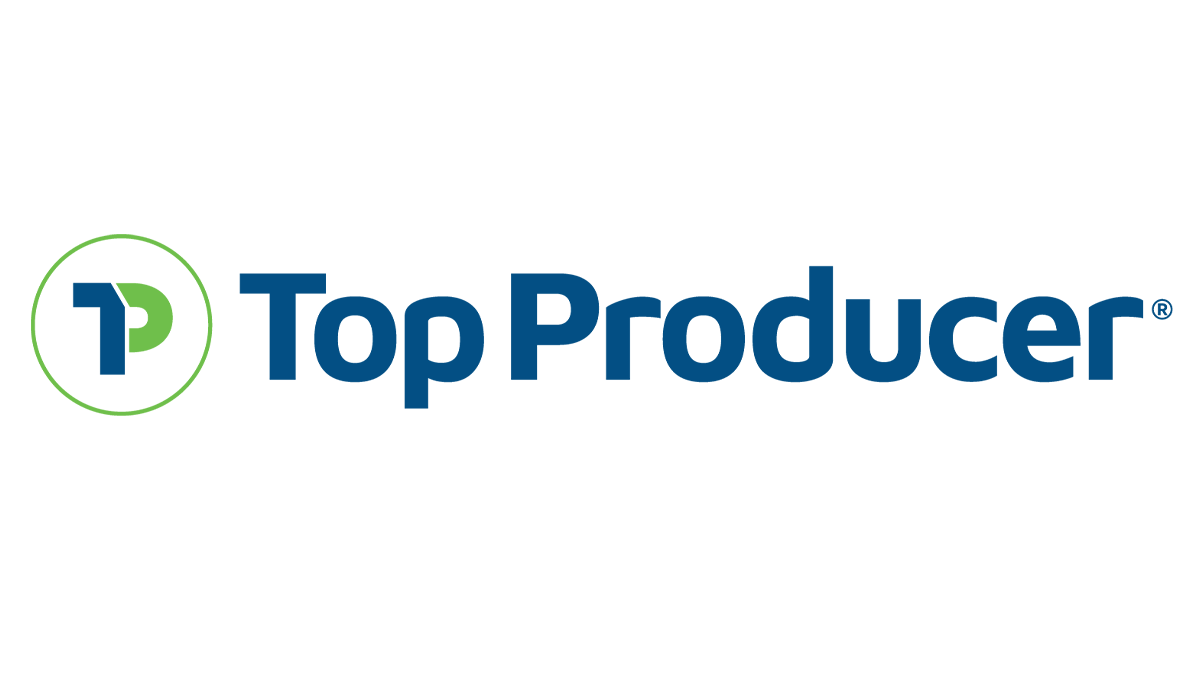 This customer relationship management tool aims to simplify and optimize the tasks of real estate agents. It is versatile and suits the requirements of all levels of businesses.
Here are some vital aspects of Top Producer that you should consider:
Client management
Workflows
Multiple listing service integration
Process management tools
On the other hand, this CRM real estate software does not possess an intuitive, and the integrations are comparatively limited. You can explore this option as it is specifically developed for real estate companies.
4. Freshsales
Take a look at the main dashboard of Freshsales CRM. It is clean, contains a chatbot, and is easy to use.
However, what standout features make it a worthy inclusion on this 'CRM software for real estate' list? Well, here are some of the highlights:
The free version supports several valuable features like an in-built dialer, chat tool, and tasks
It is helpful for direct outreach
The paid versions have features like AI, separate dashboards, and visual pipelines
You can also use the interaction tracking feature to manage clients efficiently
A free trial enables you to acquire a glimpse of all these valuable features. So, if you want real estate CRM software for direct sales, this option can prove helpful.
5. Zoho CRM
Since 2005, this Indian cloud software company has offered dedicated real estate CRM solutions. It is prominent for its comprehensive feature coverage and affordable lead management system.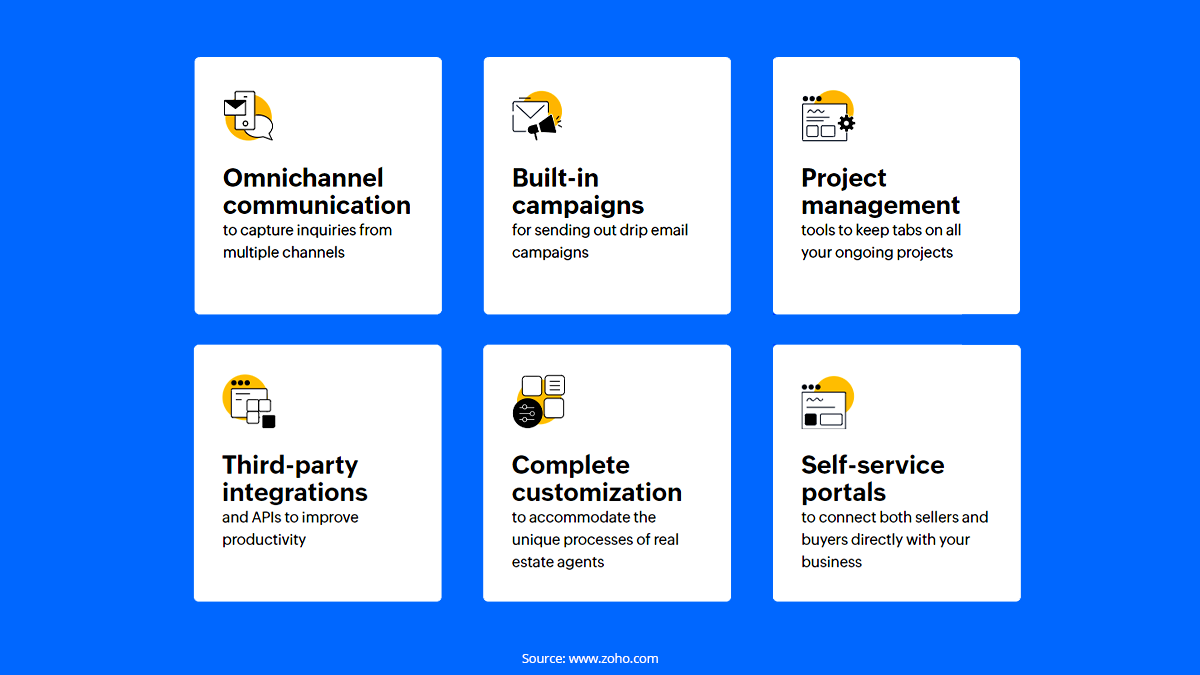 Here are some of the highlights that Zoho CRM offers to real estate agents and companies:
In-built drip email campaigns
Third-party integrations
Free and competitively-priced plans
Ability to add leads from multiple sources
Automated emails and notifications
6. Zillow Premier Agent
This customer relationship management tool is another platform exclusive to real estate companies. Since it focuses on a niche industry, you can expect all the vital tasks in its module:
Customized note keeping
Lead routing
Reminders and task allocation
Advertising features
Search insights and lead generation support
In addition, the Zillow Premier Agent for smartphones offers ease in carrying out vital tasks.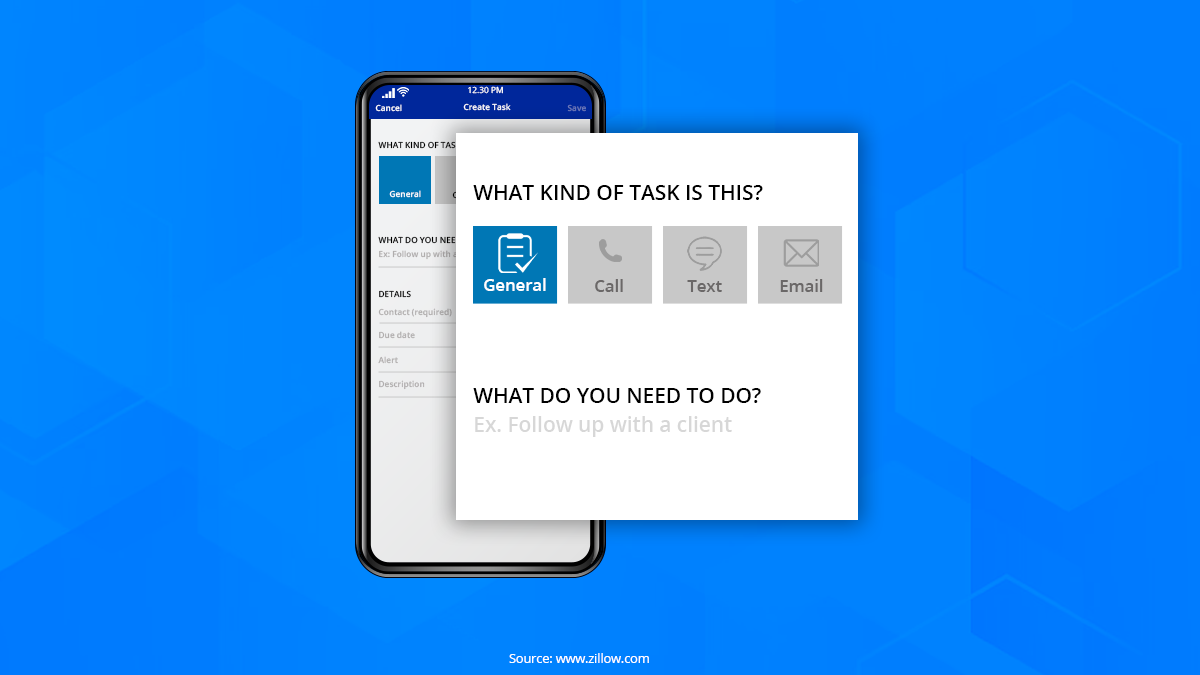 Another intriguing feature of this CRM is the ability to connect with prospects that lie within your zip code. The Zillow platform redirects such leads to the available real estate agents.
So, if your focus is on using specialized real estate CRM software, this option is worth exploring. However, you receive comparatively limited features from this customer relationship management tool.
7. Follow Up Boss
Follow Up Boss is an apt option if you want reliable CRM software for real estate. Here are the reasons behind its popularity:
Easy-to-use user interface
Effective lead generation tools
Push notifications
Automation for drip marketing
Two-way texting (with a specific plan)
Availability of discounts in case of annual purchase
In addition, the pricing plans of this real estate CRM software are pretty competitive.
Hence, you can receive a suitable package that can help amplify your daily client engagement activities. One of the highlights of this CRM tool is the lead import support from over 200 sources. So, this software is worth exploring.
8. Pipedrive
Choosing CRM software for real estate is always a wise decision. In addition to generating leads, you can integrate such a platform to augment your sales and marketing strategy.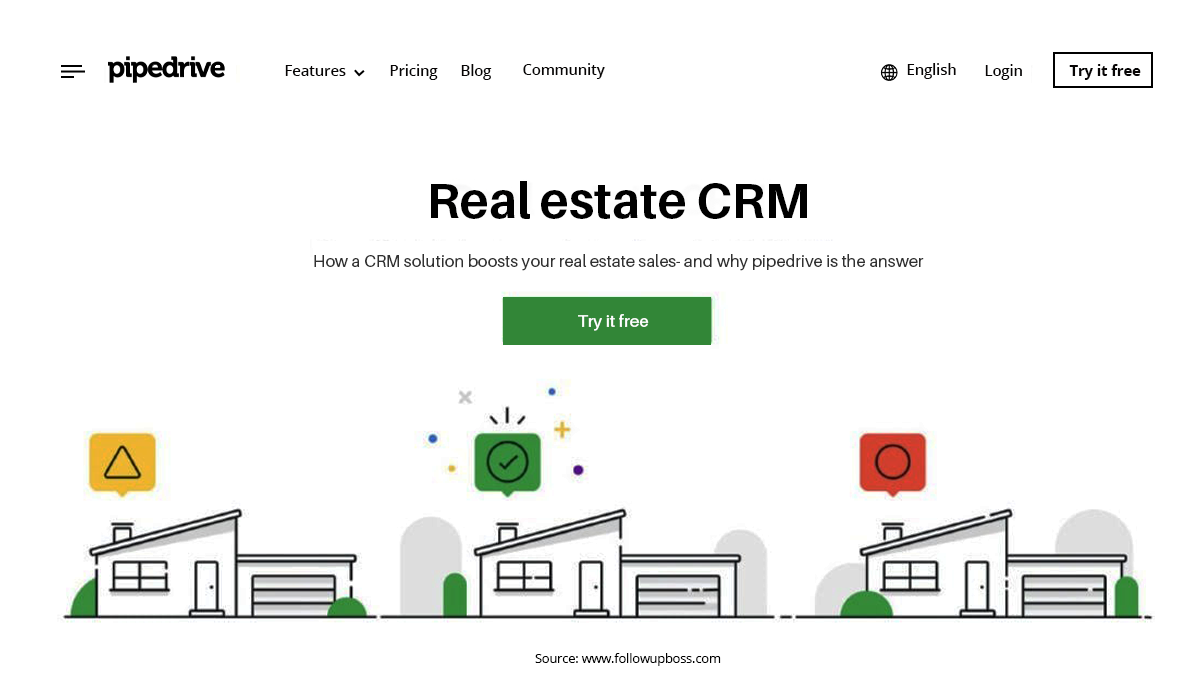 Pipedrive is one such customer relationship management tool that focuses on the sales aspect. So, if your real estate business has a sales-inclined model, this system can prove more helpful.
Here are some of the highlights of Pipedrive as a real estate CRM software:
You can store prospect information in a simple way
The platform offers a chance to customize the automation tools
It is affordable and supports a free trial for demonstration purposes
The user interface has an engaging visual appeal
Using this CRM tool, you can also track conversion history, prioritize leads, and update client information. So, this application is most suitable for small and medium real estate businesses.
9. Insightly
This CRM software has over 1.5 million users across the globe. The exciting aspect of this tool is that it treats properties as projects. You can add a specific land or asset as a new project and associate relevant tasks.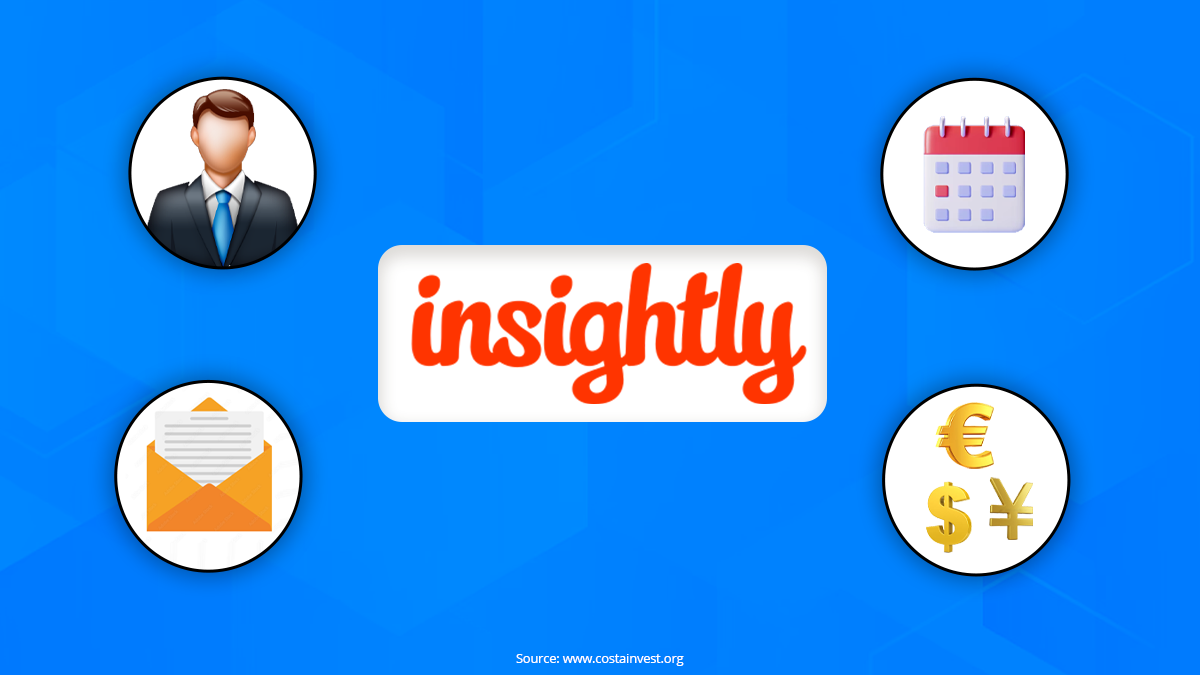 Here are some defining aspects of this CRM real estate software:
The platform automates actions relevant to each listing
You can establish various pipeline stages
The project management features are remarkable
You can perform multiple activities using the mobile app
Amidst all these benefits, there is one significant limitation to consider. Only two users can use the free version. For a more substantial number of users, you need to choose plans like Insightly plus, professional, or enterprise.
Insightly can also connect with Zapier, elevating its functionality and scope. So, regardless of the vendor, it is crucial to have an initial idea of available integrations.
10. BoomTown
Finally, you can explore another handy and specialized CRM real estate software in the form of BoomTown. Here is a quick look at its main offerings before understanding the nature of utility:
Launch: For new real estate agents and companies
Core: For mid-size property agencies
Grow: For teams that are undergoing expansion
Advance: For large-scale real estate and brokerage firms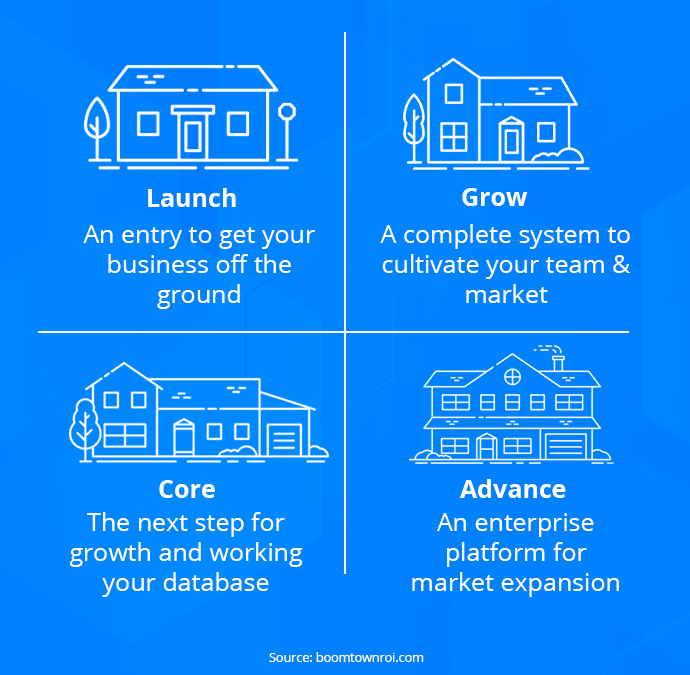 Features like success assurance, predictive CRM, lead generation, and consumer website makes this platform an exciting option. This real estate CRM software bolsters lead generation in the following ways:
Posting ads on Google and Facebook
Smart marketing on platforms like Instagram
Creating custom landing pages using the block editor
Automatically importing leads from prominent internet service companies
BoomTown claims a registration rate of 152%, which is higher than the sector's average. So, exploring this option can prove lucrative in the long term.
In A Nutshell
The high competition in the real estate market prompts businesses to adapt quickly. A suitable customer relationship management software is one such beneficial inclusion.
Notably, the best CRM software for real estate aims at simplifying and automating routine tasks. They have an easy-to-use interface, offer features like lead generation and marketing tools, and make it hassle-free to communicate with prospects.
Today, you should also choose a platform with reliable customer support. Since many real estate companies do not have a dedicated tech team, such a service proves crucial. Finally, aim to select software that supports seamless third-party integrations. You do not require tons of applications. Shortlist the most vital ones and decide accordingly.
Overall, always prefer real estate CRM software that suits your business. For this purpose, have a clear idea of your revenue, team size, location, and tech capabilities.
Gracie Johnson is a Senior Content Writer at MyTechMag. She is an enthusiastic learner and loves to explore all the areas of technology.