Let's face it when you have a new business there are several things you need to concentrate on. One of them is how to create a business email that will attract new clients.
For many firms, email serves as the principal source of communication. A professional email address makes it simpler for customers to recognise you and your business. Communication between key staff members and departments is essential to the effective operation of your company.
Your brand, marketing, and communications all benefit from having a professional email account. According to a Statista report, in 2025, the Global email users number is projected to increase to 4.6 billion, accounting for more than half of the projected global population.
Read on to know more about the cheat codes on how to create a business email.
What is a Business Email?
A business email is a formal email address that includes the domain name of your firm after the at (@) sign. Your domain name consists of the website name of your business, followed by a top-level domain like ".com" or ".net." The names of your staff appear before your domain name, making them and your company more identifiable and approachable to customers.
Using a generic address like [email protected] can make you seem unprofessional. Simply put, a business email address is an email that is used only by your company. It represents you and your company. The employee's name serves as the username and a special corporate domain identification in a professional email address.
The Need for a Business Email
Now that we have established what a business email is, we need to explain the importance of a business email and why we need it.
Brand Promotion: Every time you send an email, you advertise your brand if your email address contains your company name. By doing this, you can be assured that they'll remember you for a long time.
Being Professional: It's time to ditch your high school email, no matter how cool it sounds. By using an email address that represents your brand, you convey that your company is serious and professional.
Build Trust: A professional email helps prove your authenticity and lets your clients know about your business. By doing this, you'll gain their trust and offer them the assurance they need to respond to your emails and get in touch with your support staff.
Less Risk of Getting Spammed: With a professional email, there is less chance of getting spammed as customers will recognize it and associate it with your brand.
Learn About Email Hosting
An Internet hosting company that offers email hosting also rents and manages email servers. A premium service, email hosting services are different from free webmail providers like Yahoo and Google.
You will obtain a domain name and a hosting account when you launch your business.
Finding a hosting plan that supports business email is one option to create a business email address. To set up your business email using this method, you will log on to your hosting website and configure it.
Different services are offered by email hosting services, and several areas of email management are highlighted. You should pick one that satisfies both your budgetary needs and your company's email requirements.
Features to Look for in Email Hosting Providers
Bandwidth and speed
Total cost, including per-user costs
Anti-spam filtering, antivirus, phishing, and malware prevention, security systems, and two-factor authentication
Speed differences between various storage media, such as standard hard drives and SSDs
Protocols and compatibility with currently available mobile devices
Tools for team communication and calendar features
Steps to Create a Business Email
1. Choose the Best Provider for You
● Google Workspace
Formerly known as G Suite. Google Workspace is used by small businesses and large organisations. Google workspace plans start from $6 per month. It lets you venture into custom emails, and video meetings providing 30GB of cloud storage per user and standard support.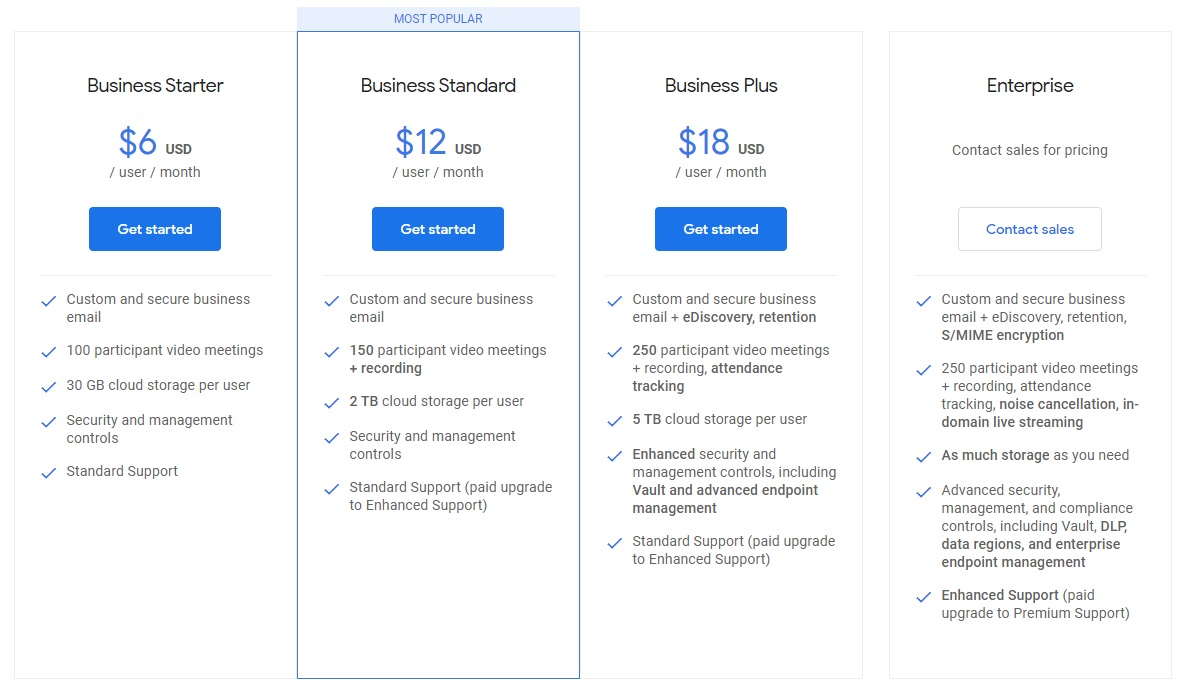 Source: Google Image Result
● Microsoft 365
Microsoft Business Premium combines the Office products your staff use every day at work with all the features you need from a hosted email service. It includes email services, custom domain addresses and data security. With a single subscription costing $12.50 for each user every month, it is a pretty sweet deal.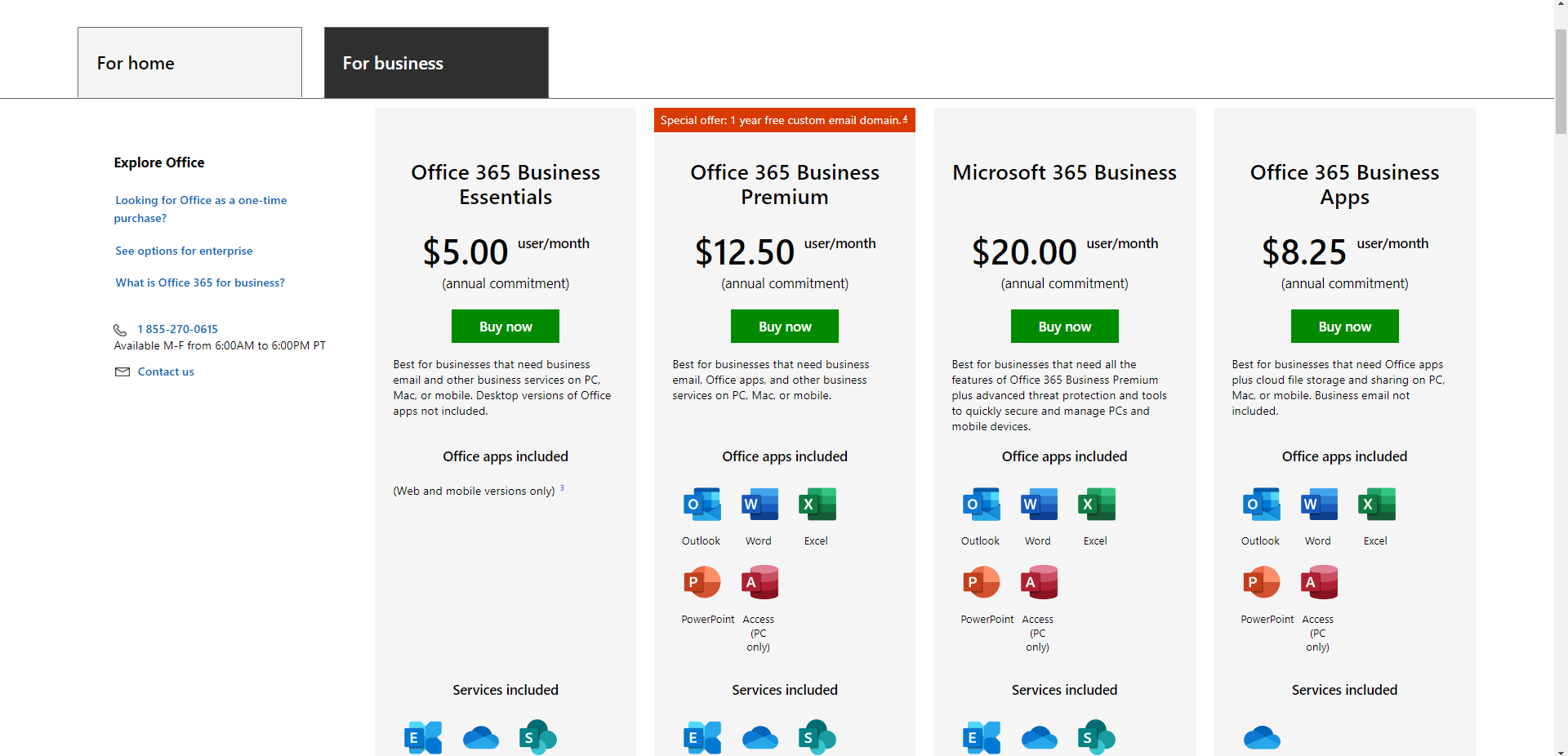 Source: Microsoft Community Hub
● Blue Host
Any hosting package from a company like Bluehost, which offers extremely cheap hosting, includes a custom email domain. You only pay for hosting with Bluehost because every new signup comes with a free domain. It starts at $2.95 each month which makes it super affordable.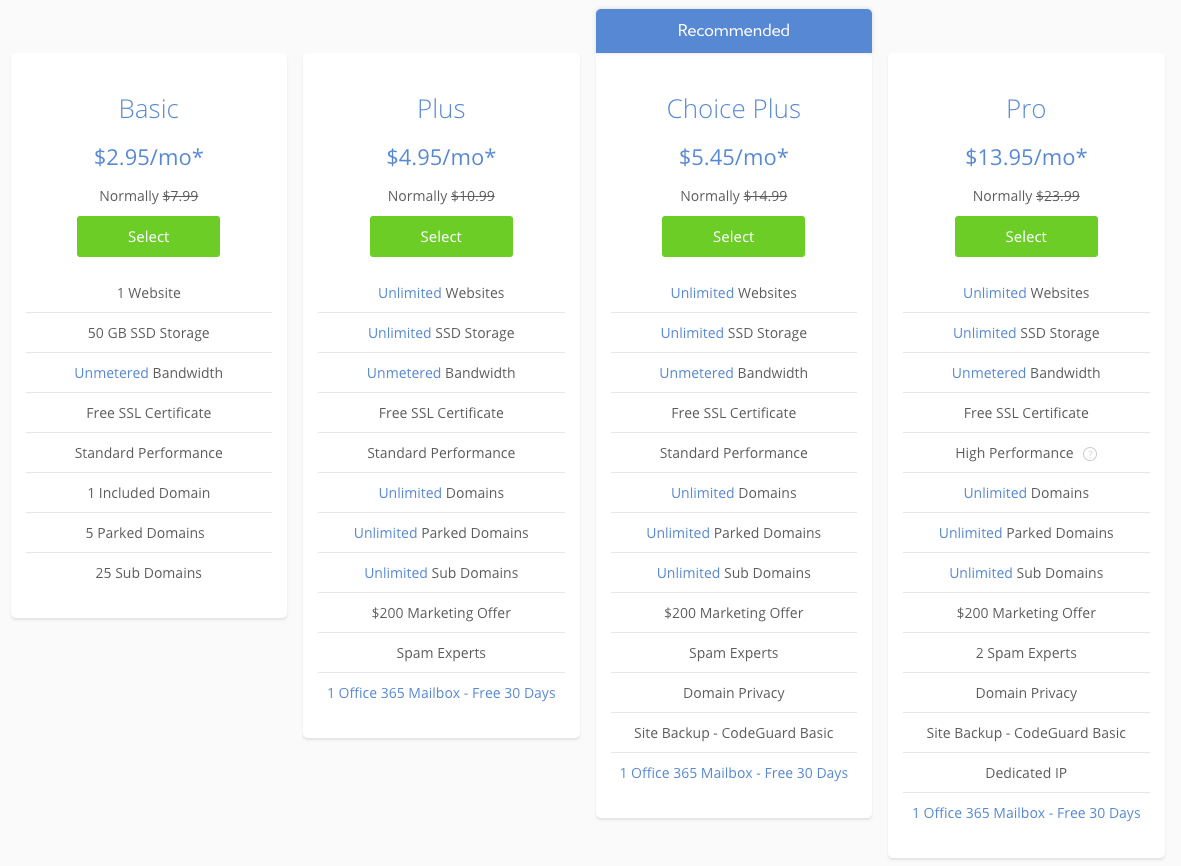 Source: Google Image Result
● Zoho Workplace
Zoho has features like domain aliases, email recall, and hosting for many domains, it has a robust feature set.
In Zoho, it is easy to organize events and communicate notes with team members in this workspace since it provides features like event creation, tasks, and notes. The plan starts at $1 to $4 for each user, every month.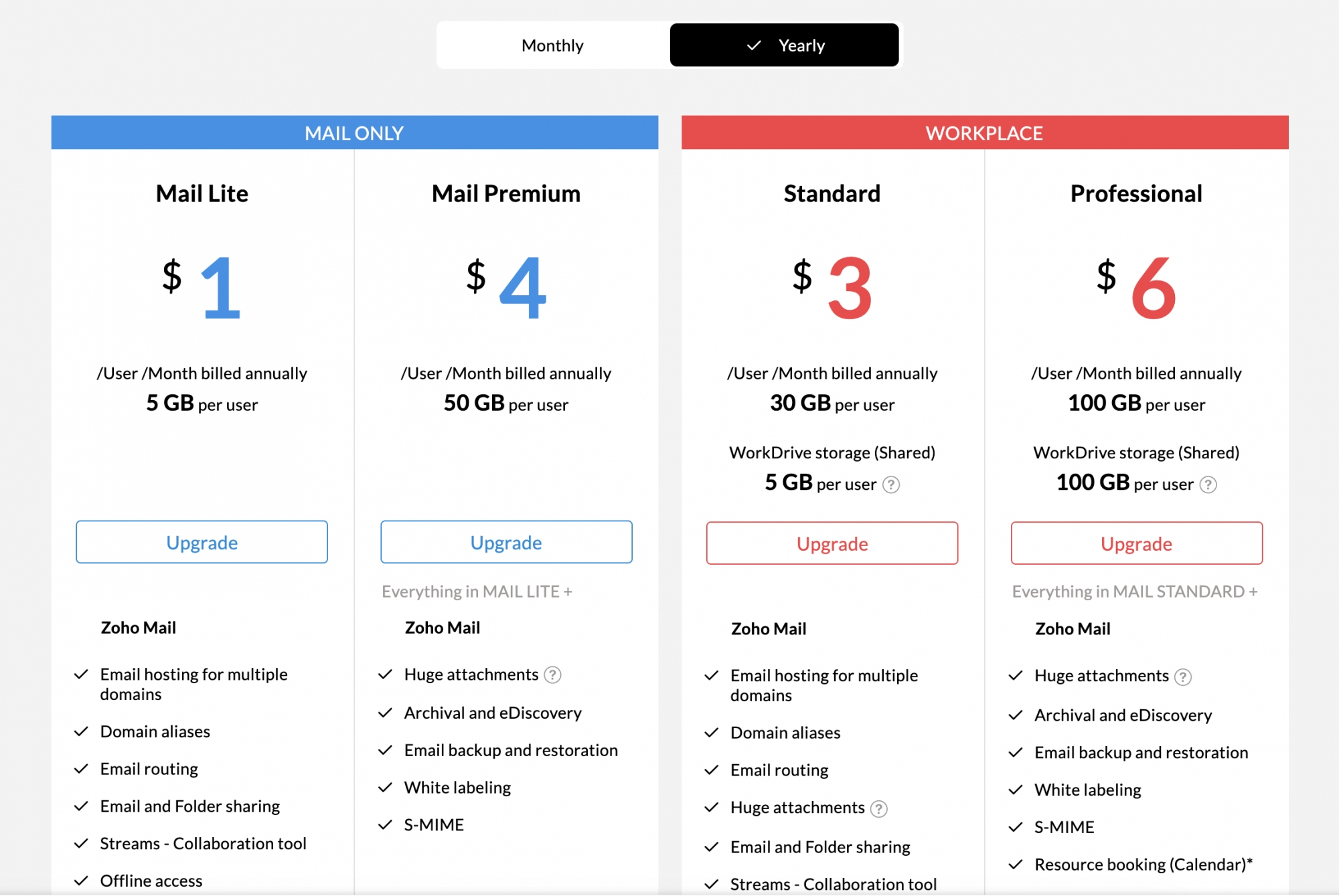 Source: Zoho Mail
2. Sign up with Google Workspace
If you are working on how to create a business email with Google workspace, you need to sign up for it and choose a plan that suits you. It is best to look at the features of all the plans before choosing one.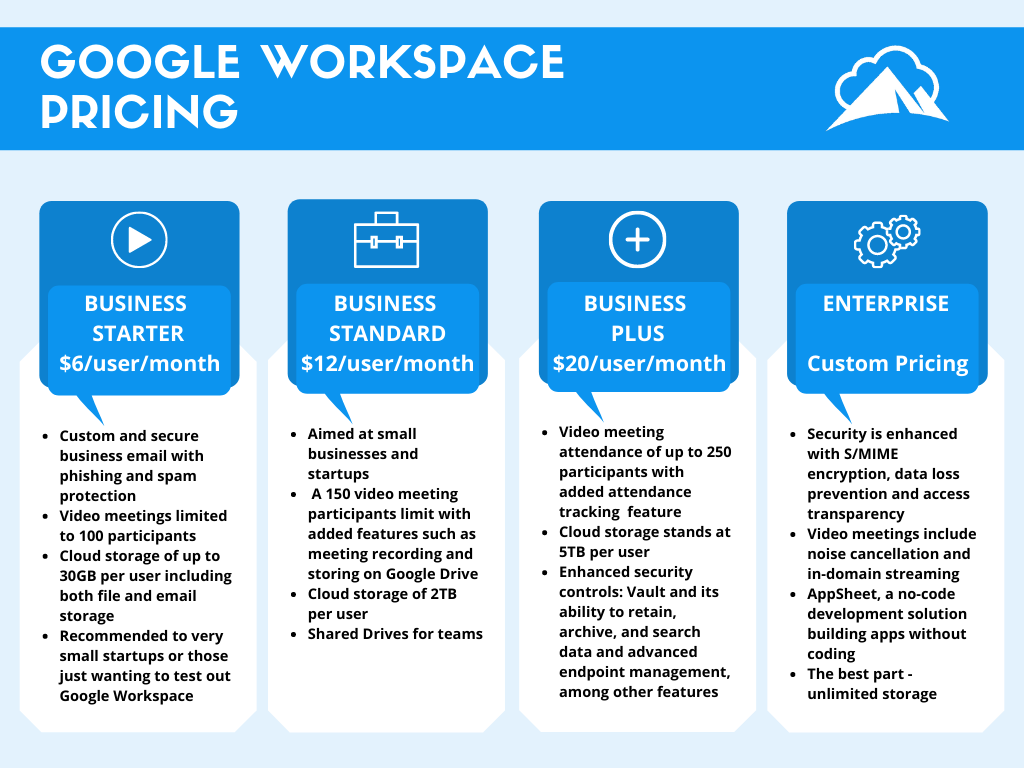 Source: Google Image Result
3. Your Business Details
When you move forward with the chosen plan, you enter your business details.
The name of your business
The number of employees
The country in which you are located
While you choose the number of employees, you need to remember that you will be charged for each employee. So, it is better to start with a small number as you can gradually add more users.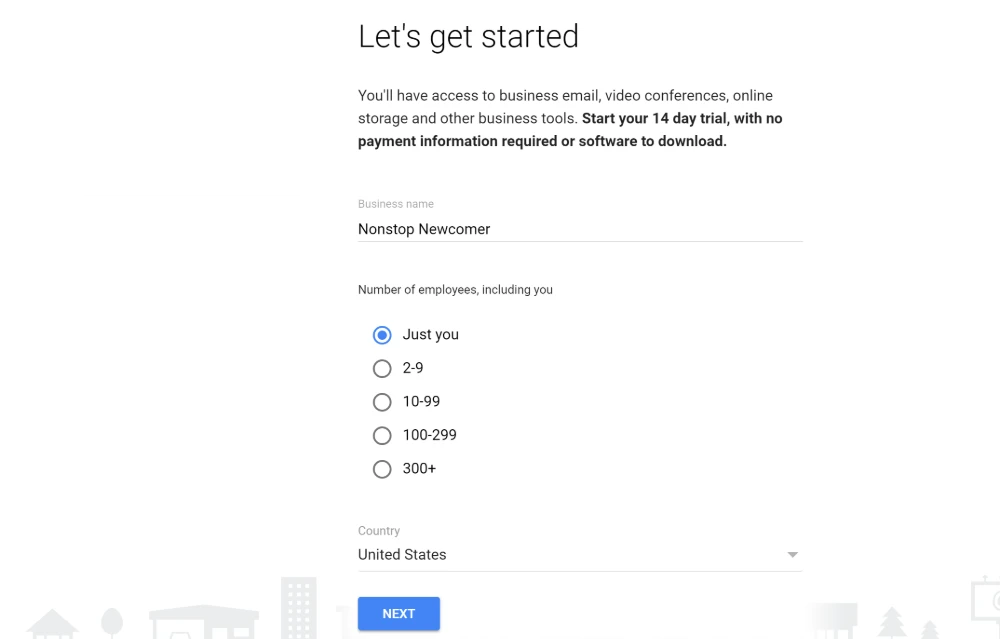 Source: Google Image Result
4. Contact Details
On the next page, Google will ask you to add your contact details, which include your name and email address.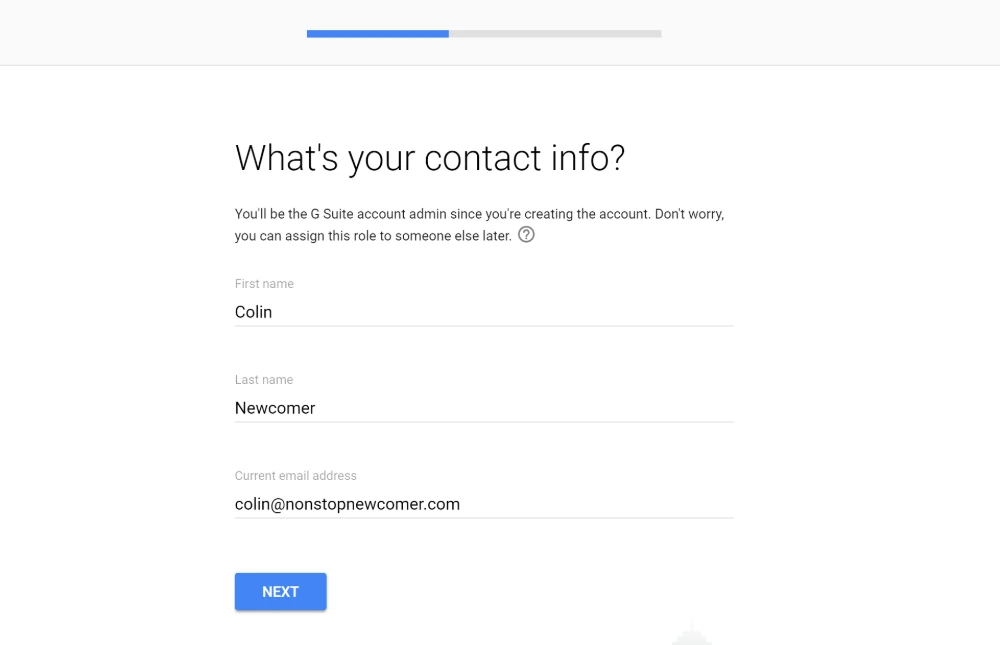 Source: Google Image Result
5. Setting up Your Domain
When you create a business email, you must have a domain name.
You can already have a domain purchased beforehand or register for a new one. Google workspace charges start from around $14.99. As an example, after the at (@) sign in the email address, [email protected] will be your registered domain.
To utilize an existing domain name, select "Yes, I have one I can use." If you don't already have a domain, choose "No, I need one" to sign up for one.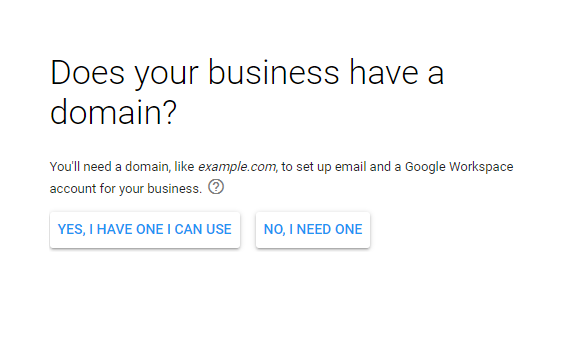 Source: Google Image Result
You must confirm that you are the owner of any domain names you use that are already registered.
6. Learning How to Create your Business Email Address
A username and password can be made after entering your domain. This will allow you to create a business email address and log into your Google Workspace (G Suite) account.
This username will also serve as your first business email address, you must select a username that you intend to use as your business email address.
At last, you would see a dialog box saying that your google workspace account has been created.

Source: Google Image Result
7. Moving on with the Created Email Address
In the next step, you'll finish the G Suite setup by adding users and connecting it to your website or domain name. Once you reach the set-up screen, you will be asked to add more people to your account. If you want to create more accounts for different departments, you can do that here.
You click on the option that you have added all other email addresses and move on to the next step. You can always add more users to your account and generate their emails later if necessary.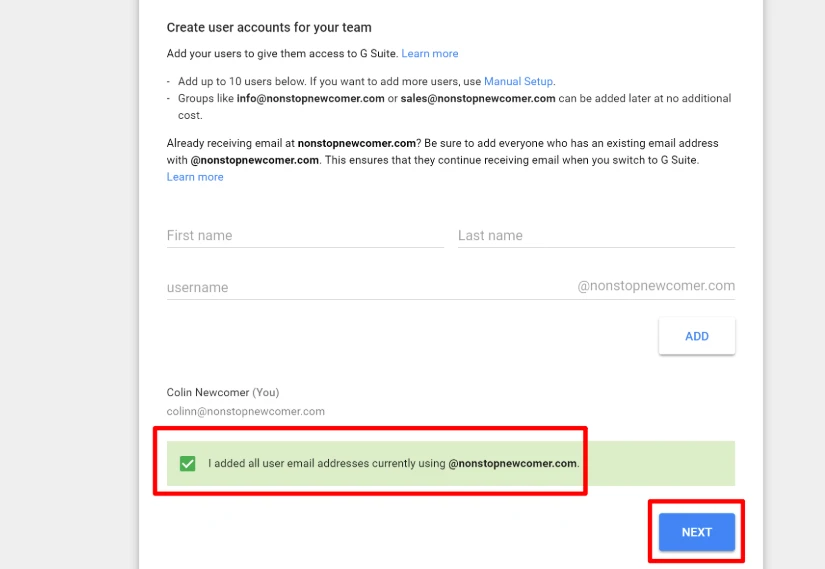 Source: ThemeIsle
8. Do You have an Existing Domain?
You will be prompted to confirm that you own the domain name if you use G Suite with an active domain name. You will now see a piece of HTML code that you must paste into your website to accomplish that.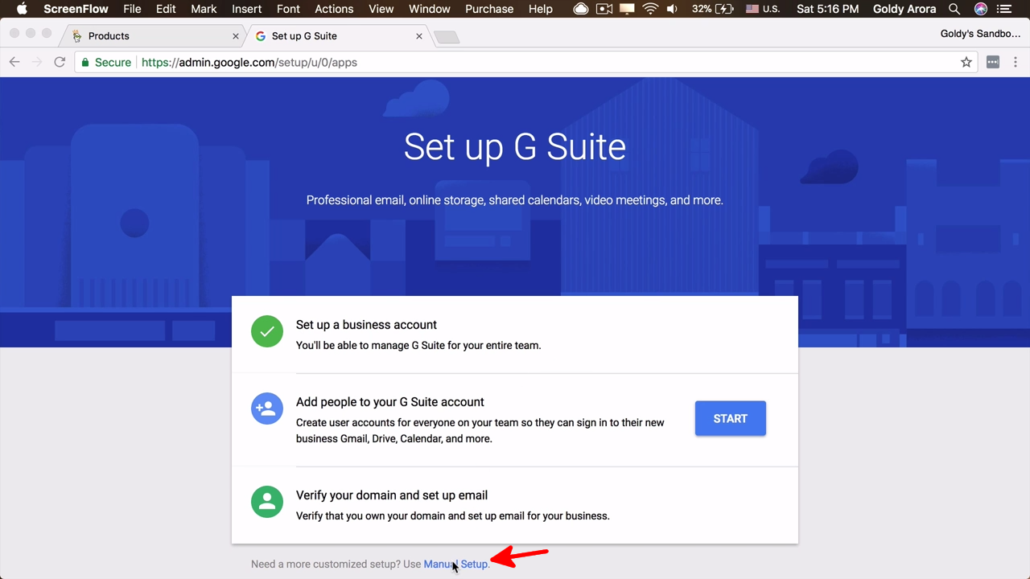 Source: Goldy's
There are more ways to confirm your ownership. Using an FTP client or the file management application in your hosting account dashboard, you can upload an HTML file to your website.
To confirm your domain ownership name for G suite, you can choose MX record if you do not have a website.
Best Practices to Follow While Creating Your Business Email
1. Pick a Simple Name for your Domain
Choose a domain name that is straightforward, memorable, and applicable to your product or service. If the name you want for your company email isn't available, change the headline to include a relevant term or area.
2. Maintain a Standard Format
You want to maintain a consistent format for every business email account, created along the road, regardless of whether you are a firm of one, or a few, or anticipate hiring as you develop.
If your email address is [email protected], all your workers' email addresses should follow the same format.
3. Use Email Templates
Use aesthetically beautiful email templates to provide information about typical business procedures promptly while promoting your brand image. For usage by staff members for their everyday work, create a series of email templates.
4. Email Signatures
Sometimes a brand's logo or other online presence-related material, including links to social media accounts, can be seen in a professional email signature.
5. Emails for Each Department
It is easier for customers to communicate with sales, customer service, information, and other firm departments when they are known by generic names.
6. Email Security
Advanced phishing and virus security, essential for any online business, is enabled with a good mail client. Gmail issues alert and notify users to transfer hazardous or unreliable emails to the spam bin. So, keep your email security in top-notch condition.
Are Business Emails Truly Free?
Your Gmail account may be able to send you free emails using the @gmail.com domain. You may also use a service such as Zoho mail. However, if you have many people to add, you may end up paying a lot more than you would with a business email provider.
When using free email hosting, it is not advisable to have dependable and secure software. Businesses rely on email as a source of revenue, and free email hosting plans aren't always able to provide the level of quality requested by home or individual customers. Since you get what you pay for with free and basic email hosting plans, professional (paid) email hosting services are mostly to be more suitable for a developing company's needs.
You can get a free email address that ends in your unique domain name by purchasing website hosting. Many servers, such as Zoho mail, also include a free business email account with their hosting packages.
These hosting services offer various services, which is why, getting a business email is nearly free, as you get a domain name, security and storage with the paid hosting.
Bottom Line
Email is the primary form of communication for most of our daily interactions, whether they include team members, clients, or business partners. This step-by-step guide on how to create a business email has covered everything a beginner in business might need.
Now that you have established a free business email account at your company domain; we wish you success as you pursue your endeavour and expand your company.
Gracie Johnson is a Senior Content Writer at MyTechMag. She is an enthusiastic learner and loves to explore all the areas of technology.