Why is Cybersecurity Important?
Cybersecurity is defending your computer systems, networks, and critical digital information from unwanted attacks. It aims to protect inter-connected hardware, software, and data systems from threats. Computers, servers, mobile devices, and other electronic systems are all vulnerable to penetration and malicious attacks. Adopting a sound cybersecurity system can prevent cybercrimes like phishing, ransomware attacks, typosquatting, etc. Since humans are generally vulnerable to emotionally manipulative tactics, malicious actors take advantage of this weakness by using specific psychological techniques to deceive someone into revealing private information, thereby exploiting them and their organizations for financial gain. Attackers take advantage of the many cognitive biases people hold; consequently, there are many types of cybercrime attacks.
Data suggests that cyber crimes have been on the rise— the cyber world has witnessed a 26% rise in ransom demands by hackers, and around 88% of top companies were victims of spoofing emails. To ensure proper network security, multinational companies must have both intrusion detection and prevention systems. Not only do cyberattacks affect a company's finances and productivity, but they also affect a company's reputation and future business prospects. Therefore, it is essential to have well-equipped cybersecurity software that aim to stop sophisticated cyberattacks.
How do Cybersecurity Tools Work?
There are many cybersecurity software tools with many functions and benefits. As the demand for cybersecurity tools rises, so do the types of free, open-source, or paid tools that can protect individual and business data. These tools and software utilize a combined set of technologies, controls, and processes to spot potential risks posed to network and application security. Their main goal is to prevent the penetration and contamination of different organization systems. Moreover, cyber security tools provide end-user training to identify and avoid potential attacks.
What are the Top Cybersecurity Software Tools?
At both network and data levels, cybersecurity software tools enhance their security and make room for a safer and more cyber world. The main tools discussed here are:
Network Security Tools
Encryption Tools
Web Vulnerability Tools
Firewalls
Packet Sniffers
Penetration Testing Tools
Antivirus Software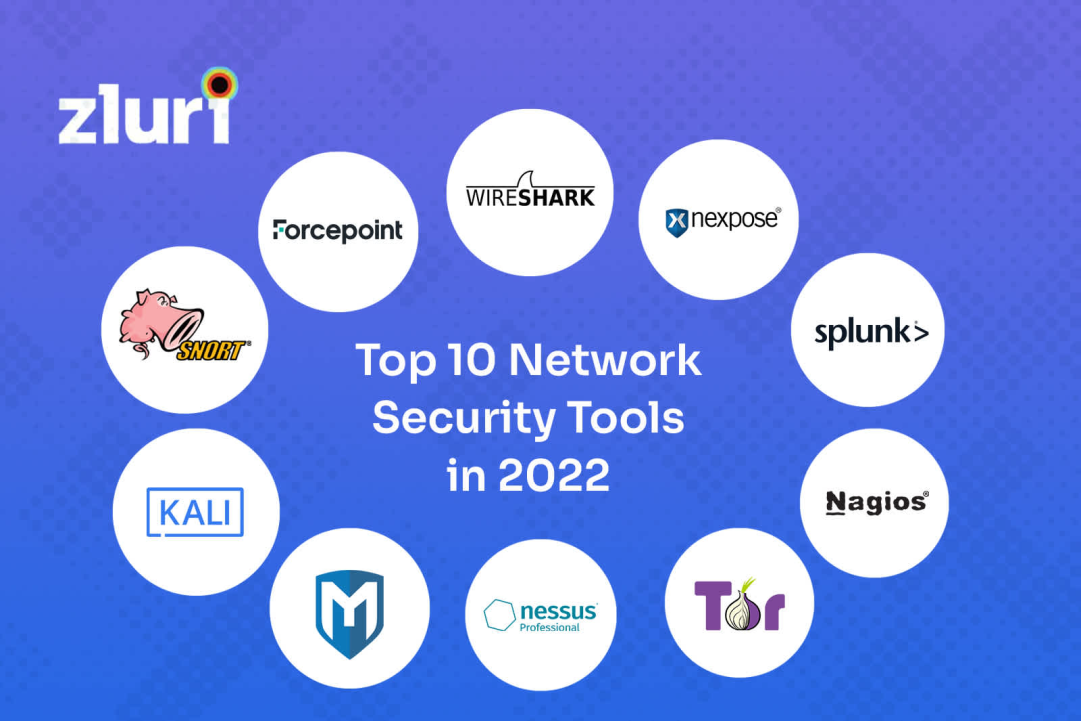 Source: Zluri
1. Network Security Tools
These tools help detect and manage network intrusions. They collect, analyse, and escalate such threats immediately upon detection. Some popular ones:
Splunk is a quick and versatile SIEM tool that monitors network security by conducting searches. It finds data threats and network analysis, functioning in real-time and following a unified user interface. It also performs historical searches to identify data threats. It can collate into searchable depositories, producing reports, dashboards, etc., in real-time.
Argus: Argus monitors the status of network services and servers as a systems and network monitoring application. It is an automotive cybersecurity tool that enables Original Equipment Manufacturers (OEMs) to deliver over-the-air vehicle software updates.
Ossec: It is an open-source cybersecurity tool that defends networks by identifying intrusions. Its best advantage is how it gives real-time analytics, enabling users to update their security systems, if needed, on the side. Users can detect a single suspicion at the right time by monitoring activities. It supports multiple platforms like Windows, Linux, and Mac.
Pof: A widely used cybersecurity tool that allows companies to monitor networks, even if developers do not release updates for a while. Since it does not create any data traffic while monitoring the web, it is smooth and efficient. It is also helpful in creating a range of functionalities such as probes, lookups, queries, and more. It is utilized by professionals to define the host operating systems that are linked to a network.
2. Encryption Tools
Tor: This works by letting users enjoy their privacy when they are online. Users can go undetected by routing the proxy server's requests. Tor is efficient in covering the loopholes to break the trafficking chain.
Keypass: This allows organizations to manage identity, especially in office settings. It enables users to access a company's accounts with a single password. The company can create a uniquely strong password and secure multiple accounts by combining security and convenience. Keypass eliminates human threats.
Vera Crypt: It allows users to make a virtual encrypted disk within a file and manage disk mounting operations through a unified portal. It helps organizations utilize the application to automatically encrypt a partition, an entire drive like USB flash drives, hard drives, etc.
True Crypt: As a popular tool for on-the-fly encryption, this software can encrypt an entire storage device simultaneously. Professionals prefer this for its feasibility in encrypting disks, making it easier to encrypt layered content with two access control types.
3. Web Vulnerability Tools
Burp Suite: It is a suite of tools focused on debugging and testing web app security. As a robust cybersecurity tool, it hosts real-time scans and detects critical weaknesses. It is adapted to conduct all types of pen testing, ranging from scanning to exploitation. While the enterprise and professional versions are usually paid, they are worth the money due to their efficacy and speed.
Nikto: Compatible with multiple systems, this ultra-powerful command-line tool helps discover vulnerabilities across web apps, services and servers. It helps in managing them as well. With 6400+ types of threats recorded inside, it can quickly identify the seriousness and nature of threats. The program also supports SSL proxies and intrusion detection system evasion.
SQLMap: As an open-source penetration testing tool written in Python, SQLMap automates detecting and exploiting SQL injection flaws of database servers. It can work across many modern databases like Oracle, MySQL, and other injection types.
Nmap: This Network mapper is a free cybersecurity tool that allows scanning networks to detect multiple security issues. It can also track potential attacks on a network and the time of the attacks. Moreover, it can identify the IP addresses of the attackers, making it easier to catch the culprit.
4. Firewalls
AlgoSec: Through a single pane of glass, AlgoSec streamlines and smartly automates network security policy administration across on-premises firewalls, SDNs, and the public cloud. It provides in-depth business-level insight into the entire network security infrastructure.
RedSeal: As a network security platform, it allows users to maximize their network's digital resilience by giving an extensive view of their network and security infrastructure. RedSeal works by constructing a network model that accurately maps the user's physical, cloud, and virtual networks.
5. Packet Sniffers
Wireshark: It is considered one of the most prominent, unavoidable tools used to locate, identify and examine network packets to rectify critical issues and recognise security weaknesses. The website made for Wireshark highlights its wide array of features, thereby offering a user's guide and other resources for utilising this free cybersecurity tool to its best advantage.
John the Ripper: It is a tool for testing password strength. It works by recognizing weak passwords that are more susceptible to threats. While it initially only worked with Unix, it has become compatible with multiple other systems. It is updated regularly to meet evolving technology demands for stronger passwords.
6. Penetration Testing Tools
Kali Linux: With over 600 pre-installed programs, Kali helps computer security experts carry out specific attacks or exploits against a target. It is famous for hosting functions like security analysis, auditing, reverse engineering, and penetration testing.
Netsparker: It is a leading cloud-based web application security scanning solution that works regardless of the language web apps are coded in. This paid tool allows the automatic scanning of custom web applications for Cross-Site Scripting (XSS), SQL Injection, and other types of vulnerabilities. Wireshark
7. Antivirus Software
Norton Antivirus: It is one of the most readily available, easily accessible anti-virus software on the market. It protects against malware, spyware, viruses, etc. It can be easily installed on a multitude of devices and hence, is used by large enterprises, small businesses, and individuals.
Kaspersky Anti-Virus: This is another popular cloud-based anti-virus software. Its security features include malware prevention, firewall support and administration control management.
Avast Business Antivirus: It is well-recognized for stopping all malware attacks in the computer system. It ensures fast malware recovery detected in the last 4 weeks. It prevents the virus and fully removes it to protect the device.
Never Let Down Your Guard: Final Thoughts on Cyber Safety
Cyber security tools and software utilize an integrated set of technologies, controls, and processes to determine any potential risks or attacks to network and application security. Their main goal is to defend organization systems from contamination. Efficient cybersecurity software tools paired with in-depth cybersecurity planning are essential cyber safety requirements in this digital world where more attackers are rising. Be it for businesses or individuals, having an in-house security team and efficient cybersecurity services help in detecting penetration attempts, fixing weaknesses in computer systems and wading off attackers. Since cybersecurity software tools range from free to open-source, businesses can efficiently utilise them. It is important to remember that despite society's rosy portrayal of a cybercrime-free world, modern technology's dangers are real, proven by the steady rise in cybercrime. Remember to protect your devices at all costs!
Gracie Johnson is a Senior Content Writer at MyTechMag. She is an enthusiastic learner and loves to explore all the areas of technology.