The real estate sector is thriving with each passing day. The pandemic also proved that it is one of the few rewarding investments for people.
Whether businesses utilized a commercial building for its given purpose or not, it proved helpful. Offices gave out their spaces to hold drives, and hotels turned into quarantine centers. Commercial spaces aside, millennials and Gen Z realized the importance of owning homes.
But how many jobs are available in Real Estate Investment Trusts exactly? Is it a lucrative career for people looking to make a comfortable living?
Before exploring all of those answers, it is crucial to understand the meaning of REITs and the different types of REITs.
Real Estate Investment Trusts (REITs)
Real Estate Investment Trusts own and, in most cases, manage income-generating real estate. The REIT assets provide revenue and relative security based on long-term lease agreements, allowing its investors to profit from real estate market gains without investing money directly in properties.
Total Jobs Available in Real Estate Investment Trusts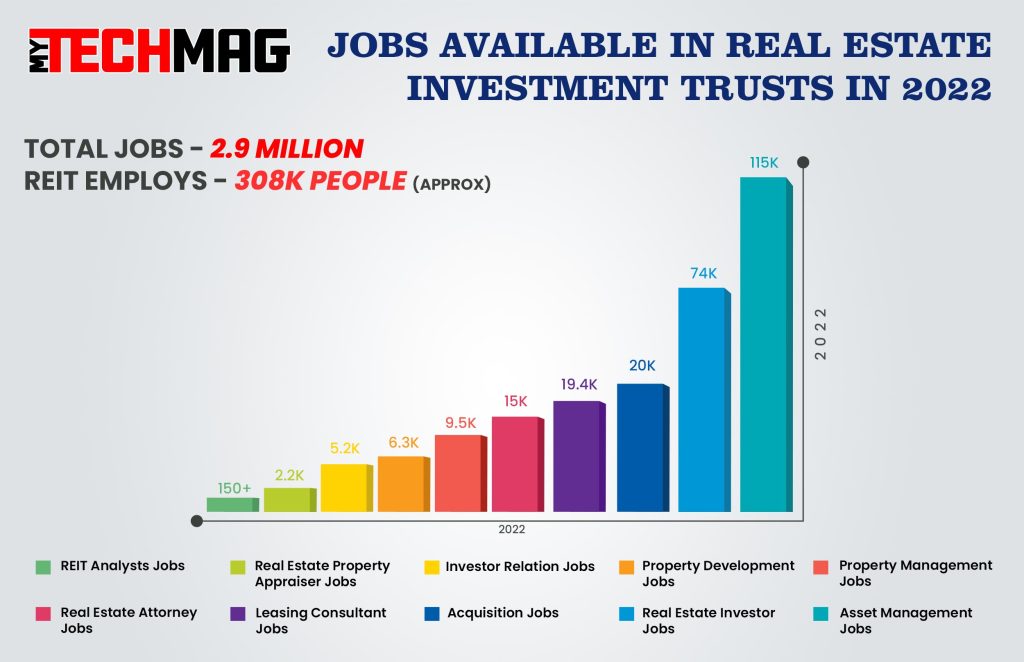 To answer how many jobs are available in real estate investment trusts – REIT organizations employ 308,000 people on a full-time basis. Moreover, real estate investment trusts are indirectly responsible for nearly 2.9 million full-time jobs.
A real estate investment trust (REIT) is in charge of all aspects of a real estate project, from development to property maintenance and investment management. This implies that there is room for project managers, agents, and many other professionals.
Further, personnel working inside a REIT must also guarantee that the trust's assets and real estate portfolio are profitable. Therefore, experts are overseeing these assets and portfolios as well.
REITs provide a multitude of career options. It comes with the possibility of commanding a far higher income than other areas of the real estate sector. Here are some of the most well-paid positions within REIT.
1. Acquisitions
Acquisition positions in real estate investment trusts entail locating new investment options. These jobs also ensure that transactions are completed promptly. Acquisition positions in REIT are abundant but well-paying. Anyone with a degree or learned expertise in finance, marketing, business, or capital markets is qualified for this position.
2. Asset Management
One of the highest-paying occupations within the REIT industry is asset management. An asset manager is in charge of the operational and financial performance of a REIT's portfolio of assets.
Individuals usually start with acquisitions or property management and rise through the ranks to become asset managers. Alternatively, someone with the necessary skills and qualifications can easily find asset management work easily.
Asset management requires collaboration across departments such as acquisitions, finance, development, and accounting.
3. Property Development
Working as a real estate developer is another method to profit from this expanding industry. A property developer manages contractors and subcontractors. They collaborate to plan and inspect the construction of a new property.
A real estate developer must have a degree in a discipline such as civil engineering, architecture, business, or urban planning. They must also have the following abilities:
Extensive real estate market insider knowledge
An in-depth grasp of finance
Excellent organizational abilities
4. Property Management
Just like property developers, there are property managers. Property managers only need to meet a few standards compared to property developers. A real estate property manager's job is to engage with clients and sell or rent out properties at the best rates based on market prices.
To expertly work in REIT as a property manager, an individual needs the following abilities.
Customer support skills
Problem-solving abilities
Marketing skills
Finance experience
Managerial abilities
5. Investor Relations
The investor relations section primarily works with REIT shareholders to manage the entire communication flow. Their team is in charge of organizing and preparing for the annual meetings, such as the annual report and proxy statement.
An employee in the middle management position of investor relations may earn a hefty salary. However, to be considered for the position, individuals must have an undergraduate degree and a foundation in accounting and finance.
6. Leasing Consultant
Leasing Consultants act as the face of the real estate industry. They assist customers in locating property and homes that fit their budgets and requirements.
It is a terrific place to start if someone wants to further their career and work their way up to roles like marketing director. A complete understanding of the local real estate market is required to succeed in this career path.
For this role, a candidate must also have strong interpersonal skills and advertising and promotion skills. Prior experience in the hotel or retail industries may be advantageous since it aids in developing soft skills such as interpersonal skills.
7. Real Estate Property Appraiser
A real estate property appraiser evaluates the worth of a residential or commercial property. The value of any property is influenced by various market and economic factors. Real Estate Property Appraisers keep track of all of these factors in order to determine the value of a property.
To operate as a property appraiser, one must first complete an appraiser training course and receive a license. In addition, candidates must have a background in real estate, finance, economics, and other relevant disciplines to make correct evaluations of property.
8. Real Estate Investor
One of the highest-paying careers in real estate trusts is becoming an investor. This is one of the most profitable job options in this sector. The role of a real estate investor entails purchasing real estate assets, creating value for them, and reselling them at a higher price.
While this is quite profitable, it is not without its challenges. To generate a decent return, an investor must know the ins and outs of property acquisition and the right time to sell. As a result, thorough market research is necessary.
9. REIT Analysts
A REIT analyst works with the real estate and finance teams to acquire, sell, market, and finance properties. They contribute to the research, analysis, and monitoring of market trends. They help the organization make educated property decisions.
REIT analysts must use various financial tools to construct financial models on the company's current assets and acquisitions. Hence, they are expected to have excellent insight into the financial field.
Some criteria for a position as a REIT analyst include:
A bachelor's degree in finance, economics, real estate, or a closely related discipline
Extensive knowledge of the local real estate markets, particularly micro and macro business trends
Analytical abilities
Organizational skills
Research abilities
10. Real Estate Attorney Jobs
Lawyers play an essential role in real estate investment trusts. For starters, they serve as the go-between for clients, sellers, and the REIT firm. Property ownership involves the signing of contracts. Therefore, attorneys must intervene as a mediator for the parties involved.
Attorneys settle legal problems about property ownership and transactions. They negotiate title deed issuance, transfer, paperwork, and other legalities related to real estate ownership.
Attorneys also advise both consumers and businesses on legal issues. This helps avoid disagreements in any real estate transaction by ensuring that all parties involved follow the correct procedures.
Types of Real Estate Investment Trusts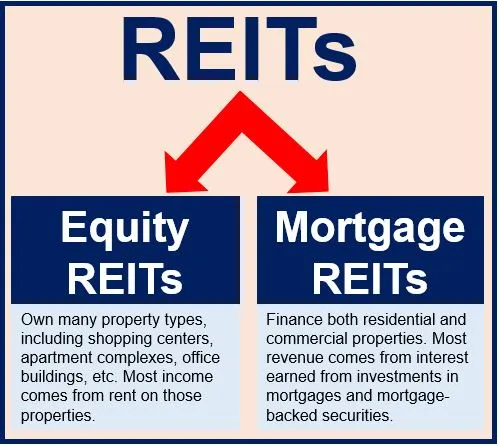 There are a few different REIT funds that investors can look at. The two major types of REIT funds are:
1. Equity REIT
An Equity REIT is a classic real estate firm since it has physical assets as its main revenue stream. The equity REIT manages the property since it is both a full-stack owner and an operator. They do, however, appoint an outside company to manage the assets.
2. Mortgage REIT
Mortgage REITs involve investing in mortgage-related commodities instead of physical properties. In comparison to equity REITs, it has a significantly greater financial purpose.
Mortgage REITs purchase mortgages or mortgage-backed securities (MBS). These can be either residential or commercial. The majority of them are traded on major stock exchanges, just like exchange-traded funds or mutual funds that one may already possess.
Other Real Estate Investment Funds
There are several other REITs in the asset class in addition to Equity and Mortgage REITs. These include:
Healthcare REITs own hospitals, nursing homes, assisted living, and senior care facilities, in addition to other healthcare properties.
These REITs are firms that buy, build, own, lease, and operate hotel and resort assets.
These enterprises, often known as logistics REITs, primarily serve the industrial sector. They own and manage factories, warehouses, and distribution facilities, among other things.
Office REITs mostly invest in particular office properties or geographic areas. They own and operate real estate, which is sometimes leased to people or groups. IT parks and skyscrapers are examples of these properties.
Residential REITs often hold apartment complexes, condos, and other rental assets.
Retail real estate investment trusts (REITs) are corporations that invest in, build, hold, lease, and manage retail properties.
Why Look for a Career in Real Estate Investment Funds?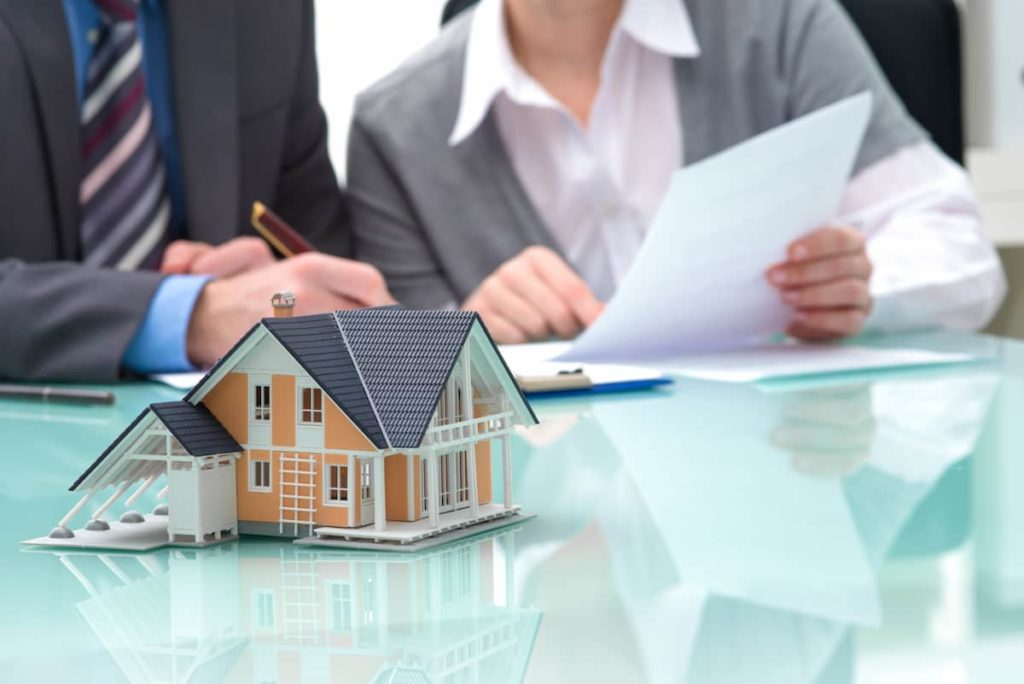 Source: Newsweek
Real estate investment trusts are divided into a variety of categories, including:
Data Centers
Diversified or Combination
Health Care
Industrial
Infrastructure
Lodging or Resort
Office
Residential
Retail
Self-Storage
Specialty
Timberlands
REITs provide numerous benefits to consumers. These include:
Dividend yields
Easy liquidity
Partial freedom from the performance of the S&P 500
Allows investors to profit from real estate market gains without having to spend money on a property
Favorable tax conditions since most nations have a REIT statute that allows a real estate firm to pay minimal capital gains and corporation tax
The returns on investment provided by REIT assets are simply astounding. Some of the most significant advantages of REITs are as follows:
1. Liquidity
Real estate purchases and sales take some time, but if a person owns a real estate investment trust, they may sell it whenever they choose. It is a continually busy market due to the liquidity.
2. Continuous Revenue Stream
REITs are technically stocks. As a result, this provides consistent and predictable revenue for a longer length of time. Not just for the buyer but also for those with a career in the sector.
3. Return Potential
Real estate investment trusts (REITs) offer the potential for capital growth. REITs can be excellent total return investments when combined with high dividends. Real estate trends rise with time, adding more worth to a career.
Frequently Asked Questions (FAQs)
1. Are there well-paying REIT jobs?
Ans: Yes, REIT offers some very well-paying job opportunities in areas such as asset management, legal, investment, property development, management, etc.
2. Is Real Estate Investment Trust a Good Career Path?
Ans: Averaging a yearly salary of $75,000, REITs are a great career option for anyone looking for a consistent source of income. This field can be a great career path for anyone with a particular level of financial, real estate, and research knowledge.
3. How Do Real Estate Investment Trusts Make Money?
Ans: REITs generate income by selling, renting, or leasing their acquired assets. All shareholders elect the board of directors. They are responsible not only for selecting investments but also for employing staff to manage the assets and property daily.
4. Can You Get Rich Investing In REITs?
Ans: Investing in REIT may not make anyone "rich," but it is an excellent way to generate wealth in the long term. REITs are also a fantastic way to ensure liquifiable savings.
Wrapping Up
The real estate investment trust sector is already large and expanding. Working for REITs requires conforming to stringent reporting and regulatory processes. Furthermore, many positions in REITs require a background in accounting or finance.
However, there are other positions that do not have these constraints. Once employed by a real estate investment trust firm, it is easy to advance to higher positions too.
People are constantly on the lookout for places to stay or do business. Thus, establishing a career in REITs is a great choice. Especially since the majority of these positions offer comprehensive benefits, the security of a consistent salary, and insurance.
Gracie Johnson is a Senior Content Writer at MyTechMag. She is an enthusiastic learner and loves to explore all the areas of technology.