Natural disasters are an inevitable part of nature. They occur suddenly and leave the land and its people broken. Cyclones, earthquakes, floods, and more can take a heavy toll on human life and finances.
Thus, disaster management is a crucial part of any country's plans.
Applying IoT in disaster management can revolutionize the way we go about managing natural calamities. It can significantly reduce damage and make evacuation and recovery much more efficient.
Countries globally are investing in IoT more and more every day to transform their systems. Hence, the future of emergency planning indeed lies in IoT.
Read on to find out more.
Natural disasters and their classifications
A natural disaster occurs somewhere in the world each day. So, why do all of them not make headlines?
These disasters can be of different types and different magnitudes. The following figure shows the top 10 natural disaster-affected countries between 1990 to 2020: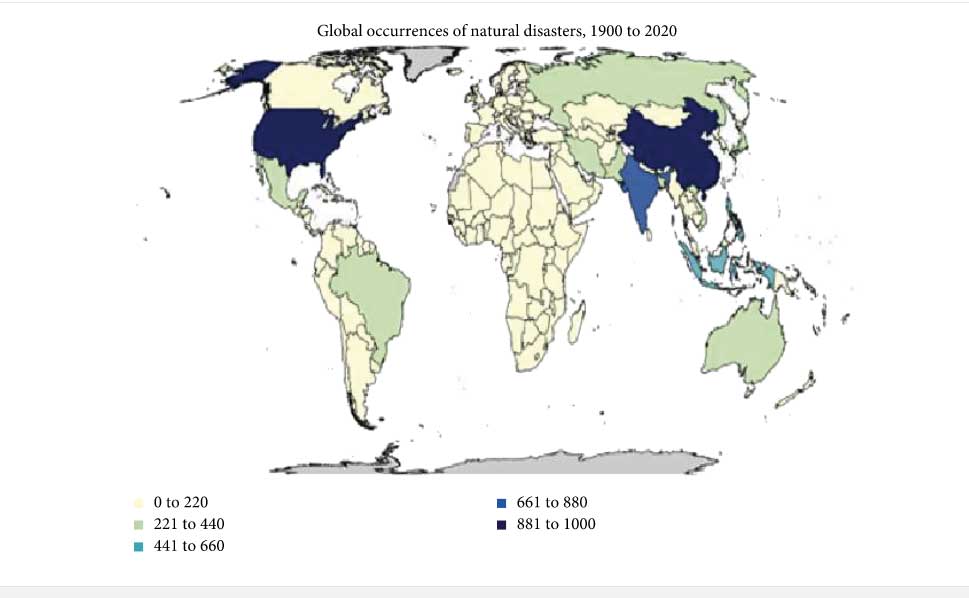 Source: Hindawi
The various kinds of natural disasters that affect human life are listed below. These are of different magnitudes and pose different threats to the world.
i). Geophysical
These are disasters that occur on the land. They can include:
Landslides
Earthquakes
Volcano explosions
Heat waves
Cold waves
ii). Hydrological
These occur due to the flow and distribution of surface-level water. They can include:
Floods
Droughts
Flash floods
Tsunamis
iii). Climatological
Disasters that occur due to climate change come under this category. They can include:
Wildfires
Glacial lake outbursts
While most of these cannot be prevented, we can predict them using technology. Hence, IoT in disaster management involves prediction and building efficient evacuation systems.
Conventional technology used in disaster management
Before IoT was introduced, people were still using technology for emergency planning. Some of the conventional technologies used in disaster management are:
Televisions and Radios: These popular broadcasting devices spread the news about natural calamities. They are also used to inform victims in affected areas about safe houses, precautions that should be taken, and where they can find food and shelter.
Telephones: Whether you are thinking about fixed telephone lines or mobile phones, both play a massive role in disaster management. They can be used to establish contact and ask for rescue teams or supplies.
Satellite sensing: Disasters like droughts and floods can occur in regular patterns. Satellite imaging of the land can help recognize these patterns and plan around them.
Governments use these technologies to spread awareness, transmit important information, organize fundraisers for relief operations, and more.
However, for most countries, these are not enough. Especially in underdeveloped or developing nations, emergency planning is not up to the mark. Therefore, the introduction of IoT in disaster management is necessary.
IoT in disaster management
The Internet of Things (IoT) has taken the world by storm. It talks about a future filled with sensors and micro-controllers. Everything is closely connected using the web.
This new branch of technology holds infinite potential and is used in almost all walks of life.
When it comes to disaster management, IoT provides more efficient solutions that can revolutionize emergency planning. It can help governments improve evacuation systems and relief mechanisms.
Here are the various ways in which IoT can help in disaster management:
i). Filling the infrastructural gap
According to the UN, 90% of deaths due to natural disasters occur in underdeveloped or low-income countries. The reason is usually a lack of proper safety and evacuation infrastructure.
Using IoT can bridge the infrastructural gap economically:
Microwave sensors can be connected to measure the earth's movements before earthquakes.
Infrared sensors can measure floods.
Placing sensors on trees can help predict when forest fires are about to break out.
Hence, IoT will turn the disaster management system from a reactive one to a proactive one.
ii). Earthquake management
Earthquakes have confused scientists for decades as there was no way to predict where they would hit and how hard. With IoT, tracking seismic activity has become a possibility.
The following solutions would improve earthquake management significantly:
Mobile applications with installed acceleration sensors can predict earthquakes.
Smart sensors on bridges and buildings can track seismic activity.
Predicting can help governments evacuate the area before the earthquake hits and save many lives and resources.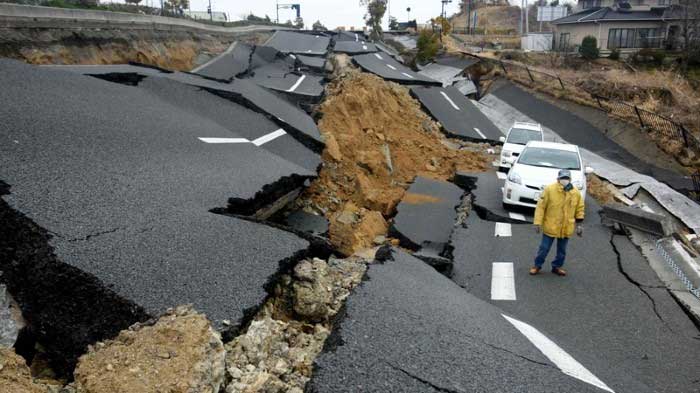 Source: Media.nature
iii). Forest fire management
From the Amazon forest fires to raging wildfires in Australia, this natural calamity causes a lot of damage to wildlife and greenery.
Using IoT's proactive approach can help combat wildfires more efficiently in the following ways:
Sensors that measure the atmosphere's carbon dioxide and humidity levels can send alerts when the ideal conditions for a forest fire seem to be coming together.
These sensors can be attached to trees for early detection.
They can also send firefighters alerts and complete information about the magnitude of the fire for better rescue plans.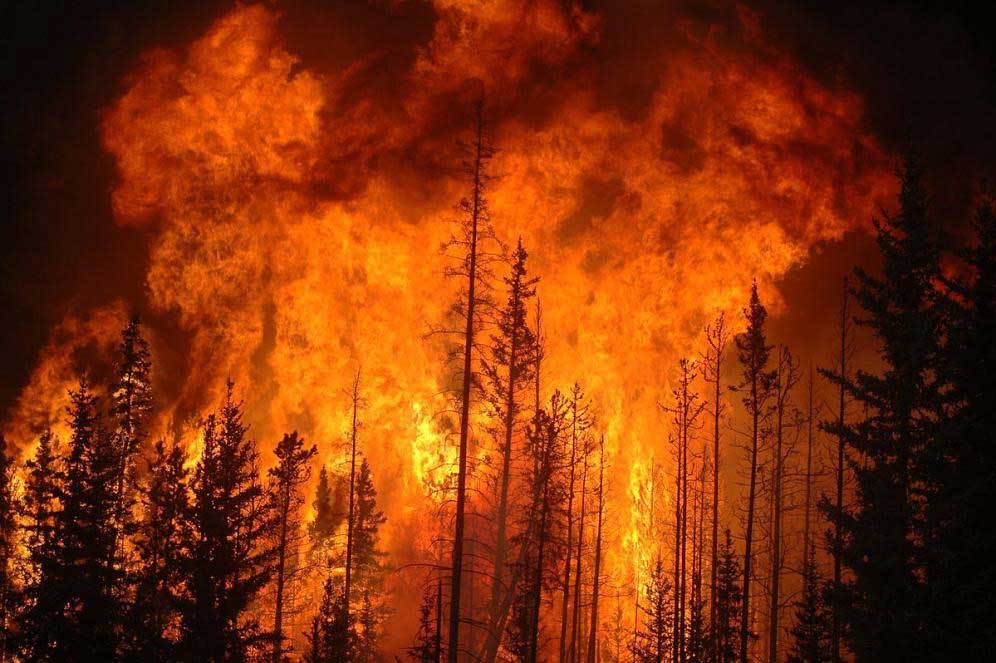 Source: Wikimedia
iv). Flood management
Floods are a natural disaster that causes a lot of concern among farmers and livestock owners. They can be regular floods or floods caused by other disasters such as tsunamis or cyclones.
IoT can help in predicting floods by:
Using sensors, rising water levels can be watched and indicated.
Experts use cloud technology and big data to determine flood levels and send out alerts accordingly.
In case of tsunamis or cyclones, the government makes efforts to evacuate the area and secure all property.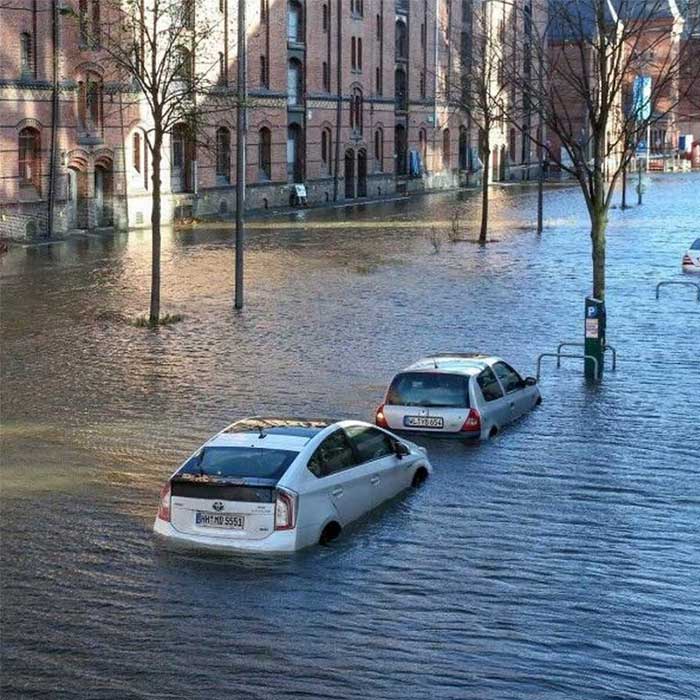 Source: Sciencenorway
v). Rescue and relief operations
After the natural disaster hits, rescue teams and relief operations begin with full force. Extensive plans are made to find survivors, provide them with medicines, food, and shelter, and restore the property.
IoT can make these efforts more efficient:
IoT has made massive improvements to the aviation industry. Hence, airlift operations and dropping supplies can become more efficient.
Devices can be used to pinpoint mobile or radio signals. Hence, it becomes easier to find and rescue survivors.
GPS sensors can provide rescue teams with accurate details and help them reach victims in time.
Smart traffic systems and AI-based technologies can help transport people and supplies faster.
vi). Future planning
IoT helps governments take a proactive approach toward natural disasters. Although most of them cannot be stopped, the damage they cause can be controlled to an extent.
Using sensors in combination with artificial intelligence and deep learning can help predict the disasters that may hit and how much severity. Governments worldwide can use IoT in disaster management systems for better planning and minimizing losses.
IoT can change the future of emergency planning by:
Helping experts predict disasters in advanced
Using it in collaboration with augmented reality to train rescue teams
Analyzing data collected using IoT devices via ML models to send alerts or begin evacuation processes
FAQs
Some frequently asked questions about the role of IoT in disaster management are:
1. What is the Internet of Things (IoT)?
IoT, or the internet of things, refers to physical objects with embedded controllers, sensors, or software that are connected using the internet or some communication channel. It makes remote control much more manageable and helps in automating many daily activities.
2. How can IoT help in disaster management?
As IoT is best suited for automation, it can do the same with data collection and monitoring when it comes to natural disasters and emergency planning. By deploying the proper devices and applications, experts can monitor magma flow, seismic activity, water levels, and much more. Hence, they can send out disaster warnings in advance.
3. What are the advantages of using IoT in disaster management?
IoT helps governments and authorities take a proactive approach by predicting calamities beforehand. Thus, it helps:
Governments evacuate areas before the disaster hits and minimize the losses. Many financial losses are also prevented this way.
Saves wildlife and endangered species from wildfires. By letting authorities detect wildfire possibilities, IoT gives them enough time to recreate habitats and relocate flora and fauna.
Using sensors can help experts predict calamities like earthquakes more efficiently.
4. Are there any disadvantages to using IoT?
Although IoT is much more efficient than other traditional systems, it is not flawless. There are some disadvantages to using IoT devices:
They cause a lot of data privacy concerns as they collect data and transmit it continuously.
Creating efficient IoT systems involves a lot of technical complexity and requires trained professionals.
IoT devices can be heavily dependent on internet connections and power supply, which can cause issues during natural calamities.
Deployment and maintenance of IoT systems can be time taking and costly.
Wrapping up
The Internet of Things or IoT has catapulted the world into an era of high efficiency and automation. By introducing it in emergency planning, governments can achieve better management plans and minimize the losses incurred.
IoT in disaster management helps countries take a proactive approach. Hence, they can run evacuations and bring people and animals to safety before the disaster even hits.