With each passing year, you can observe new technical advancements making their way into the world and altering the course of your lifestyle. Such disruptive technologies give humankind infinite development possibilities and positively impact a nation's economy.
Applications of such innovations are not limited to hoarding luxury and wealth. In today's advanced world, they are also used to mitigate disaster risks and manage the aftermath of any natural calamity.
Technologies like Big Data and Artificial Intelligence are used to collect data points that can predict disasters beforehand. They can also help authorities scour the affected areas and plan rescue operations accordingly.
In this article, you will read in detail about disruptive technologies in disaster risk reduction and their impact on society.
1). What is Disruptive Technology?
Disruptive technology refers to innovations capable of altering how businesses, ordinary people, and industries operate globally. Such technical advancements present users with a superior way of achieving the end goal in an efficient and time-saving manner.
The term 'disruptive technology' was first introduced by Clayton M. Christensen in a 1997 publication, The Innovator's Dilemma. Here, he mentioned how well-renowned companies can still fail if they refuse to adapt to the latest technological developments, regardless of the market needs and trends.
Disruptive technology is not about appealing to the masses or making its way to a commoner's house instantly. Instead, it initially caters to a smaller audience due to unproven practical usage and specific performance issues.
However, once refined and tested, such gadgets or services are capable of disrupting the existing market practices and completely replacing them in a short time span. Startup organizations or smaller companies mainly use these innovations while leading businesses work on sustainable technologies.
For example, once upon a time, television, cars, and electricity were considered disruptive technologies. Automobile invention changed how people traveled in the olden days, while television emerged as a new source of entertainment. Artificial Intelligence (AI), digital currency, or video streaming are more suitable examples in the current scenario.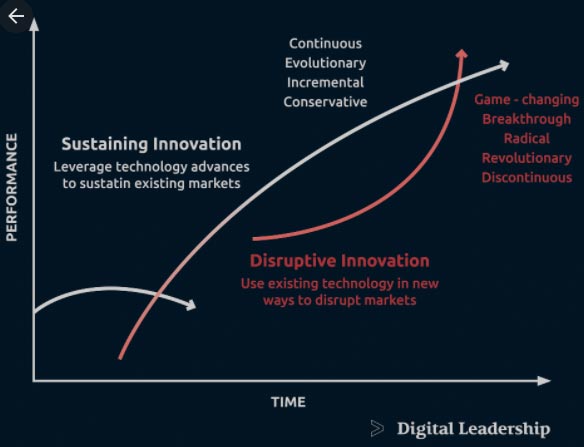 Source: Digital leadership
2). How is Disruptive Technology Impacting Society?
Disruptive Technologies in disaster risk reduction are often associated with the ultimate growth of society and the development of business models and global economics. Needless to say, it greatly affects the modern world by creating new jobs and optimizing the risk management strategies used in various industries.
Such technical advancements affect a common man's day-to-day life by providing better service and reducing manual effort. It positively impacts various sectors of the economy and brings a revolutionary change in the global market.
3). Different Disruptive Technologies in Disaster Risk Reduction and Management
The latest technological innovations are not just about seeking entertainment or automating physical labor tasks. Sure, technical progress helps improve lifestyle quality, but it also positively impacts how disaster risk management is handled. Today, disruptive technology helps optimally prevent, prepare, and manage natural calamities.
For example, social media is a tool that can be used to help spread awareness or educate people about the impending dangers of disasters. It can also help people come together to plan a rescue operation. When a massive earthquake hit Nepal in April 2015, over 7.5 million users marked themselves safe using Facebook's Safety Check. Similarly, 2.3 million tweets were posted after the Haiti earthquake.
Disruptive technologies help the official authorities communicate, analyze data, and arrange security measures while dealing with emergencies. Here are a few examples to understand the impact of such resources on disaster risk management.
i). Unmanned Air Vehicles (UAVs)
Initially developed as a part of military equipment, UAVs or drones are now effectively used for aerial photography or relief package delivery. Given their lesser weight and compact size, such vehicles can fly in regions where planes or helicopters can't.
UAVs can fly at low altitudes and capture high-resolution images from disaster sites, thus helping the rescue teams plan their strategy accordingly. They are deployed quickly and used to assess the structural damage caused by calamity. When a tsunami hit the Fukushima Daiichi nuclear plant in Japan in March 2011, UAVs actively monitored the radiation exposure and destroyed areas.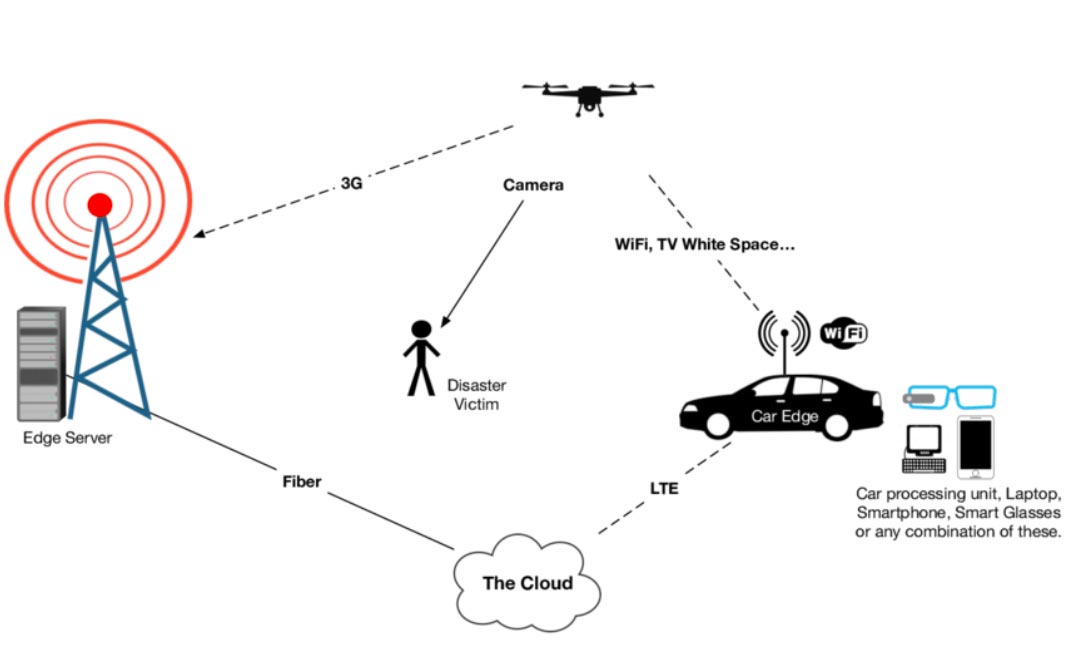 Source: Researchgate
ii). Big Data
Business organizations initially utilized Big Data patterns to understand customer mindsets and identify the market gap. With its increasing applications, it is now also beneficial in disaster recovery. For example, social media communication analysis can help determine the extent of the calamity. Similarly, financial transactions can help monitor economic activity to improve support efforts.
Some well-known Big Data trends are Crisis Mapping, Social Media Mining, Event Simulations, etc. During the 2008 Kenyan presidential elections, a non-profit company called Ushahidi worked on open-source software to map the areas highly affected by violence. With this data, people in danger were provided support to reach safety. Similarly, during the 2010 Haiti Earthquake, Google released 'Person Finder,' which was used over 5300 times.
Source: Researchgate
iii). Artificial Intelligence
Software algorithms are now imitating human intelligence and producing valuable insights to predict natural disasters. Engineers and researchers can plan disaster relief programs with the latest data analyzing technologies like NLP (Natural Language Processing). For example, AI can be used to capture satellite images and identify floods, damaged buildings, etc.
In the 2015 Nepal earthquake, humanitarian groups used AI tools to compare pre and post-disaster images and spot areas with no relief aid. Similarly, speech-to-text recognition tools are used to handle an overwhelming number of emergency calls and texts.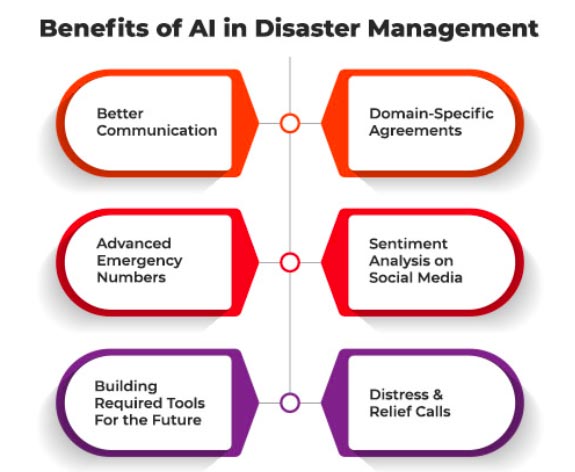 Source: Analyticssteps
4). Pros and Cons of Disruptive Technologies in Disaster Risk Reduction and Management
Disruptive technologies offer distinctive pros and cons for individuals and organizations alike. Some of them are as follows:
i). Pros
Innovation: A few decades back, it wasn't easy to reach and monitor disaster-affected areas without risking human lives. Today, innovations like drones and Big Data have made it easy for authorities to gain insights and plan rescue operations.
Startup Opportunities: Multiple organizations are actively revolutionizing the startup field and working on technologies that can help disaster risk reduction and management. These companies can present common citizens with affordable solutions to communicate with the outside world during times of natural calamities.
Business Growth: Disruptive technologies in disaster risk reduction offer companies immense business growth by providing them a chance to develop a new market altogether.
ii). Cons
Skills: To deploy disruptive technologies, you require a high level of competence. As such, it is always vital to have experts on-site to ensure the operation goes smoothly.
Data Deluge: With heaps of data collected from Big Data technologies, it gets complicated to store, maintain, and analyze data without proper resources.
False Information: It is not unlikely for ordinary people to supply incorrect information or exaggerate during natural disasters due to stress. For example, in the 2013 Boston Marathon Bombing, only 20% of tweets provided accurate data or facts.
Legal Ramifications: Official authorities do not always approve of the usage of disruptive technologies. For example, it is vital to gain a license adhering to civil air regulations to use a UAV.
Wrapping Up
Term 'Disaster Management' has evolved over the past few decades with new technologies making their way into the world. Today, it's simpler for rescue teams and engineers to gather valuable insights and launch rescue missions during the course of natural disasters.
Unmanned Air Vehicles (UAVs) can be utilized to drop relief packets or assess the extent of structural damage caused. Similarly, Big Data helps analyze the current information by extracting information from various sources like social media platforms or past calamities.
By using disruptive technologies in disaster risk reduction, sending disaster warnings like tsunamis, volcanos, or earthquakes is possible. By providing the latest information, such innovations are helpful in disaster risk reduction and management.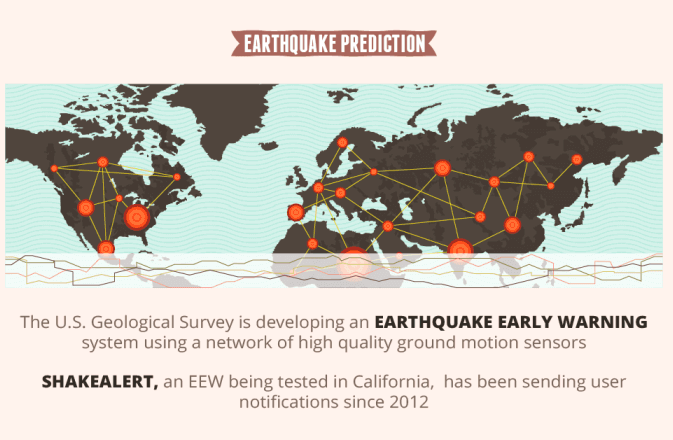 Source: Safety management
Frequently Asked Questions
i). What is Artificial Intelligence?
Artificial Intelligence (AI) is a technological innovation that can help computers work like a human brain in multiple aspects. Here, different algorithms are used to train the machine to think in a fixed manner and thus produce the desired results. Some common AI examples are self-driving cars, home assistants, robots, etc.
ii). How does social media help during natural disasters?
With most of the population owning a mobile device with an internet connection, it has become easier for people to communicate with the outside world during emergencies. People can utilize social media platforms to spread awareness about the extremity of damage in their area and seek help from authorities. Government officials can use this data to reach the affected area and prevent other people from doing so.
iii). How is weather forecasting useful in disaster risk reduction and management?
In areas often hit by natural disasters, it is crucial to keep an eye out for weather forecasting. Prediction of impending hurricanes, tornadoes, hailstorms, etc., can warn the citizens about the possibility of a tsunami, flooding, or heavy storms. In such cases, citizens can benefit from disruptive technologies in disaster risk reduction by timely evacuating and moving to safer areas to avoid getting stuck in an emergency situation.