The general rule of thumb states that all business organizations need Disaster Recovery (DR) or business continuity strategies. Such technical solutions are helpful when the company faces significant or minor data loss due to multiple factors like natural disasters, cybercrime, human error, etc.
For small or medium-sized organizations, losing crucial client information can result in severe repercussions. In fact, over 93% of companies unable to retrieve data within the first ten days of an outage ran out of business within one year.
With the advent of technology, various ways of implementing security plans for your business exist. Multiple technology tools in disaster recovery are available in the market to help secure your data. In this article, you will read about the 5 top services you can opt for in 2022.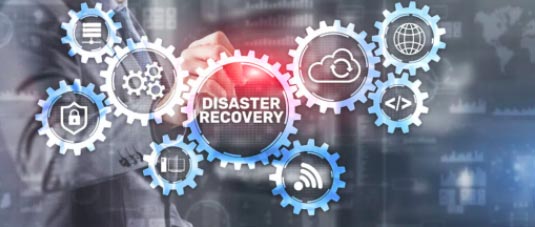 Source: Information age
What is Disaster Recovery?
Disaster Recovery is the protection of crucial business information and data from getting lost or stolen due to sudden power outages during natural disasters, cyber theft, hacking, etc. It is a set of policies and tools to help regain the functionality of the IT infrastructure. It relies on data replication or backup in a second location from where you can retract information during emergencies.
There are various types of Disaster Recovery methods like:
BackupBackup: It is one of the commonly used DR methods where you can store data in a secondary location off-site or a removable hard drive. Here, the entire IT infrastructure is not backed up, thus offering minimal business continuity benefits.
Cold-site: Some organizations maintain a second location called off-site to maintain basic IT infrastructure. If the central office suffers structural damage from natural disasters, employees temporarily shift to this building to keep the operations running smoothly.
Disaster Recovery as a Service (DRaaS): When the business organization's servers are not working due to a ransomware attack or other structural damage, the vendor moves computer processing to its cloud network. DRaaS plans are sold either on a pay-per-use or subscription basis.
Virtualization: Here, specific data or an organization's entire computing environment is stored in off-site virtual machines. This method allows businesses to bounce back faster in case of physical disasters.
Point-in-time Copies: It is the process of snapshotting the entire database at a particular instant. Here, storing the virtual backup copy in an off-site location is crucial to regain data effectively.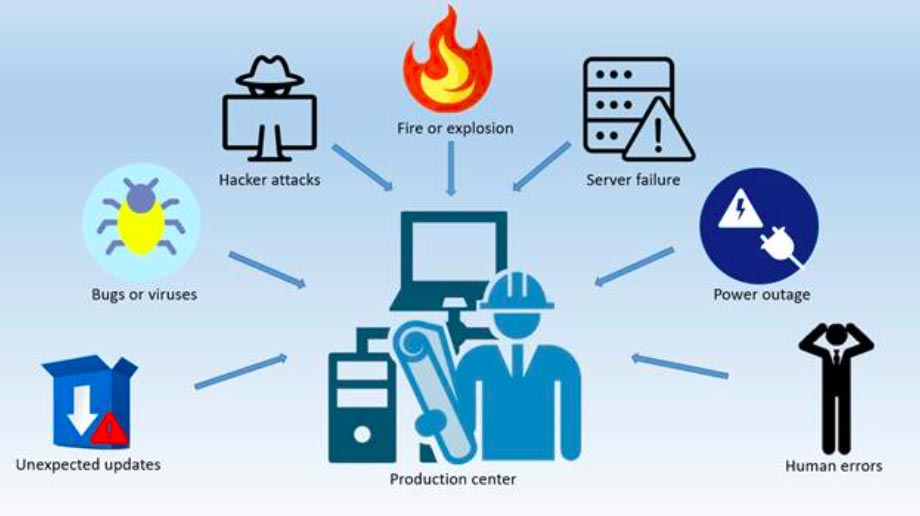 Source: 2wtech
Top Technology Tools in Disaster Recovery (DR) in 2022
Did you know that 96% of companies with technology tools in disaster recovery were able to survive ransomware attacks? To safeguard your business, you can also use an array of DR tools based on your requirements. This section will list various disaster recovery tools available in the market in 2022.
i). Zerto
Originated in 2009, Zerto is a one-stop IT resilience company providing services at $745 per year. It offers you the chance to avail yourself benefits of cloud mobility, backup, and disaster recovery in a single platform. Here, data protection is combined with analytics, orchestration, and recovery automation. So, Zerto ensures the continuous availability of enterprise-scale software and reduces downtime significantly.
It integrates with Microsoft Hyper-V or VMware vSphere and can store workloads on various private, hybrid, or public clouds.
Differentiators
Zerto prioritizes continuous data safety instead of periodic backups.
It provides always-on data replication with a 5-second frequency to continuously record all changes.
Zerto is based on journaling technology to help improve RPOs/RTOs and eliminate the need for point-in-time copies.
Pros
Flexible APIs work well between AWS, Hyper-V, and VMware.
Allows backup in a multiple-cloud network.
Cons
You cannot protect non-virtualized resources.
Expensive compared to other alternatives.
ii). Carbonite
Carbonite is a data backup service using continuous replication technology to store an ​​up-to-date copy of the company's computing environment. Without overstretching the network bandwidth or the primary system, this platform will let you recover files within an instant. Carbonite can help recover Operating Systems (OS), files, applications, individual folders, etc.
Available for $59.99 per year, this service secures mission-critical data of up to 25 inter-connected devices.
Differentiators
Carbonite simplifies data recovery and management with its central hub.
It can notice changes in Microsoft 365 applications and copy them into Microsoft Azure.
It includes a search feature to quickly scroll through the content in OneDrive, Teams, SharePoint, etc.
Pros
Competitive pricing compared to other DR tools.
You don't have to install any new software to replicate data.
Cons
Carbonite does not provide third-party cloud support.
It only works on Windows and Mac OS X systems.
iii). Arcserve
Initially launched in 1983 as Cheyenne Software, Arcserve is one of the technology tools in disaster recovery for data replication, protection, and recovery. It is suitable for both cloud-based and on-premise data storage systems and can get the system back up with speed. Arcserve streamlines information backup and is ideal for smaller enterprises due to its lower cost.
You can utilize this service at $50 per terabyte on a monthly basis.
Differentiators
It uses a fault-tolerant cloud to backup data.
Arcserve provides unchangeable storage options and integrated cyber security to reduce prices.
You can run a network within the Arcserve cloud-like in any other computing environment.
Pros
Carbonite is easy to deploy.
It works at industry-recognized backup speed.
Cons
Not suitable for large business organizations owing to their extensive data needs.
The restore and backup process is specifically created for Microsoft Windows operating system.
iv). Sungard AS
With over 40 years of IT recovery experience, Sungard AS is a Disaster Recovery as a Service (DRaaS) and business continuity platform. It helps deliver a financially penalty-protected and wholly managed RTO service-level agreement (SLA) for different physical and virtual server platforms. It keeps your on-premise or cloud recovery environment in sync with frequent production changes.
Sungard AS has recently added a Cyber Incident Recovery feature to improve the chances of recovering data lost in a ransomware attack.
Differentiators
Sungard AS works with different virtual machines, up to 86 physical servers, and IBM iSeries servers.
It provides an immaculate room environment for forensic analysis and identification of recovery points.
It provides cyber security simulation to speed up data recovery.
Pros
Helps determine an overview of impending expenditure.
Sungard AS DRaaS solutions works with on-premise or cloud computing environments equally well.
Cons
Recovering files can be a pretty time-consuming process.
Multiple features can complicate the supporting infrastructure.
v). Veritas
Founded in 1983 in Santa Clara, California, Veritas is a well-renowned name in the list of technology tools in disaster recovery. It uses an enterprise-class approach to ensure data security. The Disaster Recovery tool helps simplify operations across SaaS, ​​Platform-as-a-Service (PaaS), traditional and container-based applications.
Veritas pricing starts at $39 per FETB per month. This platform uses centralized policy-based management to keep data secure during site migration or other system failures causing downtime.
Differentiators
Veritas has Kubernetes multi-cloud recovery to secure information to any Kubernetes distribution.
It uses auto-scaling data management to improve cloud agility.
Veritas uses a unified platform approach to provide infection-free information restoration.
Pros
It requires minimal administration while handling the computing environment of a large-scale organization.
It helps protect cloud, virtual, and physical workloads.
Cons
The system might not back up files on specific virtual machines.
It might require human intervention when errors occur during the restoration process.
Wrapping Up
Data Science entrepreneur Clive Humbly once said, 'data is the new oil', and this statement stands true for business organizations worldwide. Losing crucial data in a ransomware attack or a physical disaster can lead to bankruptcy and run you out of business sooner than you could imagine.
This is because data outages can cost as much as $20,000 per day. So, it is vital for companies to invest in technology tools in disaster recovery (DR). Such technologies can be utilized to restore data from an off-site location or a virtual machine.
Today, there are plenty of DR tools in the market offering various features like flexible integrations and always-on coverage to maintain business continuity.
If you haven't yet deployed a DR technological resource, it is high time to secure your business from natural calamities and cybercrime.
FAQs
1. What is Disaster Recovery (DR)?
Disaster Recovery is the process of regaining lost data and control of IT infrastructure to ensure business operations keep running smoothly. It is an aspect of business continuity that relies on data replication technologies to store backups of servers in a remote location.
2. What do you mean by RPO and RTO in Disaster Recovery?
RPO stands for Recovery Point Objective, and it refers to the amount of data that can be lost during an outage and how long the system can be down without harming business continuity.
RTO stands for Recovery Time Objective, and it is the maximum time limit within which the data must be restored to avoid any dire consequences.
3. What are the different elements of a Disaster Recovery plan?
A Disaster Recovery plan must have the following elements:
Creation of a disaster recovery team.
Proper identification and assessment of disaster.
Sourcing of different applications, resources, and documents.
Clear information of backup and off-site data storage location.
Testing and maintenance of the DR plan.
4. What are some tools and technologies helpful in Disaster Recovery?
technology tools in disaster recovery are based on the following aspects:
Cloud-based backup
Disaster recovery services
Tape backup
Disc backup