The accommodation of AI in smart healthcare infrastructure has enormous potential to improve the overall healthcare system. The health care sector has gathered vast amounts of data in the form of images, health records, claims data, population data, and clinical trial data. Artificial intelligence can identify insights and patterns in these data that humans would not be able to find on their own.
According to a recently published report by Future Market insights, deep learning will increase the need for signal reduction, data mining and image recognition, which in turn will increase the demand for AI in the healthcare sector.
The need for newer technologies in the healthcare industry is for real, especially for tackling any health crisis that may arise. Attributed to such elevated needs, the inculcation of AI across the healthcare sector has acquired paramount importance. For instance, through deep learning from AI, healthcare organizations can better manage their business and clinical operations while improving the quality of their services.
This blog will delve into the future scope for AI in the healthcare advances and innovative treatments, the use of virtual assistants and why it is greatly accepted by prominent stakeholders, the application of surgical robots, and lastly, how IoT can pave a new path for more advancements to seep in the healthcare sector.
How Lucrative is AI for the Future of Healthcare?
According to a Harvard Business Review publication, patients hardly ever have just one clear, manageable issue. It suggests that a master plan combined with appropriate algorithms for treating the patient will automatically resolve conflicts and redundancies. Businesses are identifying ways to create a master plan along with risk mitigation strategies aiming to offset operational losses.
For instance, in January 2021, Allscripts Healthcare Solutions announced a strategic partnership with the U.S Orthopedic Alliance (USOA). This partnership was aimed at bringing to market efficient infrastructure designed to assist orthopedic practices scale with agility, improving electronic health records implementation timelines, providing evidence-based guidelines to support evolving clinical protocols, and creating community-wide connectivity with value-based care analytics.
Diverse interventions, along with digitization of the whole system, ranging from EHR (electronic health records) and patient records to surgical procedures application are extensively integrating AI. This has in turn revolutionized the clinical and healthcare settings.
According to a report published by Future Market Insights, the global Electronic Medical Records (EMRs) market is projected to exhibit a CAGR of 7.8% and is predicted to reach the valuation of US$ 52.95 Billion by the end of 2032. The revolutionizing of healthcare settings further leads to the digital transformation of AI and healthcare companies. This ensures the easy availability of AI-powered insights to improve overall productivity.
In November 2021, Novartis, in collaboration with Microsoft announced its plans to empower scientists with AI to speed the discovery and development of breakthrough medicines. By leveraging the power of AI, the scientists at Novartis said that they will be able to work more productively as AI can sift quickly through information stored from decades of laboratory experiments.
Digitization is a broad umbrella consisting of many sub-areas such as big data. In this era of big data, AI learns from massive amounts of patient information available in hospital records. This increasingly helps doctors and clinicians in analyzing the patient's current condition concerning medical history.
In the United States, acute care hospitals covered under the Inpatient Prospective Payment System (IPPS) are eligible for the Medicare incentive payment system. Acute care electronic health records generate patient information that can provide all clinical details. These details can also be used for ICU, emergency department, inpatient unit, and operating room purposes.
Will AI-Based Virtual Assistants Improve the Healthcare Experience?
It might sound simple, but AI-based virtual assistants play a significant role in improving the overall health experience. Virtual assistants comprise efficiently engineered neural networks, machine learning, and other advancements in AI technologies.
AI-powered virtual assistants provide patients with personalized experiences. By identifying their illness based on symptoms, monitoring their health status, scheduling doctor's appointments, and more, they can better manage their health. As well as providing medical advice for common ailments or complaints, the healthcare assistant will help schedule an appointment with a doctor. The virtual assistant would also be available 24/7, so it can answer your questions in real-time. The application of AI can be used to enhance patient engagement and improve self-management skills to prevent chronic conditions from worsening.
The Kore.ai IVA, for example, helps patients access to care more quickly and easily by connecting them directly with the right provider or clinician via the EMR-to-patient portal. It can deliver the results of procedures, lab tests, and prescribe the next steps.
The use of virtual assistants has gained traction over the past few years among the medical practitioners too. A case study proved that eighty percent of U.S. doctors believe virtual assistants would drastically change how they use their electronic medical records (EMRs), freeing time they can then spend with patients.
The United States will see a shortage of up to nearly 122,000 physicians by 2032 as demand for physicians continues to grow faster than supply, according to new data published by theAAMC (Association of American Medical Colleges). Therefore, in order to meet the shortage, AI-based virtual assistants come into play as they are highly efficient and super-reliable.
Nurse AMIE: an AI based Amazon Alexa Program
Industry leaders and researchers are pushing their limits by targeting specific areas of the healthcare sector. Continuous research and developments in this domain are paving their way towards improvising an existing virtual assistant with the duties and responsibilities of a nurse. It is like upgrading an existing bot to learn various medical-related terms and functions with which it can also cater to the group of patients.
For instance, in April 2021, a team of experts from the University's College of Medicine and the College of Information Sciences and Technology built an Amazon Alexa program to deliver care interventions to breast cancer patients in their homes. The program, called Addressing Metastatic Individuals every day, or Nurse AMIE, interacts with patients via voice to address symptoms such as pain, fatigue, sleep, anxiety, and depression, and offer interventions.
A patient opens the skill on Amazon Alexa Echo Show. A nurse wearing a white lab coat appears on the screen, delivering one of nearly a hundred different cheerful and engaging greetings. The virtual nurse answers questions about the user's current symptoms and presents them with a recommended evidence-based intervention. These recommendations vary from guided meditation sessions, exercise videos, lessons in cognitive behavioral therapy, and so on. This leaves an urge within an average human to invest in AI-based virtual assistant devices.
AI-Assisted Surgical Robots in Healthcare
A surgeon's instrument can be guided by a robot using information from a patient's pre-op medical records, which can lead to a 21% decrease in a patient's hospital stay. Such "minimally invasive" nature of robot-assisted surgery prevents the need for patients to heal from large incisions. Robots can use artificial intelligence to learn from past operations to develop new surgical techniques. This has proven to be very effective. According to a study involving 379 orthopedic patients, robotic surgery performed by an AI-assisted system results in five times fewer complications than surgery by a surgeon alone.
For example, a miniature robot, Heartlander, which enters a small incision on the chest to map and treat the surface of the heart, assists heart surgeons. In addition, these robots are equipped with cameras to augment the overall experience of the surgery.
In May 2021, EndoFresh received 510(k) clearance from the United States Food and Drug Administration of the United States for its EndoFresh Disposable Digestive Endoscopy System which consists of a camera system with an innovative all-in-one design, disposable upper GI endoscope, and disposable colonoscope. This ultimately allows the surgeons to perform surgical interventions efficiently without compromising on patient safety. The competition amongst the market players are putting their intelligence team to develop unique and highly efficient AI-assisted surgical robots to cater to the current healthcare scenario.
Healthcare IoT- Is It All Set To Open New Opportunities for Electronic Medical Records Market?
Have you ever missed an appointment with your doctor just because you were not in the same city or you forgot to take your medical file to the doctor? Electronic medical records (EMRs), entirely based on IoT, are here to your rescue. From enhancing your overall care to giving in-depth access to your medical history, EMRs have simplified the whole process.
According toFuture Market Insights, EMR demand grew by 5.5% year-on-year in 2021owing to the government mandates and the rising hospitalization of patients across the globe due to the COVID-19 pandemic.
The prevalence of government mandates for utilizing electronic health records is stimulating the need for technology. In May 2020, the US federal government proposed the Federal Health IT Strategic Plan 2020 – 2025 that mandates the meaningful usage of electronic health records by healthcare providers.
While the quest to improve healthcare facilities has been prevalent for a long time, the pandemic has further heightened the need to opt for AI to maintain EMRs for the effective distribution of COVID-19 vaccines. In April 2021, Healthcare IT solutions market leader eClinicalWorks® successfully implemented its COVID-19 vaccination management module called "Vaccine Administration Management Solution (VAMS)". VAMS is assisting in administering vaccine doses in more than 25 states in the U.S.
IoT and Wearable Devices- Lucrative or Not?
Intending to handle patient diagnostics and monitor medical treatment delivery methods, healthcare IoT combines communication technology and sensor data to offer benefits that were previously neglected. Considering the benefits of monitoring the daily health and fitness levels, the use of wearable medical devices has increased.
In 2020, researchers atRockefeller Neuroscience Institute in the United States reported that data from AI guided models such as the Oura ring, a wearable sleep and activity tracker, can be combined with an app that measures vital signs that predict in advance if an individual is likely to develop COVID-19 symptoms. The device successfully predicted that an individual would experience symptoms such as shortness of breath, cough, and fever up to three days before they manifested.
In addition, patients nowadays use smartwatches to maintain their health data and generate it whenever required. Wearables are projected to become a new frontier for the use of AI in healthcare. The United States remains thelargest medical device market in the world, expected to surpass $208 billion by 2023.
Demand for wearable medical devices is anticipated to reflect a promising rate of growth with approximately 7% CAGR through 2031, according to Future Market Insights.Advancements in healthcare IoT and healthcare IT have facilitated the inclusion of dynamic patient data, which accommodates faster diagnostics and health deterioration preventive measures.
Conclusion
In the extremely complex world of health care, artificial intelligence can assist health providers in providing fast reliable service, diagnosing problems and analyzing data to identify trends or genetic information that could lead to a specific disease. Artificial intelligence can save lives not only in healthcare, but also for everyday patients as well.
Although in healthcare, tools based on AI can never replace doctors, they have the potential to upskill doctors and nurses. Rising importance on precision medications, rapid increase in cross-industry partnerships, and venture capital investments have been fueling the development of AI in the healthcare market.
Various life science organizations, government regulatory authorities, and healthcare start-ups are adopting AI-empowered solutions in their processes. The surge in the use of big data in the global healthcare industry and the immense potential of AI can create notable stimulation. The urge of the health workforce to improve outcomes will widen the revenue growth of AI in the healthcare market.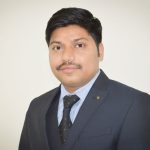 Nikhil Kaitwade is Associate Vice President (AVP) – Market Research at Future Market Insights, ESOMAR-certified market research and consulting firm Future Market Insights (FMI). The award-winning firm is headquartered in Dubai, with offices in the US, UK, and India. MarketNgage is the Market Research Subscription Platform from FMI that assists stakeholders in obtaining in-depth research across industries, markets and niche segments. You can connect with Nikhil on LinkedIn.