By now, most of us have experienced the advantages of emerging technologies like artificial intelligence (AI) and machine learning in our daily lives through our personal and business technology. These technologies – and many more – will become even more deeply entrenched in society as governments, local business partners, and technology providers look to create smart cities.
Smart cities are becoming increasingly more important as localities look to lower crime rates, ensure citizens' safety and lower congestion. Each individual citizen will benefit from smart cities, and places that adopt this technology will become more efficient, reducing their impact on the environment and creating better places to live.  Smart cities are also more attractive to businesses that are looking to more efficiently grow their employee base.
While AI and machine learning are necessary for powering many of the technologies within a smart city, the three most important technologies that make up smart cities are IoT, video and LIDAR and of course the network, data centers and storage capabilities that sit behind these technologies to harness the power of the data collected.
IoT
IoT devices and sensors dispersed throughout smart cities are especially helpful for understanding where people congregate and their movements to lower congestion and keep people safe. For example, adding IoT sensors to bridges can help determine when they need to be de-iced to ensure safe crossing during busier times.
Video
Video technology helps to both deter crime and catch criminals as quickly as possible to keep the streets safe. Video technology is extremely effective at identifying individuals who have committed a crime but can also be used to identify high crime risk individuals before they get the chance to do something illegal. While some have cited the potential for misuse of this technology, the benefits have been shown to outweigh the drawbacks.
LIDAR
LIDAR will deeply benefit factory and manufacturer workers in smart cities, as it will make them and their businesses more efficient. LIDAR allows businesses to determine where their employees are, which gives them the unique opportunity to guide workers as they complete a task and ensure the right amount of manpower is allotted for a particular task.
All of this technology sounds like a great investment for cities; however, one major investment has to be made before any of these can work efficiently. If you consider the technologies mentioned above like a car, then a resilient data infrastructure is the gas that powers it. All of these services require robust networking, more so than previous cables were capable of in the past. Telecom companies are already touting their 5G capabilities, and while this technology will certainly benefit smart cities of the future, Edge computing and 6G will ultimately be the two technologies that move smart cities forward.
Smart cities require "always-on" connectivity with as little latency as possible, which is especially important when you're using the technology to make real-time decisions. This is where it becomes so critical to bring connectivity closer to the source as opposed to pinging data centers far away.  These "edge" data centers will be a major technical enabler in the near future and include a mix of compute, storage, and network services to meet demand.
Over the next few years, those regions that are looking to transform into smart cities will need to create a roadmap. Though the features of a smart city like IoT and video technology are exciting, it's important to start by taking a step back and designing and implementing a data infrastructure that can support these technologies. This critical component of laying the right groundwork and foundation will be the difference between a city that is more efficient and a smart city that can't "think" fast enough to be useful.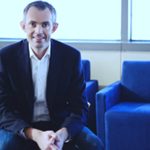 Jason leads a team focused on defining, assessing and providing direction on the changing technology landscape of Flexential's business and customers. He and his team are responsible for developing insights on what is next on the horizon to further position Flexential as a hybrid IT and data center leader. He joined the company in 2011 and has held various roles in product, operations and technical management. Jason has over 25 years of experience in leadership positions in product architecture, software engineering, and technical sales and support across a variety of companies, including Sun Microsystems, where Jason was honored as a Distinguished Engineer, VMware and the Mayo Clinic. Jason was the lead author of "Building N1 Grid Solutions," one of the first books highlighting the combined use of virtualization and automation. He also has several patents in networking, data center resource management, virtualization, and security. He attended Luther College and Western Governor's University.