The smart shelf is one of the emergent technologies expected to transform the retail industry altogether. These IoT-connected solutions are said to help the brick-and-mortar locations, which are often found fighting for their consumers more than ever. To keep pace with the increasing competition from the online setting, retailers should rethink their in-store marketing strategies and embrace ground-breaking technologies like smart shelves.
Integrating smart shelves – the electronically connected shelves into the existing business operation will benefit retailers in various ways. It automatically keeps track of the inventory in a retail establishment, which helps to measure customers' interest in a specific product, and also streamlines their lives by offering in-depth details about it.
How new is the concept of the smart shelf?
The idea of a smart shelf was on the market since 2003. It was first visualized as a tool for supporting supermarkets and discount stores, which requires a regular stock refill. But, it turned out to be more valuable than the initial idea after coupling it with the latest technological advancements like Artificial Intelligence, Machine Learning, etc. At present, it is capable of executing a wide range of retail tasks.
In a recent Internet of Things report, Verizon revealed various use cases in the retail Internet of Things. According to this study, retailers were positive about many aspects of IoT deployments. That is, almost 77% of the retailers associated the future success of their business with connected technologies, like a smart shelf. Wherein 89% of early adopters already benefited from insights about buyer preferences and behaviors.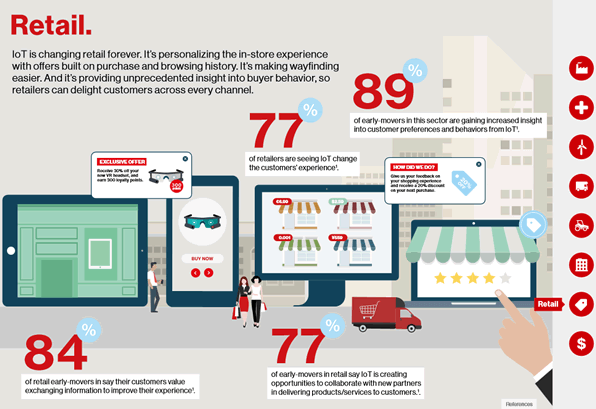 Image Source:  Verizon
What Retailers Get From The Smart Shelf Technology?
1. Inventory Automation
According to Ey.com, the current inventory systems are just 52% accurate, signifying the importance of advanced tools to speed up the process. By employing smart shelves technology such as RFID, retail industries can track the goods automatically and alert the stock replenishment beforehand. Auto inventory management plays a crucial role in gauging drops, handling costs, and enhancing the customer shopping experience.
2. Distant Monitoring
Smart shelves with distant monitoring features allow retailers to remotely track the store. It helps to quickly identify and fix the issues before it impacts the in-store consumers. The hardware runs with an automatic remote dispatching and alerting system to ensure uninterrupted operation.
Also Read: Digital Transformation Trends in Retail
3. Personalized Advertisements
Smart shelves interact with apps on a consumer's smartphone. For instance, sensors installed on the shelves detect your arrival and show you a deal based on the previous purchase. Also, using smart apps to create a shopping list will guide you on where to find the desired items.
4. IoT Sensors
The Internet of things (IoT) is known to have several uses in a retail space. Temperature control is one of the primary applications of IoT sensors. These sensors can determine the temperatures in freezers and store cases to ensure they are right before any fluctuation spoils the lifetime of certain products, like ice cream and meat.
Moreover, the internet of things will also help the retail industry by transmitting the gathered data from smart shelves to store associates for future analysis. That is, the retailers can study such data and identify the products that appeal most to consumers and also the impact of the arrangement of items on display.
5. Cross and Up-Selling
Cross and upselling strategies are executed in the retail industry if there is a shortage of specific products that customers are planning to buy. Smart shelves technology lets retailers be aware of such out-of-stock items, so they can offer a better or a complementary product compared to what consumers are interested in.
Bottom Line
Smart shelves will change the way you shop in the future. From digital displays highlighting instant price variations to ads linked to the grocery list, it makes the shopping experience of in-store retail customers extremely personalized.
Read Also: