Live entertainment today and into the future needs to embrace the total guest experience as well as providing enhancements to the way performances are created and presented to the public leveraging the benefits of innovations and advancements in technology.  From the patron experience, going beyond the hard walls of the venue to the point at which a decision is made to attend an event, is an opportunity for the venue's operator/company to engage with the patron in a more personalized way but also to gain insight and influence into their decision to attend.  These touch points can carry from that moment they make that decision and purchase their tickets through arrival to the venue, participation in the event, and beyond.  The use of artificial intelligence and smart applications, such as web-based solutions and mobile apps, work to personalize, inform, entice, and connect the patron with the venue, the performance, and the performance itself.

Imagine a day in the life of the patron being notified via a venue's mobile app of an upcoming performance or new season being announced based on their previous interactions with the venue or other types of lifestyle choices they make.  The app then provides a simple and intuitive way to encourage them to make a purchase based on an experience that will be unique and authentic to them.  The app could encourage the purchase of pre-paid reserved parking, pre-ordering of food, beverage, and themed merchandise related to the show or the venue.  Additionally, it would let them share out to their social media streams their decision to go and to see who else in their circle may also be attending.

As the event date approaches, reminders and additional information and perks can be offered. These could include upgrades or other special moments including pre-selling similar upcoming productions or discounts at allied local amenities such as hotels, restaurants, and the like.  On the day of the event, a map loads into their app showing the most direct route to the venue and to their pre-paid reserved parking.  Upon arrival, a foot-path map shows the route to the venue and their seating, automatically checking them in to the venue and on social media using near-field communication.  This also alerts front of house staff that they have arrived to begin any pre-arranged service including food and beverage.

During pre-show, the patron has the ability to direct motorized PTZ cameras to their seats for social media photo ops posted to their and the venue's feeds in addition to a "Red Carpet" photo-op location strategically positioned within the lobby.  At intermission, pre-ordered drinks arrive or are waiting at a designated area for pickup, pre-sale of future events hits the app with a "buy now" feature offering strategic discounts for immediate purchase including for group purchases or "buy for a friend".  Remote on-site purchases of additional merchandise can be made and either picked up after the show or direct shipped to the patron's location of choice.  Concessions and merchandise have streamlined and become touchless pay points, purchasing through the app.

At the end of the performance, an exiting map appears, directing the patron to their vehicle or notifies Valet service of their imminent arrival and provides the optimum map to their next destination.  Post show, encourages social media interactions and reviews, further purchasing of upcoming events, and post-show surveys.  Each of these touchpoints is an opportunity to gather data and build a profile of the patron to improved attendance and personalize their experience while also providing insight into improvements in operational efficiencies and future performance offerings.

Parallel to this is providing options for remote viewing, either synchronous or asynchronous, at the point of purchase to allow the patron who would otherwise attend in person but may have a specific conflict or reason for not being there in person.  This additionally opens up performances to patrons beyond the geographic region, those who are differently abled, or those who may not be able to afford an in-person ticket price or have mobility to come in person improving equity, diversity and inclusion possibilities increasing revenue potential for the venue as well as expanding the patron base.  Accommodating this by leveraging smart camera technologies and streaming capabilities, broadcast quality lighting, and high-quality acoustics, in negotiation with the production's rights holders and performers brings these new markets to light.

At the venue itself, several technology strategies can be employed to improve operational efficiencies, reduce costs, and improve patron and employee satisfaction.  On the patron side, as mentioned above, is a host of on-site app driven and virtualized technologies.  These include virtual ticketing, touchless pay points, and virtual merchandise sales that speed interactions, ease concerns over viral pathogens, and can offer new and different ways of promoting and packaging sale items for patrons while additionally giving data metrics back to the venue for inventory accommodations and personalization to the patron.  Additionally, virtualized seating maps and wayfinding can improve loading and exiting patrons from the auditorium pre-show, during intermission, and post-show, freeing up docents, ushers, and box office staff to manage priority patron issues that need direct human interaction.

Virtualized and interactive displays within the lobby space not only can provide current performance information, but provide upcoming show information as well as be a revenue generator by selling targeted advertisement including the use of QR codes for discount purchases, digital programs, and other historically paper-based items that can be replaced virtually through and app.  Within restrooms or other patron amenities, occupancy data can be generated to notify patrons and staff of long cue lines or issues that may need immediate attention.

Back-of-house may include similar technologies including digital displays for performer/crew check in as well as enhanced backstage monitoring using performer live streams via cellular or WiFi apps.  Additional technology to improve the quality of performance may also include the use of enhanced electro-acoustic systems utilizing an array of specialty microphones and loudspeakers couple to signal processing and management technologies.

Within the auditorium, power and connectivity can be added to seating areas to provide for both enhanced personalized experience as well as give the ability to initiate audience participation during a performance of presentation.  This can be wired or wireless over a segments and secure broadband network.  This network would be coupled with the previously mentioned remote camera system allowing for social media engagement.  Additionally, projection mapping systems can be installed within the seating area that will allow the skin of the venue to change offering additional unique opportunities for branding, advertisement, interactivity, and correlation to the current performance.  Pre and post-show visual could easily be switched over to show mode for the performance.  This also opens the venue up to other use types such as TED Talks, branded corporate events, E-sports events, festivals and tournaments, and other revenue generating opportunities during downtimes related to scheduled performances of live performances.

On stage, accommodations for virtual scenery through holographic or projection mapped elements in addition to video walls and other electronic display technologies should be considered.  This should be coupled with a robust theatrical lighting system including LED and automated fixtures over a DMX over Ethernet system designed for maximum flexibility to accommodate a variety of show types.  Any on-stage rigging should make use of automated motorized linesets operable through computer control for programmable cues.  Lighting positions in the Front-of-House should be evaluated for height, location, and angle based on updated geometries on the stage locations, size and sightlines.  Digital audio distribution of high-bandwidth audio suitable for both production and broadcast needs should be considered.  This would not only serve the auditorium, but also any streaming service, latecomer video, and back-of-house needs.

To facilitate this, secure, robust, and redundant high-speed networks are required in addition to the development of the applications and AI-driven end-point technologies, such as cameras and media servers is secure; can accommodate moves, adds and changes; and is segmented among operational, production, and public networks. This would include deployment of multiple single mode fiber backbones to a central data hub and an ISP provided high-bandwidth connection with roll over configuration for redundancy and reliability.  This includes wired and wireless access points throughout the venue.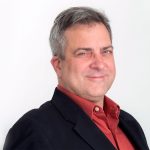 Raymond Kent has worked in the entertainment industry for over three decades as an award-winning designer, author, educator, and presenter at some of the top venues and institutions in the US. Additionally, Raymond founded and leads the Innovative Technology Design Group for the global architecture firm, DLR Group.