The field of medical sciences has been witnessing a huge convergence of technological solutions with telecom, cloud, data analytics, wireless networks, and other technologies. This confluence has accelerated the entire process of healthcare delivery to patients and enhanced its efficiency, accessibility, and cost-effectiveness, thus making the patient experience phenomenal.
Wearables and health sensors are creating terabytes of the novel, granular data. Innovative applications are getting patients more engaged than ever. Artificial Intelligence, machine learning, NLP, telehealth, blockchain technology, and new personalized digital devices are being infused into all parts of the consumer experience and workflow, benefitting both patients and healthcare providers.
Electronic Health Records have streamlined input, storage, and data management besides eradicating cumbersome paper-based work processes.
Along with a trained workforce, these shifts call for efficient solutions to deploy, implement, and maintain increasingly complex medical devices and health information technologies. That's where Top MedTech Solution Providers step in. They play a deep and meaningful role in powering the future of medical care worldwide.
The top MedTech companies accelerate digital innovations in healthcare through various specialized solutions, out-of-the-box accelerators, and scalable platforms.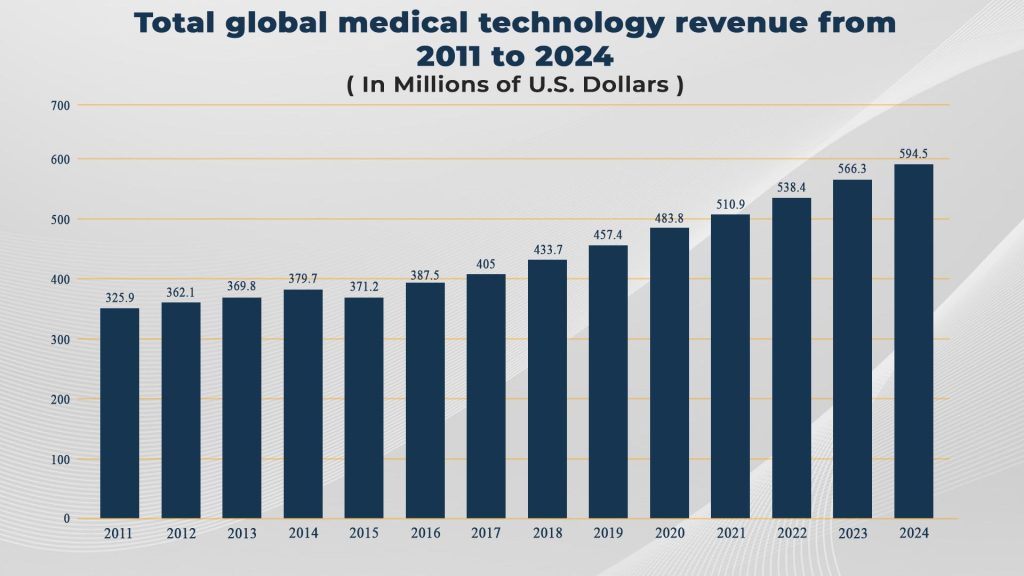 The above graph represents the total global medical technology revenue from 2011 to 2024.
With deep healthcare domain knowledge, in-depth technology expertise, and a scientific approach to addressing different healthcare problems, these Top MedTech Software Providers consistently deliver best-in-class solutions and unmatched services to Medicare organizations worldwide.
If your healthcare organization intends to enhance business processes, reduce costs, speed decision-making, enhance user engagement, and drive remarkable growth and profitability, the first step is to find the right MedTech Software partner, which can be a daunting task considering the number of choices available today.
To help you find the perfect fit for your needs, we present to you – Top MedTech Solution Providers 2021 that are helping healthcare leaders make the shift—with innovative products and services, more automation and efficiency, actionable insights, and modern infrastructure that drives better outcomes at a lower cost.
Healthcare Solution Providers

All Categories

Healthcare Solution Providers
All Years

All Years

2018
2019
2020
2021
2022