EMR (Electronic Medical Record) system, also referred to as EHR (Electronic Health Record), is known to improve medical practice operations considerably. However, it is easy to get overwhelmed by the range of features that come with these solutions. If your medical establishment is planning to transition from a paper-based system to a sophisticated EHR solution or replace the existing EMR system, this article can be of enormous help.
Here, we have identified the most crucial features that should be a part of the EMR solution that you are evaluating at present.
What are the Must-Have EMR Features for Healthcare Practice?
Patient Scheduling

A comprehensive EHR platform should have an appointment-setting feature that allows team members to quickly register patients, schedule them, and choose a purpose for their visit. It must send out automatic appointment reminders via text or email to decrease no-shows and confirm better collections. However, you need to ensure that you are comfortable with the platform's scheduling features.
Patient Portals

EMR system should have a patient portal in it where one can access:

Educational materials
Lab results
Allergies
Medications
Discharge summaries
Immunizations
Forms for download
Recent doctor visits

Some advanced tools may also offer

Benefits and coverage checks
Appointment scheduling
Prescription refill request forms
Contact information update forms
Payment method
Image Source: athenahealth
Patient History Recording

The EMR platform should make it easy for users to quickly and expertly record and access patient history when required. That is, it should let providers capture, review, as well as manage medical procedural/surgical, family, and social history, including the relevant positive and negative accounts, patient-reported or externally available patient clinical records.
E-Prescribing

Go for the EHR system with an e-prescribing facility that lets you electronically print as well as transmit prescriptions. Such systems also offer automatic and instant notifications of potential drug interactions and allergies.
Medical Billing Dashboards

A good EHR software makes billing fast, integrated, and painless as possible. You can easily send bills and transfer the data from charts to bills using these systems. During bill creation, the tool might auto-fill a bill with services from charts, or it might let you view the bill and chart side-by-side.
Order Entry

We recommend that medical practices go for this feature while evaluating the EMR system. This feature, also known as computerized physician order entry (CPOE), lets medical service providers enter, save, and transmit orders for prescriptions, medical tests, and other services. Besides, it also checks for errors and transfers orders electronically.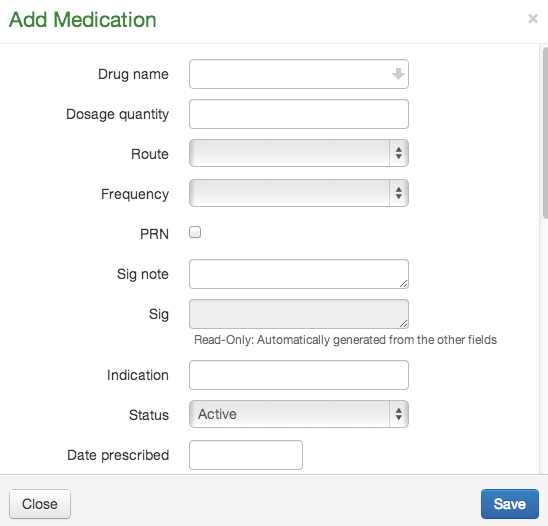 Image Source: DrChrono
Lab Integration

Based on how lab-dependent your healthcare practice is, you may have to choose the right system in the market. Some EMR system lets you monitor the delivery, scrutiny, results, and certainty of samples by electronic means. However, seamless access to explanatory information, two-way communication with labs, and proper integration of lab information and charts are must-have EMR features in your system.
E/M Coding

Choose an EMR system that helps you comply with evaluation and management documentation standards. This means the system should be able to record information, such as:
Physical examination results
Pertinent health risk factors
Treatment and diagnosis codes
Prior diagnostic test results
Complete, legible medical records
Clinical imprint, valuation, and diagnosis
Applicable history and reason for the encounter
Medical care proposal
Document Management

The EMR system should have well-organized, innate document management capabilities, which includes charting features. The software with charting functionality allows physicians to create and store copies of the patient's clinical records and other documentation digitally.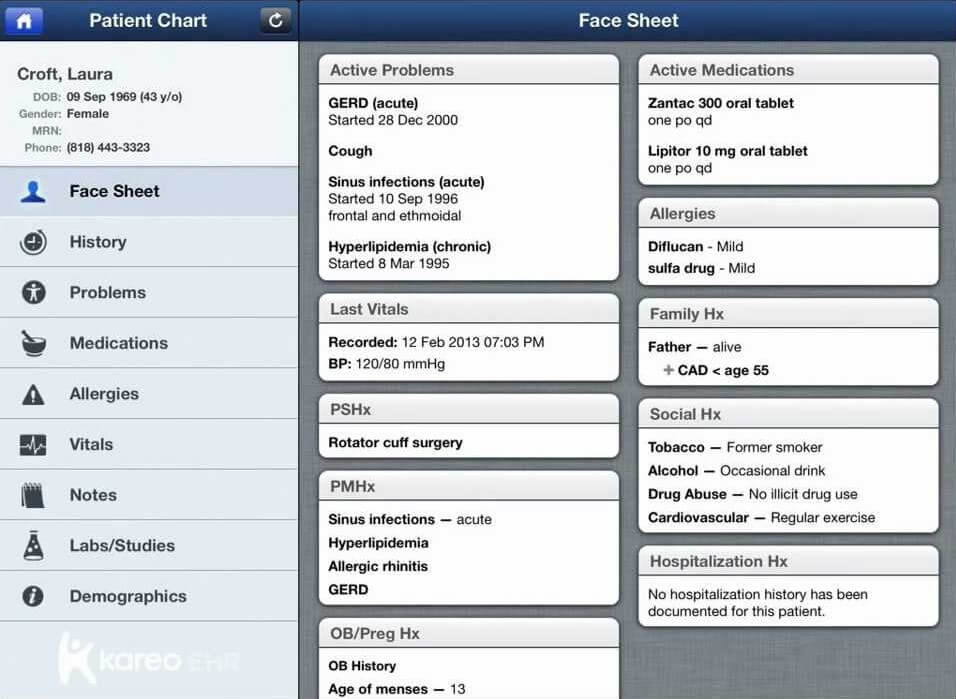 Image Source: Kareo
Centralized Communication

Improved consumer experience can enhance care delivery. Hence medical establishments look for ways to modernize patient-doctor communications. EHR platform with a centralized messaging system can easily and capably manage patient-related communication in a single place.
Now it's Your Turn
Choosing the right EMR software will have a significant impact on day-to-day healthcare practices. So it's vital to stay in the right direction. The ten features highlighted in this article will serve as a starting point for evaluating the diverse options out in the market.