In our report, you will learn 6 key steps to WMS selection, along with an in-depth guide for comparing RFP responses to make the right choice for your needs:
Spell out why you want a new WMS
Review your workforce and build your teams
Check existing software and hardware
Create your requirements list
Look for unique needs and movements
Review RFP responses and decision criteria for selection
When it comes to choosing the right WMS for your warehouse, there's a lot to consider and a lot of pressure. Selecting and successfully implementing the WMS that is the best fit for your needs can make you a company hero.
Download the Whitepaper here.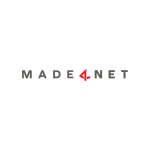 Made4net offers a robust "all in one" supply chain application suite, which was built on a proprietary scalable platform, using modern technology based on Microsoft technology. Working with smaller companies, the approach has always been to give them tool to be less dependent on the vendor and be more self-sustained.