Today, it is more than common to see a person pay online. Digital payments are really a convenient method to buy products and services making less than a few clicks. Google Pay, Apple Pay, and payments via your debit or credit card are a significant part of digital progress. What's more, the digital payment sector is still experiencing growth in custom fintech software development and banking software development services. This year, Statista projects it should reach up to $8.50 trillion USD. Global transactions will settle at a CAGR of 13.10%. With such an increase, the payments online will reach $13.91 trillion UDS by 2026. Isn't it great? So, let's discuss this ongoing trend in detail.
What is this online payment trend about?
Digital payment is the type of payment produced over the internet for specifically ordered goods or services. It requires having a digital wallet (a bank card) and a payment system on the device you pay with (a PC, a smartphone, a tablet, different terminal boxes). When you need to make a payment, it is automatically generated. The sum is shown on the screen and the app asks you for verification.
Unlike paying with cash, everything is done with the help of digital money. You don't need to look for the right amount of money or for a change, etc. The sum is being withdrawn from your bank account and sent into processing. In a few minutes, you already have a check with the transaction details. Sounds super fast and amazing indeed.
Therefore, the potential benefit of every digital transaction over cash payment includes:
Ease of use
Attractive purchase discounts
Cashback programs
Time-saving
Top secure
Protection from theft
Transactions are being recorded
There are lots of websites that have their own personalized payment systems. For example, Amazon Pay, eBay managed payments, Google Pay, Apple Pay, etc. And there are those, that integrate with a third-party service to make payments more convenient. For instance, PayPal, and others with direct debit card payments and bank transfers via QR codes.
So, being a great tool in the eCommerce market, what does it take to develop such a computerized banking system?
Is it hard to build a digital payments application?
Software development of banking software solutions is a super responsible process. So, it takes more time to:
1.   Investigate the market
Market needs and market trends are very important before engaging in the development phase. It is vital to get a full understanding of what your consumers might need to achieve their goals. For, when they pick up stuff online and put it into a cart, all that is needed is to ensure there are several comprehensive steps to pay. Also, it would be great to analyze your competitors (the existing payment methods).
2.   Get all the requirements
Any payment app has to have a group of core features to implement. But, also, it should be innovative and useful. Why would any user want to pay via your app if there are plenty of options on the market? Consider these things. Make it possible to receive cashback or a probable discount. Set your primary business needs (maybe, you sell clothes in an online store and need a custom application). And, then, focus on customers. Who are they? Why do they come to your website? How do they pay? Is it convenient enough? And so on. The more you can gather valuable insights the better.
3.   Choose a development team
Your software development vendor has to focus on fintech solutions. And have great experience in building custom banking software systems. So, investigate that specifically, while choosing such a game-player. Consult Pangea, Clutch, Good Firms. See, who has the top rate from their clients. Also, take into account your timezone and budget possibilities. Sometimes, great development teams should be searched for off-shore. Mostly, in Eastern Europe. There are excellent teams with lots of forward-thinking attitudes, ideas, and solutions, and ready to rock your app.
4.   Start from Discovery
Even if you think you know well your idea is worthy and will skyrocket on the market, it is still recommended to engage in a Discovery Phase. This service takes your business idea, makes a 360 research, and only then speaks about the product's feasibility, innovation, and more. With this option, you risk nothing at all. Besides, you will get all the documents starting from initiation to the possible application stack. You risk more if you start building without this life-saving vest. You can lose time and costs on an app you consider brilliant, while your users won't like it.
5.   Make a simple design
The main goal of any design is to be aesthetic and simple. With eye-catching UI and logical UX, your customers will be delighted to use the payment app. Mainly, because the process will require less effort from their side. And, it will still lead them to a purchase of goods or services. To build a logical architecture (website payment navigation), it is vital to track your customer's payment steps. Do research them. Make a direct survey of user needs.
6.   Pay attention to security
Every financial transaction is to be extra secured. Money has always revolved around certain types of fraud. Therefore, it is best to secure it via blockchain technology. And to meet all the laws and compliances of your target location. These may include the Payment Application Qualified Security Assessing using the Payment Application Data Security Standard. It really depends on the focus country and its laws.
7.   Test the payment app
Testing is something that has to be done parallelly with requirements gathering. It will define the acceptance criteria of the app and test it after each iteration. The more quality assurance engineers get to know the inside out of the app the better they perform. Let them load the app with the maximum number of users, let it perform in extreme conditions, etc.
8.   Get a deal with the bank
It is quite important to connect your payment app with the bank or several banks. This is done to support transactions from different payment systems. Be it Google Pay or debit card, or even credit money. You have to ensure the bank supports these types of transactions.
9.   App maintenance
Application support is crucial for anyone, who is making a purchase. Mainly, because when something goes wrong, it is vital to be able to make a return of funds. Everyone would like to have support on the matter. This way, users feel extra secure and trust your payment app more.
These are the main features to know when building a custom payment system with banking software companies. But, if you want to integrate one, you should also figure out which one is the best on the market. Probably, if it has accessibility worldwide. Or, it works only In the USA. Read all the user feedback and comments. Try to discover something unique, and less troublesome for your customers to use.
Conclusion
To wrap up, online payment solutions are the new tomorrow. Cash slowly but steadily turns into something odd and unwanted. Virtual wallets and money transactions have reached another level. Now, people trust digital payments and search for the most convenient ways to purchase goods or services online. The trend is here to stay, and financial software development should focus on its enhancement.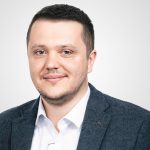 Master's Degree in Computer Science and Mathematics. Microsoft certified professional and .Net specialist with experience in project management and mentorship. Since 2015 co-founder and COO at Inoxoft.