The rising popularity of smartphones, messenger applications, and visual communication have made it evident that the role of technology in connection is vital. Technological advancement in communication has reached a point when businesses have become more globalized.
It is essential to shedding light on technologies that make the tasks more accessible and improve the work culture. The role of AI in the collaboration of work cultures worldwide is immense.
This article discusses how AI breaks the barriers and makes the work culture more efficient. Go on and read up on all the exciting facts about AI in collaboration.
Collaborative Leadership and Its Importance
Before we discuss the critical role played by AI in collaboration, it is necessary to understand why it is crucial for work culture. It has been proven that collaboration in work culture yields superior results.
Hence, the workforce improves and makes the outcome ten times better than individual contributions. So, it is considered healthy as colleagues and associates get to network with each other and perform better.
Below are some crucial points on why collaborative leadership is the healthiest form of working.
Brings out the power of unity
There is open communication within the group
Encouragement is in abundance
Team has access to multiple resources and insights
Plenty of opportunities to learn, receive constructive feedback, and grow as an individual
While traditional work culture is still thriving and being followed by many, collaboration is the new cool. The surprising fact is that even traditional methodology has bits and pieces of collaboration to bring out the best in individuals.
Thus, collaborative culture must harness the power of team spirit. Hence, it is vital to highlight the role of technology in encouraging collaboration among businesses.
What is the Role of AI in Collaboration?
The cross-border business expansion has made it easier to connect to different parts of the world. It is not always feasible to travel and meet your colleagues from another country. Here, the most significant advantage is the availability of video conferencing and content sharing, which blurs the barriers.
While this is convenient, there is a need to add a new experience to it by bringing AI in collaboration. Merging AI in collaboration has improved over the years, though this arena is still open for experiments.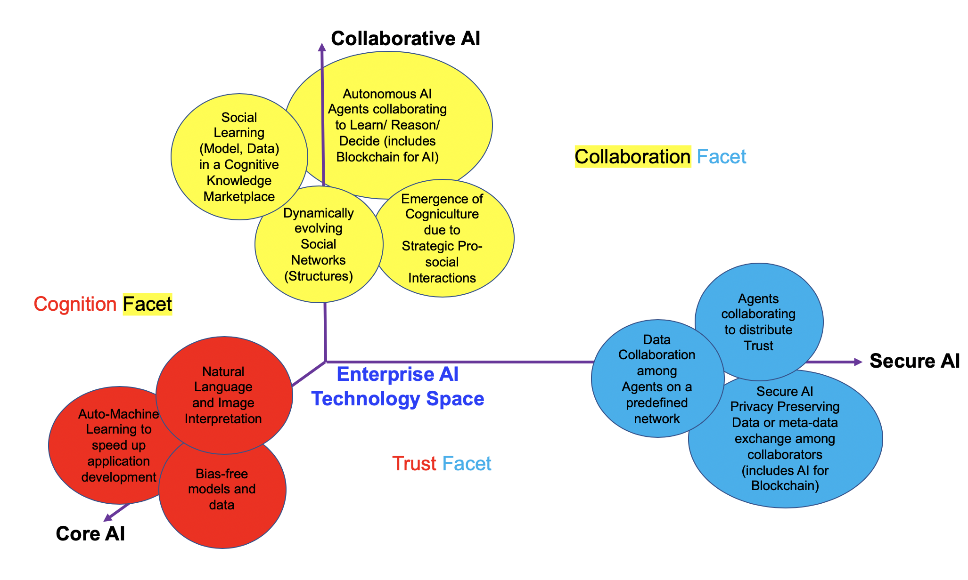 Source: IBM
In collaboration, the most significant advantage of AI is the brilliant data interpretation facility. Imagine if there is a system that takes meeting notes, highlights the key points discussed, and helps you decide on a team. Wouldn't it be easier and more fun to interact with your associates this way?
These are small but significant changes that AI in collaboration will bring. AI has exceptional powers to make out the quality of meetings and give feedback to people at the end of it. Some exciting things that can happen when AI in collaboration becomes a part of everyday routine in work culture are mentioned below.
Analysis of engagement quotient of the professional meeting
Finding out the person who feels bored
Getting feedback on the quality of conversation participants had
Interpreting the data on the whiteboard and helping participants in decision making
That would make the work easier for so many people in the organization. Now, that is the whole point of bringing AI in collaboration. It is going to make the experience from good to great.
Here is a piece of good news! Businesses are already taking the leap of faith and integrating AI in collaboration. The following section discusses many ways it is changing the face of the workplace.
How is AI Defining Workplace Collaboration?
With expanding boundaries, there is also a requirement for a dynamic system to coordinate everything. Hence, AI in collaboration culture has made this possible by adding several features to the interface.
Source: Accenture
This section of the article will discuss some of the fantastic additions that AI in collaboration has made possible.
1. Virtual Assistants
There is an increase in the demand for virtual assistants because leaders are busy doing what they do best. Thus, a virtual assistant makes it easy to accomplish work by bringing together all the data and resources.
In a collaborative working culture, AI allows the team to focus on their respective duties while a virtual assistant looks after the data. Hence, the team does not have to worry about extra tasks like making notes, arranging the resources, and tracing back the discussion to conclude a job.
2. Collaborative Workspaces
As discussed earlier, collaborative leadership is the healthiest form of working as a team. AI in collaboration has made it easier to connect to people by video conferencing. Also, content-sharing platforms are emerging to make the meeting accessible and valuable for all the participants.
AI in collaboration helps enhance the knowledge base, keep the motivation alive, and honor the views of all the participants. Further, this ensures that every team member takes an active part in the discussion and remains committed to their duties.
3. Breaking Cultural Barriers
There is no place for discrimination and inferiority in business, and AI in collaboration helps maintain business ethics.
With cross-border communication also comes cross-cultural interaction. Hence, making each other feel comfortable during the virtual meeting is essential. AI in collaboration has made it possible to diminish the language barrier between people of different cultures.
AI can instantly interpret the language, translate it, and convey it to the other party. This plays a vital role in ensuring that the purpose of the meeting and cross-border collaboration remains fruitful.
4. Better Connection in Business Networking
Gone are the days when people would sit in their cubicles and wonder how their business is excelling in the other countries. AI in collaboration can help you connect with anybody across the border and receive business insights.
Better connectivity leads to the collective growth of the organization. Thus, in this way, employees feel heard, safe, and secure about asking for help related to work.
5. Meeting Spaces
Meeting spaces are no longer limited to video calls and sharing slides. The world is changing, and so are virtual meeting spaces by integrating AI in collaboration. Some of the striking changes AI brings to meeting spaces are mentioned below.
High-quality environment to give a realistic feel to a virtual meet
Eliminating the dependence on the IT department for minor issues in the meeting
Flexible spaces with the ability to shift rooms like one shifts table in real time
Removing distractions like the pixelated picture, voice control issues, and background noises
6. Security and Privacy
Enhancement in networking has raised concerns about the privacy and security of data and personal information. With the integration of AI in collaboration, it is possible to opt for data privacy and closed business meetings.
Cloud computing, encrypted interface, and virtual private networks have made it possible to keep the business network free from defaulters. However, there is no denying that technology always comes with its own set of challenges.
But AI has your back with the help of critical tools and services on collaboration platforms. Now, it is easier to store meeting information in a password-protected mode and limit its access to people.
7. Visual Communication
Virtual reality and augmented reality are rising stars of AI in collaboration mode. With the help of these advanced technologies, it has become easier to discuss practical scenarios.
Be it walking through a construction site or playing games together, VR and AR have sorted out the issues. You can quickly brief your international client on an architectural design by showing things in virtual reality.
Similarly, e-commerce projects adopt augmented reality technology to assess the product's placement or make the user experience more accessible. It has created a friendly environment where people sit for meetings virtually and discuss topics they can understand.
Although it may seem easy and fun to adopt AI in collaboration, it is cumbersome. The businesses will need to understand the technology to implement it properly. Let us answer some of the frequently asked questions for your better understanding.
Frequently Asked Questions
1. Can AI in collaboration help healthcare sectors?
Yes, doctors can easily interact with their associates and fellow experts worldwide. In fact, AI in healthcare communication will help make good quality healthcare services accessible in all the hospitals.
2. How does collaborative AI ensure privacy for government organizations?
Advancement in collaborative AI has given rise to exclusive encrypted software built for confidential purposes. Government agencies, offices, and institutions can easily use these tools and secure their meetings.
3. What is the responsibility of vendors in building AI powered collaboration platform?
Vendors have a crucial role in understanding the niche-specific requirement of their respective customers. Being responsive to the needs of organizations in education, healthcare, business enterprises, and the government sector is of prime importance.
Summing Up
However, it seems fascinating to collaborate and bridge the gap between countries. But, the adoption of technology for innovation is not a good idea. Shortly, AI will play a pivotal role in overcoming complex barriers related to data science.
When these tools and technologies mature into a complete interface, businesses will be able to see a boost in ROI. It will help businesses foster relationships across different countries and get actionable insights for communicating effectively.
Furthermore, AI will provide robust solutions and empower business executives to keep their discussions hassle-free. It is time to get ready for an era of visual communication, better business process, and adaptable technology.
There will be a boost in remote work, and AI in collaboration will make things easier in the long run!