If you look into the depth of the working system of a medium or large-sized corporate company, you will realize a lot is going on backstage! Often, people associate a company only with its service or product. However, several departments are working relentlessly to manage the smooth working process.
The accounting department takes care of all the finances, internal or external. It is also responsible for managing invoices for vendors or suppliers who have been contributing their services to the company's functionality.
With the rise of digital transformation, there are multiple automated invoice processing software options in the market.
This article will talk about the details of invoice software and the top 11 providers in 2022. Keep on reading for more information!
What is an Invoice Automation Software?
An invoice automation or Accounts Payable (AP) software is a means of completely automating a business' payment process. Here, the system is trained to understand a fixed set of instructions and filter, match, analyze, categorize, or validate any information recorded. In short, AP software helps reduce manual labor by 80% and eliminates the chances of human errors.
Based on your requirements, you will also be able to find other relevant features like processing and storing supplier invoices with trade credit terms, general ledger posting, etc.
Any invoice automation product must perform the below-mentioned functions:
Streamline tasks like data entry and processing for repetitive accounts payable.
Handle a large chunk of supplier documents like credit memos or invoices.
Calculate the amount owed by matching vendor invoices with corresponding purchase orders.
Provide approval services for easing AP transactions like payment or debit.
Compile AP documents into a single repository for easy access and retrieval process.
Meet the general AP accounting standards and regulations.
Top 11 Invoice Automation Software You Should Know About
Today, there are multiple companies in the tech domain providing invoice automation services. However, selecting the right product for your company can be a challenging task.
So, we have the top 11 software options listed below to make your decision easier. Here, you will find crucial information like a brief introduction, feature list, and other factors.
1. Coupa Invoice Automation
The Coupa invoice automation tool is known as one of the top invoice automation programs that strive to automate AP for businesses big and small. Coupa's Source-to-Pay solutions boost operational efficiency by automating manual procedures. It replaces the previous model of pen and paper invoices with e-invoicing to save time and enhance accuracy.
Coupa automatically pays and bills matching invoices to the appropriate expense accounts to assist in cost-cutting. Furthermore, firms can considerably enhance working capital management by taking advantage of early payment discounts.
Features
Touchless spend automation
Contract Lifecycle Management
Data Visualization
Demand Forecasting
Expense Tracking
Comprehensive treasury management
Flexible configuration
2. Quickbooks Online
Quickbooks Accounting Software is already a well-known and utilized resource in the financial world. Quickbooks Online is its cloud-based version that offers premium accounts payable software solutions to manage small business enterprises. Over 4.5 million customers actively use it worldwide to track inventory, manage expenses, run payroll, and complete other accounting tasks.
Features
ACH payment processing
"What if" scenarios
Billing and invoicing
Activity dashboard
Asset lifecycle management
Quickbooks Online allows you to sign up for a 30-day free demo. The payment information for a paid subscription is currently unavailable.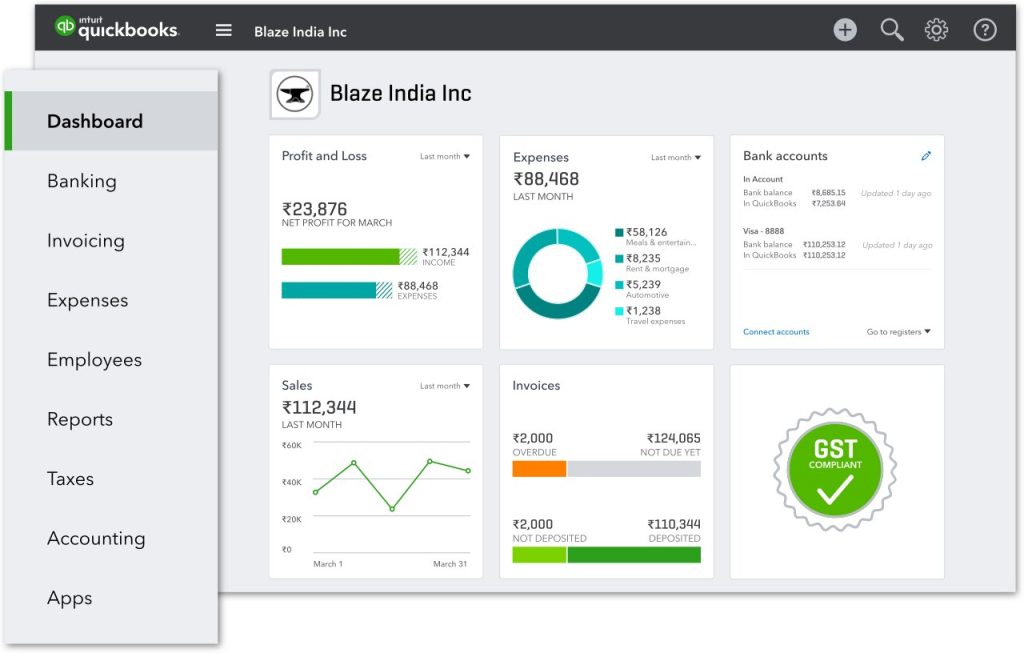 Source: Intuit
3. Nanonets
Ideal for self-employed individuals, teams, and business owners, Nanonets is an accounts payable software to increase your company's growth and efficiency.
Designed on an entirely template-agnostic pattern, it can transform all your unstructured receipts, POs, and invoices into structured and productive information. Here, you can perform multiple functions like uploading invoices, exchanging data, etc.
Features
Extract learn items
Email bills fetched
Validation and approvals guidelines
Automated data entry
Expense workflow
Nanonets offers a 7-day free trial for all users. After the first week, you can continue for $499 per month.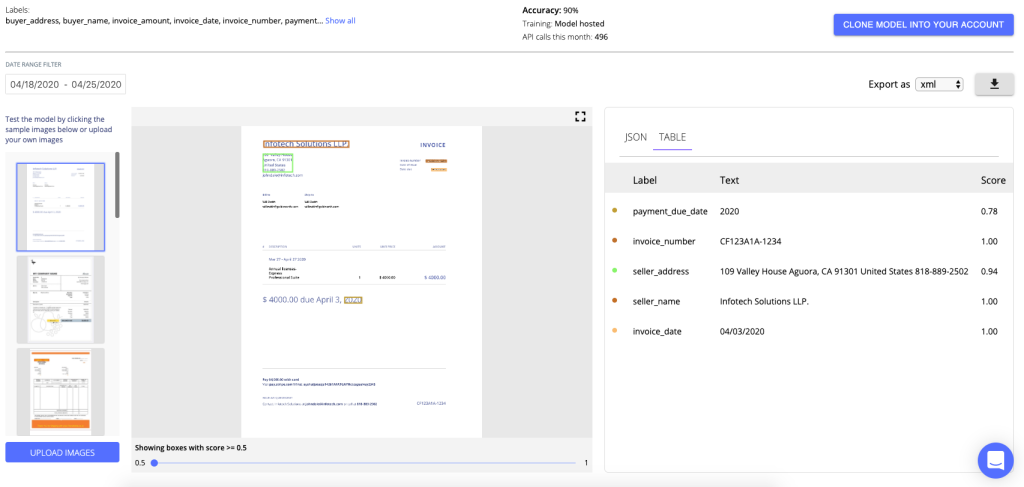 Source: Nanonets
4. Yooz
Created explicitly for mid-size companies between $30 million and $500 million of revenue and approximately 100 invoices per month, Yooz is a cloud-based accounting service. This Purchase-to-Pay (P2P) accounts payable software is utilized by 4,000 customers and 200,000 users globally.
It uses RPA technologies and Artificial Intelligence to provide end-to-end features with improved traceability and simplicity. It allows you to practice payment automation with zero-risk subscriptions.
Features
Approval Process Control
Fraud Detection
Integration with 250 financial systems
Cash management
Duplicate payment alert
Yooz provides its potential customers with a 15-day free trial. The annual subscription charges are approximately $2388 for 100 invoices.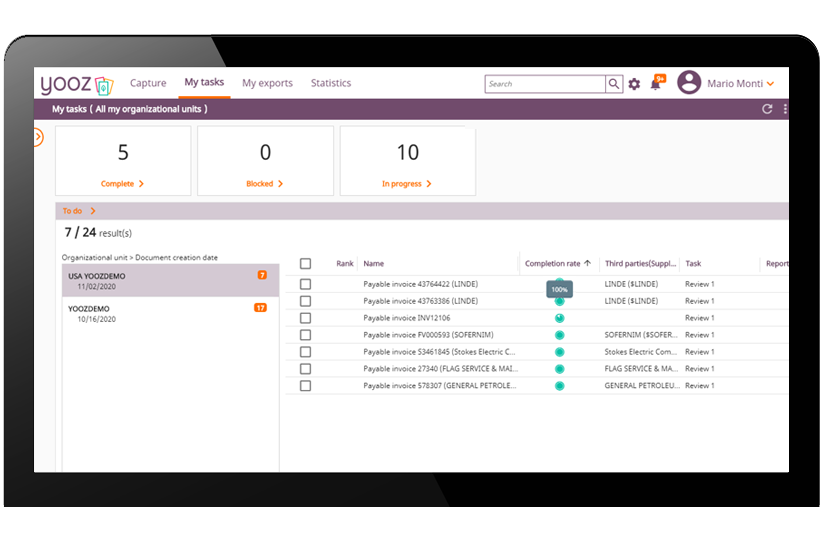 Source: Get Yooz
5. Zoho Books
Zoho Books is an invoice automation software suitable for freelancers and small or medium-sized business enterprises. It allows you to manage the money flow optimally while keeping a check on the expenses incurred by the company.
It can help you combine your bank accounts and monitor your transactions easily. Additionally, it can help you make better-informed and calculated decisions for your accounting department.
Features
Contract/License management
Approval process control
Billing and invoicing
General ledger
Cash management
Zoho Books has a fixed 2-week free trial period. After that, you can sign up for its services as per the below-mentioned plans:
Free – For a business with revenue < $50,000 per annum
Standard – $15 per month for each organization, billed annually
Professional – $40 per month for each organization, billed annually
Premium – $60 per month for each organization, billed annually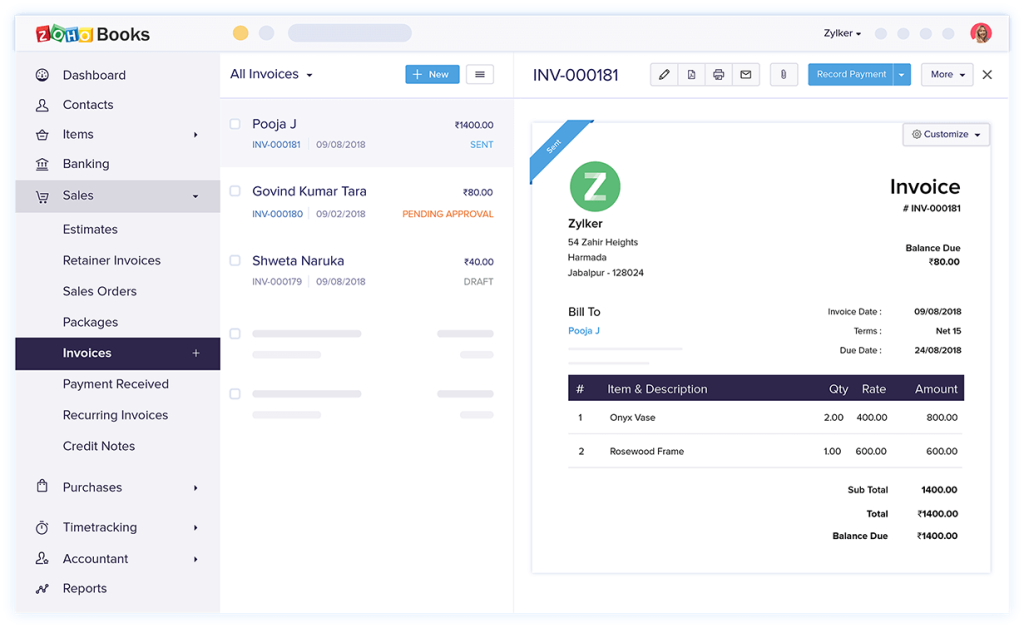 6. Resolve
Widely used by B2B companies worldwide, Resolve helps manage and automate the extension of credit to consumers. It is specifically designed to offer automated credit terms at the time of sale. Companies using Resolve have noticed an increase in order size and improved customer retention.
Features
Integration with Magento2
Automated credit analysis
Manual order updation is also available
Delivers secure payment terms to customers
API for website integration
Resolve offers its new users a demo upon request. You can fill up a form and send it for further approval. The subscription pricing is currently unavailable.
Source: Resolve Pay
7. Open
Ideal for startups, medium-sized growing businesses, and freelancers, Open is a banking platform widely utilized in Asia. It can automate the entire financial operation by doing bulk payouts, collecting payments, smoothly integrating banking into other departments, and matching transactions. Open currently processes $24 billion worth of transactions annually.
Features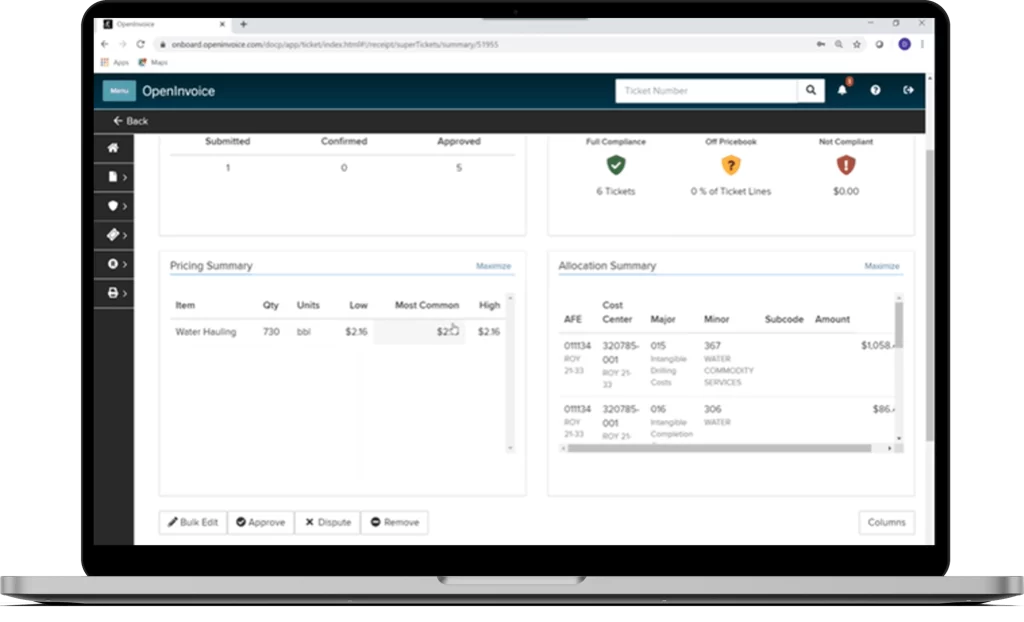 Source: Enverus
8. Stampli
Stampli is an invoice automation platform to record all crucial information like documentation, corporate cards, payable accounts, etc., in one place. It also features an AI resource, Billy the Bot, to learn patterns specific to each company and simplify various tasks. It helps in the identification of repeated invoices and facilitates the reduction of time spent on manual data entry.
Features
Invoice processing
Duplicate payment alert
Approval process control
Fraud detection
Vendor management
Stampli only works on a web browser, and its pricing information is not available currently.
Source: Imgix
9. FreshBooks
Freelancers often face trouble managing expenses, payments, and other financial aspects of their professional life. FreshBooks is a cloud-based accounting solution meant to automate various tasks like billable time tracking, payment acceptance, expense tracking, etc.
Features
Automatic time capture
Billable and non-billable hours
Calendar management
ACH payment processing
Customer statements
FreshBooks provides a 30-day free trial. Paid subscription plans vary between $4.50 and $15.00 per month.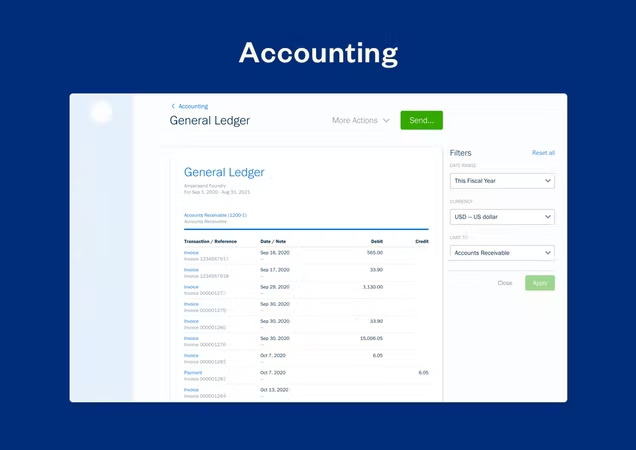 Source: Get App
10. SAP Concur
SAP Concur is a well-established automation software company supporting various organizations, including startups and Fortune 500s. This expense management solution automates various accounting tasks like vendor invoices, expenses, travel, risk, and compliance.
Features
Duplicate payment alert
Approval process control
Invoice processing
Data extraction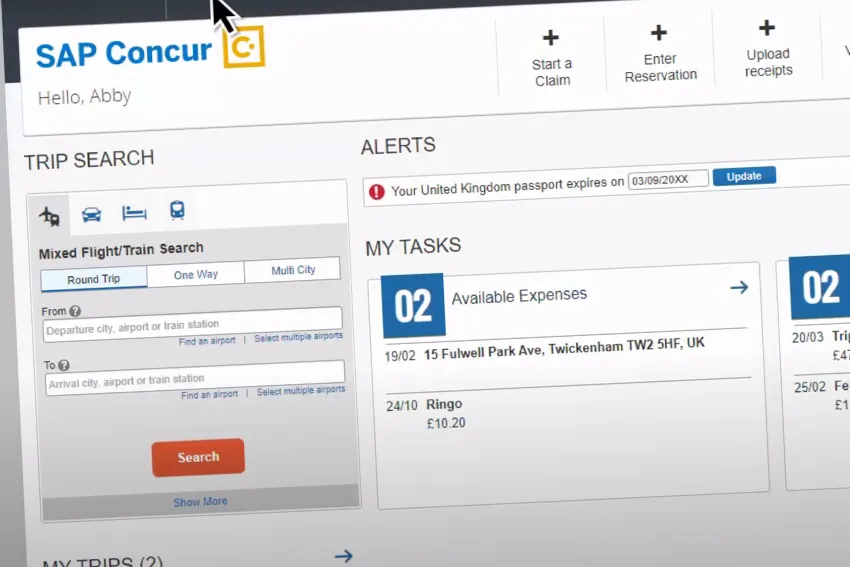 Source: Business Travel News Europe
11. Odoo
Odoo is one of the most flexible accounting solutions presently dominating the corporate market. It is an ideal go-to option for people seeking educational resources or requiring automated invoicing solutions.
Odoo can be used by small-sized enterprises or large corporations with equal ease. It offers a global and list view of businesses to check accounting-related activities and document statuses.
Features
Barcode/ ticket scanning
360-degree feedback
Automated quoting
Activity dashboard
Aging tracking
Odoo has a trial and a community version available free of cost. For the enterprise edition, users will have to pay $20 per month (annual billing) or $25 per month (monthly billing).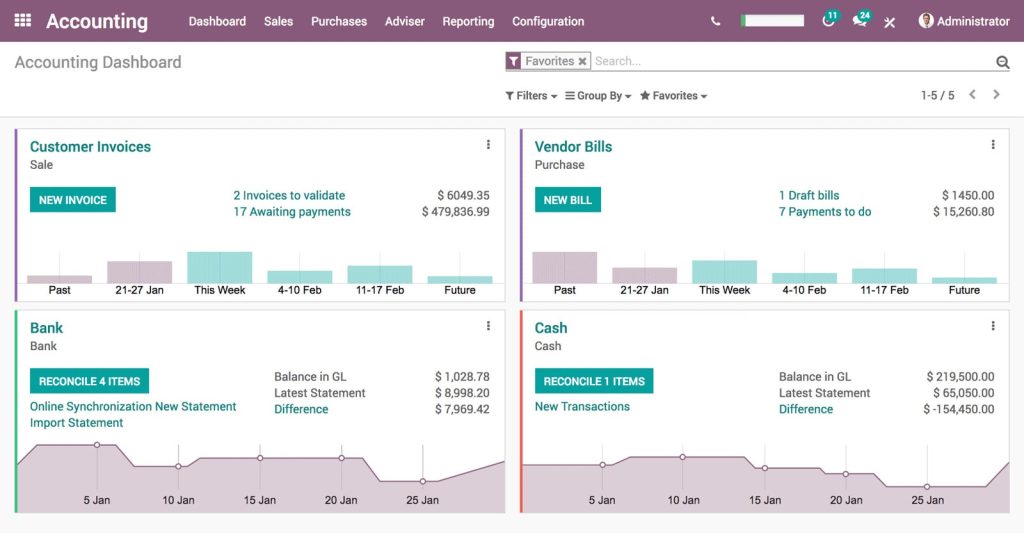 Source: Odoo
Frequently Asked Questions
1. What is Accounts Payable, and is it a liability?
Ans: Accounts Payable refers to the amount a business owner owes to their vendor or suppliers in exchange for using their service. It is a short-term liability.
2. What are some of the challenges tackled by invoice automation software?
Ans: An invoice automation software helps deal with human errors, slow processing, unauthorized purchases, theft, etc.
3. What is standalone AP automation software?
Ans: A standalone AP automation software is delivered as the final product and needs to be integrated with an ERP system or other accounting solutions.
4. How does AP software achieve high accuracy?
Ans: AP software achieves increased accuracy by matching supplier invoices and POs with payments.
Wrapping Up
Keeping track of invoices and other financial tasks in an organization can be pretty challenging. Manual data entry is often slow and can comprise human errors. Therefore, using an accounts payable or invoice automation software is the need of the hour.
With technical advancements, these accounting solutions ease the load off and help you track invoices and other payment documents. Some leading invoice automation softwares are Odoo, Resolve, FreshBooks, Stampli, etc.
All these resources help streamline the work of your accounting department and keep a close check on your finances.
Read Also:
Gracie Johnson is a Senior Content Writer at MyTechMag. She is an enthusiastic learner and loves to explore all the areas of technology.