Employees are no longer required to operate in isolation, and collaboration is the accepted norm in the workplace. This emphasis on cooperation should result in enhanced efficiency and production, but only if you have the finest tools, to begin with. As per Gartner, about 80% of workers used collaboration platforms for working in 2021, compared to slightly over half in 2019. This represents a 44% growth since the outbreak began.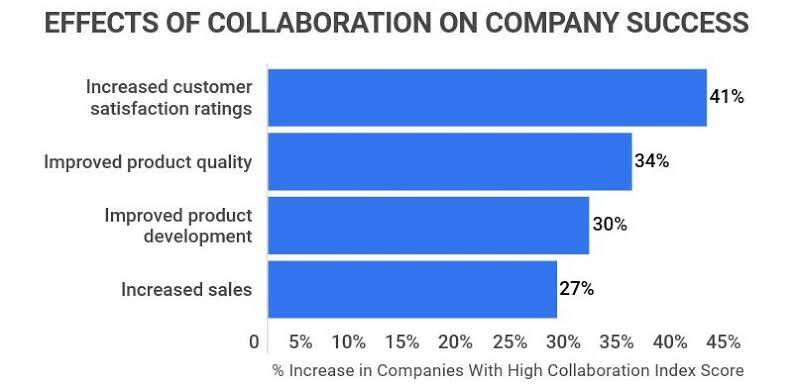 Project collaboration technology may include everything from cloud file storage to web conferencing for virtual meetings, and they'd all operate on portable devices and laptops and desktops.
10 Best Project Collaboration Software and Tools in 2022
The era of collaborative operation is upon us, so here's our list of the top project collaboration software and tools available to help you get the most from your workforce.
1. Slack
Slack is a powerful collaboration software with large numbers of users across the globe.
Features
It's a brilliant platform that works on both desktop and mobile platforms. It allows you to send documents and personal messages to a single individual or several people, as well as organize chats into multiple channels
The app also supports video calling. You can utilize the tool to have in-depth conversations with your coworkers regarding assignments and work without having to enter everything into a message
You can share, drag, and drop data with your coworkers straight within Slack
It works with Box, Dropbox, and Google Drive, among other services
2. Ryver
Ryver is comparable to Slack in that it aims to provide your company with an immensely efficient method of information exchange and an easy option to discuss tasks and fulfill timelines.
Features
The ability to establish as many groups as you like within the application, as well as classify them, makes Ryver a tempting option
You may utilize the software to set up discussions with individuals or groups, just like Slack
There are some intriguing filters. You have complete control over who sees what you say and share on the platform
You can quickly join the groups that are most useful for you
All company posts appear in a Facebook-inspired timeline, and you may save posts for future references
Native clients for desktop and mobile, especially Mac and Linux, are also available
Ryver also has a premium edition for businesses that includes process automation, SSO, and sophisticated team administration
3. Monday.com
Monday.com is a visual project collaboration software that enables you to organize, monitor, and collaborate on corporate activities.
Features
This platform is especially effective for project administration and regular process management across teams because of its drag-and-drop capabilities and simplicity of use
It also links with Trello, Dropbox, Slack, Google Drive, and other tools, allowing you to utilize it as a central hub for team collaboration
These integrations allow Monday.com to serve a broader range of purposes than the independent platform
4. Wrike
Wrike is a project administration and planning solution that makes it simple to monitor where everyone stands on a project's completion.
Features
As a freestanding platform, it may seem very limited in contrast to some others above, but its value resides in its vast range of connections, comprising Dropbox, Microsoft, Github, Google, Salesforce, and Adobe
Wrike may function as a central platform for a variety of different software tools, allowing you to cover a broader range of options and capabilities than some independent software alternatives
5. Asana
Asana has been in use since its inception in 2008, making it a well-known collaboration tool, with corporations like Uber, TED, Pinterst, and Intel using it as their primary communication tool.
Features
It was created to make it simple for businesses to track their employees' performance and achieve the best potential results
You can use the platform to make to-do lists for critical activities, set target alerts, and share queries with coworkers
Within the application, group members may add remarks to posts
You may organize all of your projects into a checklist or a board, and there's also a search option for easily finding previous work
6. Airtable
Airtable is a versatile low-code system that aids in the creation of unique solutions by teams.
Features
Organizations can design and adapt processes, dashboards, and applications for several use cases, like promotion, marketing, HR, accounting, production, and project management
The software comprises pre-made frameworks, drag-and-drop customization, low-code coding techniques, pre-built plugins, and an easy-to-use interface
Airtable is extensively customizable, allowing you to customize anything from procedures to dashboards to applications to meet the specific needs of your team
7. Trello
Trello is a project collaboration software that you've almost certainly come across. It allows you to conveniently manage tasks and collaborate with others via the web and mobile apps.
Features
You can work with lists or boards on the dashboard, which can be arranged by team members and activities
You can also create to-do lists and allocate tasks among teammates
Managers may assign remarks to cards, which is a quick method to provide feedback to colleagues
Trello also integrates with GitHub, Slack, Evernote, and Google Drive, among other programs
The software is free to install, but there are subscription choices that allow you exposure to more functions
The Premium pricing echelon grants access to a plethora of different organizational features that help you stay on track
There's an Enterprise version too, which is charged depending on the number of members and includes some extra organizational administration tools
8. Flock
Flock is a similar program to Slack that is arguably easier to use and has more sophisticated communication options.
Features
Flock has channels for multiple teams, as well as one-on-one and group discussions
It will locate texts, documents, and links irrespective of who sent them or where they were sent
Video and audio conferences, screen sharing, and organizational features like polls, note exchange, and recalls are available
Administrators can delegate tasks to specific group members
Third-party services such as Twitter and Google Drive are also integrated, with alerts popping up immediately in channels
Flock has a free version, but it has restrictions on searches, backup, and system integration. These are available with a premium plan
9. Podio
Podio touts itself as a digital platform for teamwork and collaboration that is versatile and adaptable. It allows you to arrange vast amounts of labor and assign jobs to different people.
Features
Podio, like several other corporate collaboration applications, enables you to share files, monitor the status of active tasks, and receive input on the tasks you're collaborating on
It has a user-friendly interface that merges numerous features
Podio provides excellent mobile applications for when you're on the go and have to access your phone or tablets
Lastly, it offers extensive interaction with third-party applications such as Google Drive, Zendesk, Dropbox, and Evernote
10. Redbooth
Redbooth includes machine learning and AI features for predictive work allocation and project scheduling, allowing customers to make the most of project resources.
Features
Redbooth is a digital collaboration application that assists teams in better managing work and communicating so that tasks are finished on time and within budget
It facilitates the creation of Kanban boards and Gantt charts. teleconferencing, and time tracking, in addition to assignment and program management
Their technology also has predictive task allocation and planning capabilities, thanks to 39 million historical operations and numerous data points.
FAQs
1. What exactly does project collaboration software entail?
Project collaboration solutions are software applications that aid managers and team members complete tasks more efficiently and productively. These tools provide various features to assist with essential tasks, including online messaging and web conferencing.
2. What is the ideal method for keeping track of projects?
One of the most prominent methods for tracking project progress is the Gantt chart. It provides project supervisors and teams with a real-time visual picture of progress. Gantt charts can make it easy to see the interconnections between tasks.
3. Is Excel suitable for project management?
Although Excel's tools aren't expressly developed for project monitoring like some other software, they can handle many of the responsibilities of planning out the project requirements, managing finances, and administering day-to-day chores.
4. Is Office 365 equipped with collaborative tools?
SharePoint, OneDrive, and other remote collaboration features are included in Microsoft 365. Microsoft 365 subscriptions allow you to interact with nearly anyone who has access to the Internet. Microsoft also offers Teams, a collaboration program that allows you to communicate and share files instantaneously.
5. What role can project collaboration software play in the development of my project?
When individual and communal digital workstations are combined, great brainstorming ensues. Instead of adding ideas sequentially, collaboration technologies allow users to contribute concurrently.
Wrapping Up
That concludes the roundup! These are just a few examples of today's most prominent project collaboration software. Each offers its share of advantages and capabilities that might help you manage your corporation's content effectively.
Whether you require a simple system to handle your web page or something more advanced with significant features like search engine optimization and employee engagement, a collaborative software tool is out there that complements your requirements!
Read Also: The Future of Collaborative Technology for Hybrid Workplaces
Gracie Johnson is a Senior Content Writer at MyTechMag. She is an enthusiastic learner and loves to explore all the areas of technology.