The onset of the 20th century saw a prolific growth in technology integrations across all industries. The highlight and one of the most exciting innovations to come out of all of this was the substantial development in the field of Virtual Reality (VR).
With over 171 million people currently using VR tech regularly, the core piece of technology is set to soar to new heights in the coming few years. No longer just a part of science fiction movies, this immersive technology has a wide range of applications across many fields.
From healthcare to the military, VR dips its feet into every industry out there. Its functionality does wonders, allowing the user to experience an utterly computer-generated simulation as if they were a part of it. With top-tier VR solutions available in the consumer market, you can experience this seamless technology from the comfort of your own home, or even better, on your phone screen (AR).
Moving on, if you wish to delve deeper into the specifics of VR technology, read on!
What Exactly is Virtual Reality (VR)?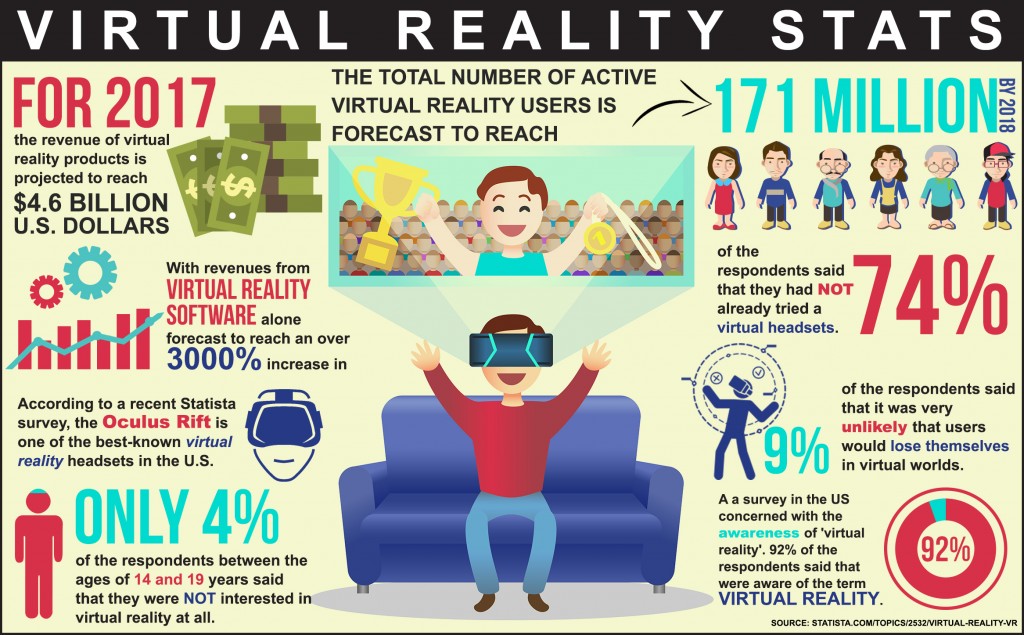 Source: TouchStoneResearch
Virtual reality is a piece of technology that leverages computer-generated worlds to immerse you in a simulated environment completely. This immersive experience is made possible through VR headsets or goggles, which you can put on to escape into another reality, a rather virtual reality.
Top-tier headsets like HTC Vive or Oculus Rift can provide a mind-altering experience due to high-quality tech. To juice these headsets to the fullest, you need to power them with enough VRAM from a specced-out computer setup. Although, if you are looking for a budget option, you can always go for a pair of VR goggles you can attach to your phones.
Initially invented around the 1950s, the concept of virtual reality first made an entrance through the machine called Sensorama. The Sensorama was a big machine that had its own built-in seat.
Here, you could play 3D movies while experiencing the various odors and vibrations generated by the machine, adding to the realism element as much as possible. Due to the steady advancement in tech for the past 70 years, this entire machine and much more can now be fitted in a pair of headsets. Astonishing, isn't it?
The most popular applications of this tech stem from video games and similar forms of media. But it has applications across almost every known industry, owing to the current state of the technological landscape. Moreover, a recent study also states that VR revenues will easily cross a projected revenue of $12 billion by the time we reach 2024.
The In-Depth Functionality of Virtual Reality
Source: VectorStock
The core functionality of VR tech revolves around creating a life-like 3-D simulation for complete immersion. But how does it do this? Well, the various gadgets that leverage this technology work on the basic principle of interpretation of media content (images and videos) by leveraging surroundings, location, and appearance.
This is done so that the computer system understands and interprets vision just like the human visual system. It paves the way for it to simulate environments as close as possible to reality according to human perception.
All this is made possible not only by using cameras and graphic cards but other core pieces of technology such as Artificial Intelligence, Machine Learning, etc. AI and ML can essentially create the environment inside the VR space by leveraging video data and pre-processed images.
On top of that, the camera offers assistance by utilizing a combination of scale space, blob detection, template detection, and edge detection to make this all happen.
The Various Types of Virtual Reality
The levels of immersion of VR tech vary based on your requirements. The various levels of virtual reality are fully immersive, semi-immersive, and non-immersive. It also offers a mix of all these levels called extended reality, which provides an unreal level of immersion.
To further understand the in-depth classification of VR, read on!
1. Non-Immersive VR
Source: LearnHub
One of the primary levels of immersion, non-immersive VR, doesn't allow you to interact with the virtual environment directly. You are still in control of the characters or activities that are a part of the experience via a computer without actually having all your senses immersed in the virtual environment.
A perfect example of non-immersive  VR could be any video game you are playing on a console or PC. You are in complete control of the virtual environment in your sight without actually feeling or experiencing it firsthand.
2. Fully Immersive VR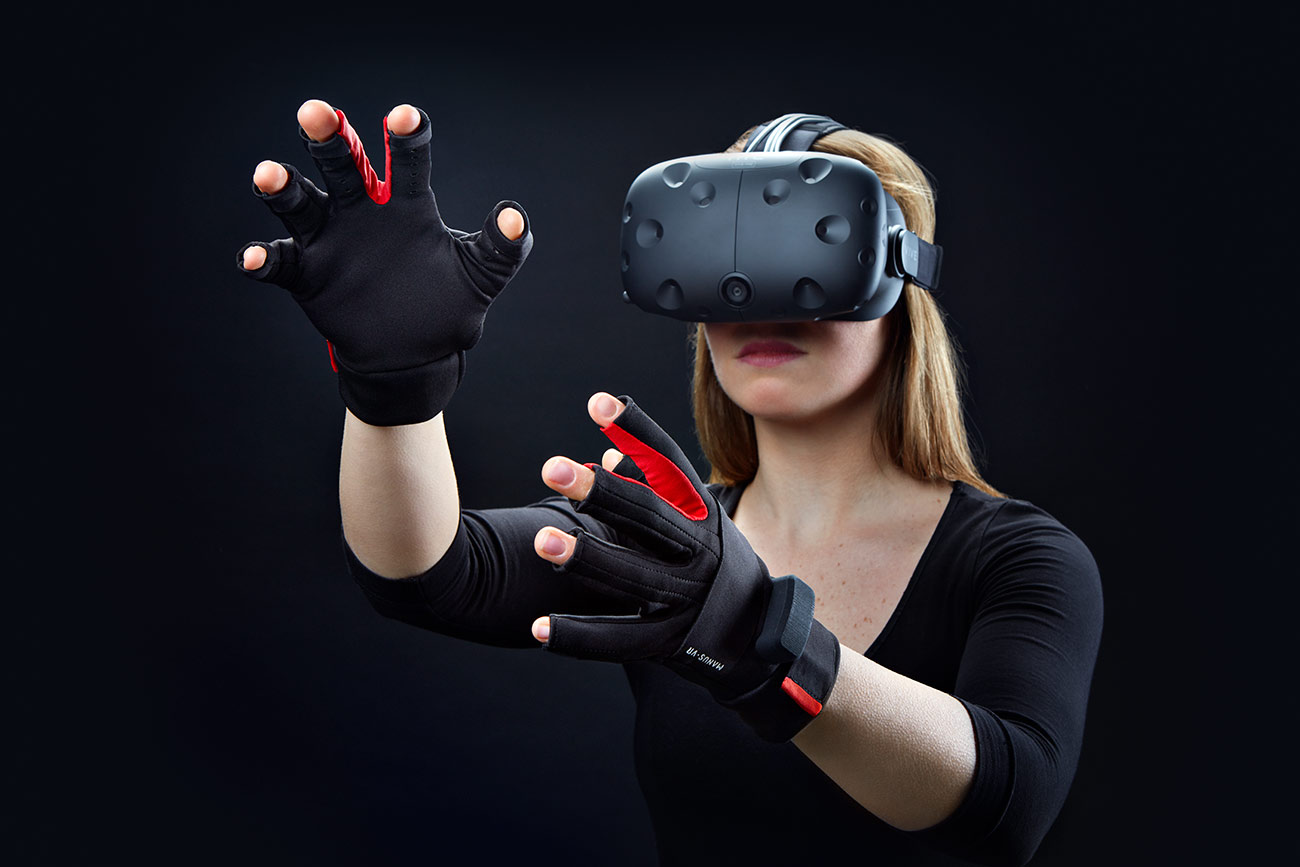 Source: Wikimedia
Fully immersive VR is the absolute opposite of non-immersive VR, allowing you to immerse in the virtual environment you are exposed to fully. This is as realistic as your experience can get, allowing your senses to be a part of the simulation.
Fully immersive VR not only uses headgear but also offers body detectors and gloves to make the experience as realistic as possible.
The best example of immersive VR would be a virtual gaming zone, where you can dawn the necessary gear and battle it out with your friends in real-time.
3. Semi-Immersive VR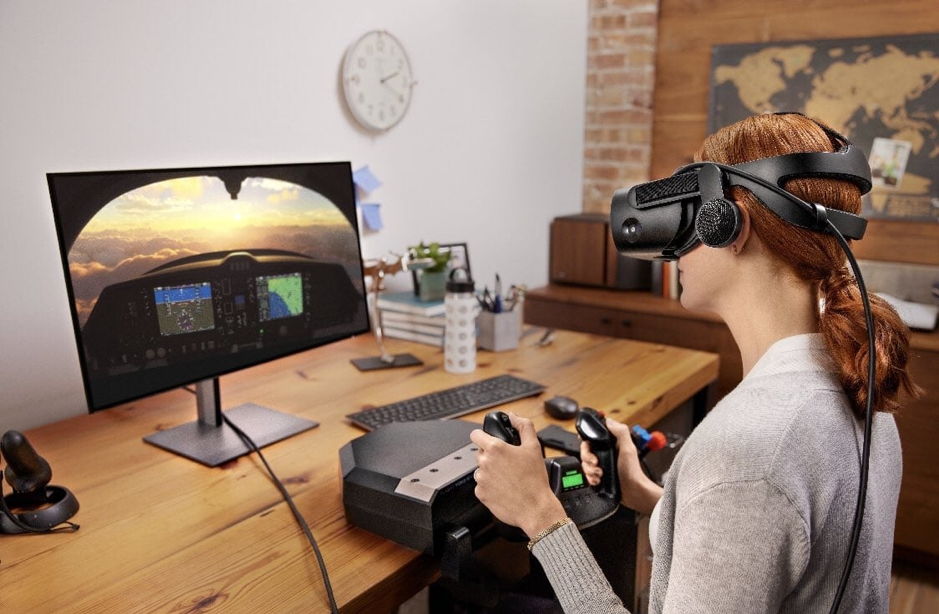 Source: NetSetSoftware
Semi-immersive VR is the perfect balance between non-immersive and fully immersive VR. Here, you can attach your VR headset to your computer screen and move around in the virtual environment, engaging only your visual and hearing senses.
Although, this experience won't entail any other physical sensations. The best example of a semi-immersive VR experience would be the virtual tour offered by Disney world. This VR experience offers a 360-degree panorama view of the entire amusement park. So if you want to say hi to Mickey Mouse, you are in luck because you might find him right down the next street.
4. Augmented Reality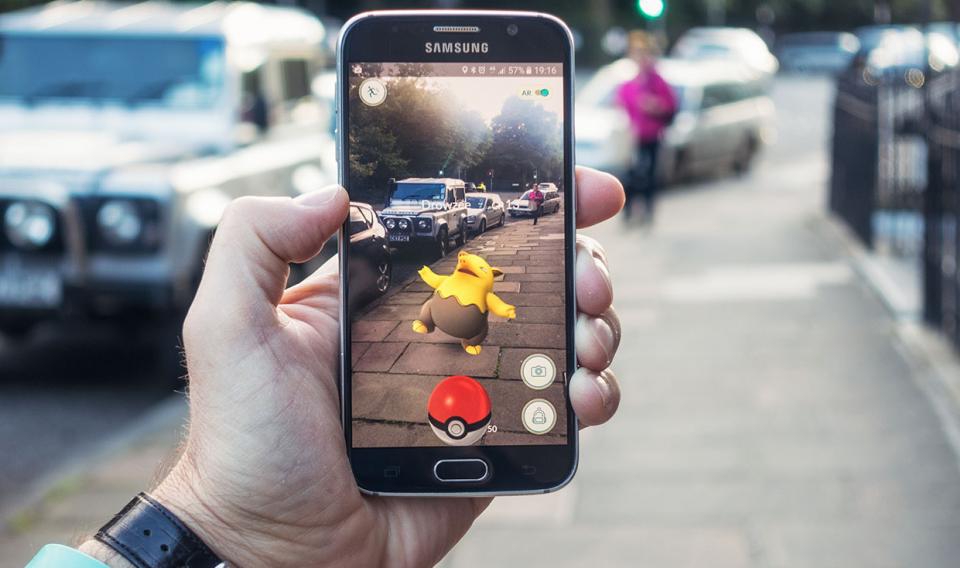 Source: FI
Augmented reality is a segment of extended reality, offering you a budget solution to experience the goodness of VR. Here, you can partake in a VR experience via your phone screen as it interacts with a virtual environment in real-time.
A perfect example would be the game that made rounds a couple of years ago. You guessed it right — Pokémon GO. Allowing you to catch Pokémon by simulating them in your environment, Pokémon GO allowed you to experience VR without any additional gear.
Another example would be the VR experience offered by IKEA, which allows you to try their furniture from the comfort of your own home. The application simulates a virtual replica of the furniture in a real-time environment that your camera captures, allowing you to decide what goes best with your home's aesthetic.
5. Collaborative VR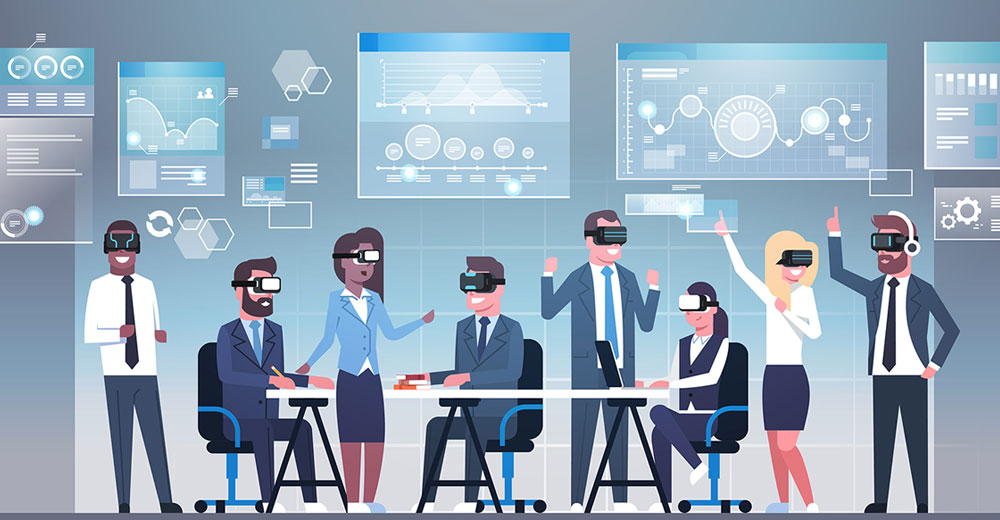 Source: TechNewsWorld
The final piece of the puzzle, collaborative VR, entails people from different locations sharing the same virtual space and interacting with each other. This is where people interact with each other via 3D projected characters.
The mobile game PUBG is the perfect example of collaborative VR.
Top Integrations and Applications of VR Across Various Industries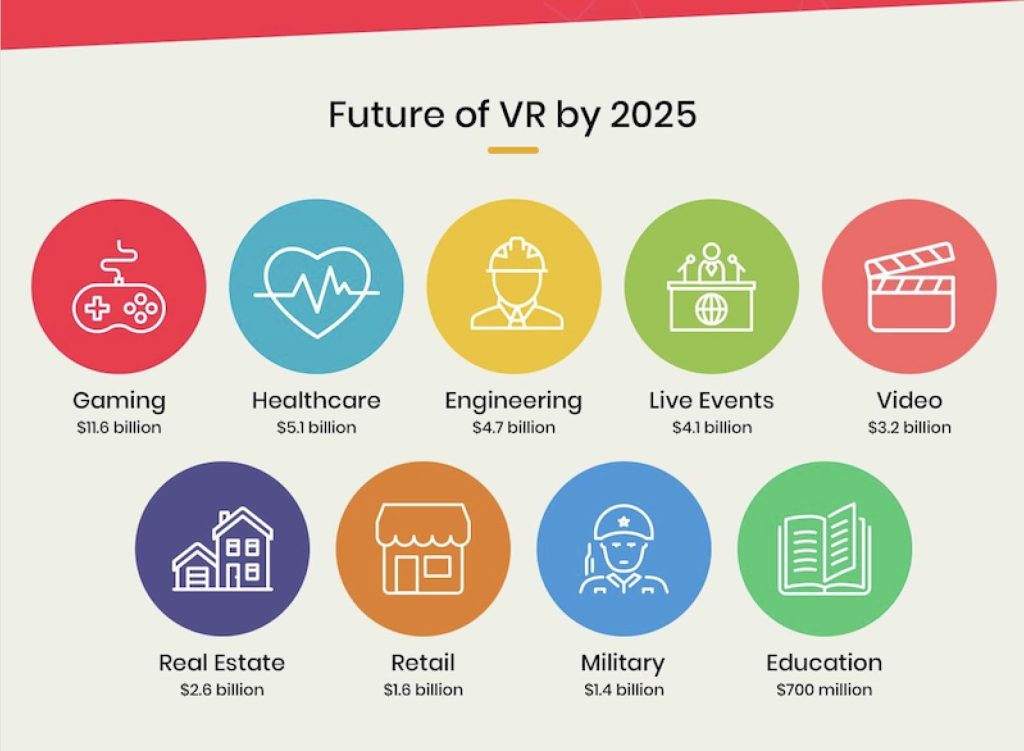 Source: Architosh
The current state of the technological landscape and the growing customer expectations for a personalized experience has made VR integration into every industry very vital. Here are some instances of the top VR applications across various industries.
They are as follows:
1. Healthcare
VR has extensive applications in training and development when it comes to healthcare. By simulating life-like operating conditions, VR can enable medical students and doctors to partake in surgery without having to be under constant stress.
They can quickly nail the basics, and when they have to perform an actual surgery, they aren't just backed by bookish knowledge. It doesn't have to be an emergency for a doctor to get hands-on experience with surgery, thanks to the value offered by VR tech.
Moreover, this technology can also be used for cognitive behavior therapy. It is used to treat patients with anxiety and phobias as they can be put in a calming and controlled environment. Doing this might offer them a much more effective treatment and faster problem mitigation.
2. Entertainment
The most widespread example of VR application, the entertainment industry, has been leveraging VR tech for quite some time now. But the recent developments and innovations have pushed this, further along, allowing you to be one with the media content you are currently consuming.
From video games to movies, VR is making its mark across everything entertainment. Gaming consoles these days come with a VR add-on, with some of the most popular gaming titles having VR spinoffs. The most prominent example of this would be the blockbuster by Valve, Half-Life: Alyx.
Moreover, VR tech is also being integrated into theme parks and cinemas, allowing people to be an actual part of some of their most beloved cinematic experiences. Disney World would make it an example again here since they have many VR-themed offerings and activities.
3. Education
The onset of the pandemic has made it essential to shift to an online architecture for most educational institutions, paving the way for VR. Since educational institutions have now shifted their focus to a more online ecosystem, the integration of VR is making learning more engaging and fun.
Moreover, field trips, educational trips, etc., can all be simulated in a virtual environment. Adults can further leverage this, allowing them to make professional training much more immersive.
4. Military
VR is branching out its applications across all branches of the service. With applications across the air force, marines, coast guard, army, and navy, VR can prove to be a rather effective training method. Think about it! If you can play a flight simulator game on VR sitting at home, why can't the same technology be used to train coming-of-age airforce pilots?
Moreover, the offerings of VR extend to virtual boot camps, medical training, vehicle simulation, and so on. With the ability to create a fully immersive VR experience, trainees can try mitigating real-life simulations with training wheels before stepping out into the real world. This way, you don't need to put soldiers into risky situations before they are equipped to handle them.
Furthermore, soldiers can also pick up on various soft skills such as communication with locals, international counterparts, etc. Another important application would be the treatment of PTSD (Post Traumatic Stress Disorder) for soldiers who need help adjusting to normal life post-combat. This treatment is called Virtual Reality Exposure Therapy.
5. Sports
The integration of VR in sports has taken a very progressive path in the past few years, with applications spreading across almost every facet of the industry. From training to measuring athletic performance, VR can help you do it all.
You can expose athletes to gameplay scenarios virtually, having them understand techniques and strategies without stepping on the field in case they are injured.
Moreover, the sports broadcast world is being taken by storm by VR tech since it can be used to enhance your viewing experience significantly. Live games are now being streamed in VR, with virtual tickets being sold to people worldwide.
FAQs
1. What are the various human factors that influence VR?
The various factors that influence the perfect VR experience are as follows:
Aesthetics
Comfort
Ease of use
Customization
Contextual awareness
Overload
2. What are the two key features that enable a seamless VR experience?
Latency and framerate are the two key features that push forward a seamless VR experience.
3. What are the downsides of VR?
Exposure to VR for too long might pave the way for nausea and sickness. Furthermore, detrimental exposure can cause your mind to play tricks on your senses.
Wrapping Up
The onset of VR tech and its flexible applications is significantly boosting the current technological landscape for most industries.
With its applications branching across entire functionalities of industries, VR has taken first place in the amount of content shared across the world. Hence, irrespective of the size and nature of your company, the adoption of VR is now imminent.
Read Also:
Gracie Johnson is a Senior Content Writer at MyTechMag. She is an enthusiastic learner and loves to explore all the areas of technology.