The world of internet has evolved so rapidly in the past 10 years is astounding. Every day new winners and losers emerge, company valuations have skyrocketed based on value creation.  What is even more interesting is the way ecosystems have emerged based on consumer consumption patterns and venture capital opportunities have pushed the envelope of technology-driven business model changes.  This is an attempt to make sense of some of the changes we see and speculate what else might be coming.
Customer experience is driving customer value chain improvements across industries globally. Each link of the customer value chain is getting dis-intermediated by best of breed use cases.  From Waze for maps to uber, Lyft, Didi for ride-sharing, to WeChat for payments to Amazon, Walmart, Alibaba for an Omnichannel experience.  These examples are clearly capitalizing on a clear need in the marketplace for better experiences, powered by whatever basic technology is in play; from blockchain to AI to agile supply chain to drone technology.  The use cases are all singularly focused on driving every aspect of the customer journey forcing the overall customer expectations to go higher every day
Digital experiences are being adopted at a rate we have never seen before. This in many ways is a function of the digital population reaching both scale and showing an enthusiasm for new ways of doing things.  Millennials are at the heart of pushing the adoption curves forcing everyone to try new things.  The rise of Snap, Instagram, YouTube are all examples of usage patterns reaching scale.  The opportunities to monetize has increased so significantly that good ideas find buyers much sooner, encouraging a new breed of entrepreneurship.  Data availability and advanced measurement strategies allow companies to optimize things faster, making monetization an easier endeavor than in the past.  One also has to acknowledge the role of mobile apps and devices in driving this equation at a breathtaking speed
The democratization of services driving the biggest disruption and value creation. Almost all of the major disruptions we have witnessed recently and will continue to see are primarily coming from services based disruption.  From Netflix to Uber to WhatsApp to Airbnb, to name the obvious, are all service based innovation built on improving existing service opportunities leveraging existing physical infrastructure, but by democratizing access.  And they are all closely related to point #1, customer experience, but also using the existing population in interesting ways.
Business models are rapidly changing. Who would have thought that Amazon would become the world's biggest search company and Google one of the biggest marketplace?  Business model innovation is creating new possibilities as companies get access to critical mass in various aspects of the customer journey.  For Amazon, monetizing search and advertising is now a big imperative and competing with Google an inevitability.  On the flip side, Google has to monetize its ability to sell products to customers because of its ready access to a significant customer base using its core services.
Internet of Things (IoT) is driving customer ecosystems and allowing companies to understand customer needs in near real time. Companies now have the ability to understand how their customers are using their products much more granularly and can not only improve their products and services faster but in a far more optimal manner.  For Whirlpool, GE or Bosch it means washing machines that can tell how customers are using their products when to help order supplies, use data to push repairs, understand preventive maintenance more exactly and so on.  It also means new partnership opportunities which didn't exist even a few years ago.  Everyone has probably already heard of efforts from companies like Walmart to be able to stock individual refrigerators with perishables based on customer preferences.
Smart devices becoming ubiquitous in the home and office. Amazon Echo a few years ago was a device that could do a few neat tricks, as of late the Amazon Echo has an estimated 30,000 "skills".  It's no longer smart, it is brilliant.  From controlling the temperature in your house to remotely controlling your garage door, Alexa can connect the owner to his house through an app no matter where they are physically present.  Let us not forget what this means to the connection to the vast Amazon marketplace.  With a voice command, one can order whatever they need whenever they need it.  Chances are, in the very near future, Alexa like interfaces will power every new house that is built.
Smart payments make social networks the authenticator and the new marketplace. The most evolved example of this by far is WeChat.  What started as a social network is now the basis for many in China to pay for everything, with never really needing to handle cash.  A cashless transaction processing system that is so frictionless and secure that the need for cash or credit card is almost disintermediated.  Facebook, Instagram and others have to play catch up to the possibilities this presents, but nevertheless, it is an eventuality that's around the corner as well.
Smart retail threatens to make cashiers obsolete and AR/VR dressing rooms. By now everyone has heard of Amazon Go stores where a swipe of phone allows access to the store and walking out with whatever the customer wants without the need for a "checkout".  AR/VR capabilities allow customers to experience products and services in a new way.  Customers can try on a myriad combination of products without actually trying them on, in-store and in many cases from their homes.  New partnerships emerge every day where new opportunities are created to help improve the customer experience.  Whether that is Amazon's partnership with Sears to order tires or Amazon's partnership with Kohl's to handle returns of online purchases.
Smart supply chains and last mile logistics move delivery of the good to hours. Drones dropping off what you ordered is no longer science fiction.  The fight for the last mile has never been fiercer, but it is driving a level of delivery service that is truly mind-boggling.  More importantly, it is changing the traditional formats of warehouses, distribution centers and the type of technology used by companies to fulfill customer choices.  Everything about the distribution and warehousing business we have known is being changed rapidly.  Add blockchain into the mix and now you have a trackable supply chain to a unit of one, not to mention data that describes in detail how everything travels everywhere.
Artificial Intelligence, Machine learning and Deep learning pushing predictive models to new limits. We have all probably seen what Google Duplex is doing to reservation systems.  But use cases in call centers utilizing chatbots, expert systems for configurators and needs based recommendation engines are all at the infancy of simplifying the customer's desire for simplicity and relevance.  We won't even get into use cases in drug discovery, disease management and genome research.  Whatever has complexity is fair game.
All of these are a few examples of the changing landscape of customer experience, ones that most of us have seen, experienced or read about.  The implication for companies that are not innovating and participating in these types of changes is frighteningly significant.  Customers will continue to expect a new and enhanced way of being serviced even as the current landscape is changing rapidly.  What are the broad implications and actions?
Intense focus on customer experience is not a matter of choice but table stakes. Reality is that most companies are far behind in their technology, and making changes are not cheap.  Real prioritization of resources in building next-generation capabilities is essential for just competing in the future, let alone deriving competitive differentiation.
Having direct relationships with your end-user customers is important from the standpoint of understanding their preferences in real time and possibly monetizing these relationships as services and offerings in the future. Ultimately the degree of separation will continue to reduce and the inability for companies to properly understand, measure and effect changes will be a source of competitive disadvantage.  In some cases, this may be difficult to do directly but one has to find other ways of getting access to such information through deeper partnerships or through the use of proxies.
Business models are evolving and changing every day. What used to work in the past will not necessarily work in the future.  Capital expenditure for infrastructure, platforms and people have to be thought through properly so agility to adapt to new changes and ability to make new changes is easier.  Being struck in inflexible systems and processes will cost time, money and market share.  Newer ways of evaluating and benchmarking the business are crucial for companies to be successful in the future.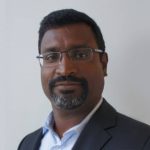 Ajit Sivadasan manages the Global Web strategy for Lenovo across 90+ countries. In his role, he manages Lenovo's substantial online sales and marketing across its B2C and B2B channels globally. Over the last 12 year, he has architected and built Lenovo's web capabilities working with an internal team spread across 15+ countries, growing the business over 6x and profits by over 10x. Lenovo.com has won several awards for Usability and Design globally.
Ajit holds a bachelor's degree in Industrial Engineering from India, an MS in Industrial Management from Northern Illinois University and an MBA from Claremont Graduate University's Peter F. Drucker School of Management.