Today's consumers have higher expectations for customer experience than they have ever had in the past.  They expect convenience, customization and an effortless customer experience. This means brands must continually look for new ways to elevate that experience, especially as the experience crosses digital channels. Great customer experiences differentiate your brand, creating more loyal customers with higher lifetime value, and can turn customers into brand advocates. To enable these great experiences, brands are increasingly turning to AI-powered chatbots to assist in customer service.
As in personal relationships, every moment impacts the overall relationship. Positive, memorable moments can create lasting impressions. In the interactions with your customers and prospects and you can now deliver these memorable moments to customers over time, across devices, and across channels. Intelligent chatbots can not only serve customers in their primary channel (e.g. text, chat, etc.) but can also effortlessly transfer the conversation, with context, to another channels. Using artificial intelligence, companies can use past behavior and interactions to understand, anticipate and act on consumer intent. This understanding of consumer intent enables them to offer better recommendations and resolve issues faster than they otherwise could without that understanding.
If you have not interacted with a chatbot before, you might be surprised how similar the experience is to interacting with a human. In fact, many consumers cannot tell whether they are actually interacting with a human or a bot. Apart from helping companies offer timely resolution to problems, intelligent chatbots can also augment the brainpower of a human being by predicting consumer intent and transferring context. This way, when a chat is escalated to a human, the human can instantly pick up where the bot left off. Some AI-powered chatbots even possess the ability to understand customer emotions during an interaction and respond to it empathetically just like a human agent would.
Automated Introduction
The chatbots are far from a new technology, but they are experiencing newfound applicability to customer service as the result of Artificial Intelligence. Traditionally, the businesses have collected tremendous amounts of data on their customers, but in most cases, the data has existed in silos. But  now because of AI, that data can be extracted from the silos, processed and distilled into actionable consumer intent. And, those intent models can be applied to various common customer journeys right from buying an airline ticket, renting a car to returning an item purchased at a store. Because of this new applicability, Opus Research now forecasts that spending on enterprise Intelligent Assistants or AI powered chatbots is on its way to exceed $5.5 billion by 2021.
As the market for intelligent enterprise chatbots explodes and enterprises race to deploy them, there is still many confusion in market about what bots are as well as what they can do. To reduce these confusion, it is important for brands let customers know that they are interacting with bots in order to ease the customer in to interacting with a chatbot, and slowly build trust over time.  For instance, some bots may do simpler things like display your bill, while others may help you shop based on what you are looking for. Such type of transparency helps in minimizing any negative sentiments that arises when consumers believe they are interacting with a person only to find out later that they are interacting with a bot.
All Bots are Not Equal
Bots that are capable of providing "near human" interactions are known as  virtual assistants or virtual agents, and they are designed to replicate the effectiveness of a company's best human agents. They can be deployed across a range of interfaces including web, mobile, social, messaging app, Apple Business Chat platform, voice response and SMS, offering customers the convenience of customer service at the time and device of their choice.
While some bots may claim AI capabilities, each one of them differs greatly in intelligence, and also the type as well as amount of data they process can effect how a business would include them into their day-to-day operations. When enterprises design the bots to operate in a certain context (e.g. utilities, mortgages, mobile operators), they are better put to support the conversation since they are specifically designed for journeys within the industry. For example, bots developed for travel apps can be uniquely designed for that app, and built on years of data about how customers have interacted with other travel companies before.
These intelligent chatbots have the capabilities to help businesses get the most out of the bot deployment – integrating with enterprise system, leveraging big data as well as using artificial intelligence as a customer-facing solution to solve issues, complete transactions as well as accomplish basic to complicated tasks. Therefore,  a chatbot is able to engage customers seamlessly as well as holistically, based on the consumer's intent, and then deliver and gain new purchase paths.
Creating Near-human Experiences with Bots
There is a common misconception that bots as well as humans work independently to guide the consumers meet their needs, but the opposite is true. Not all customer journeys can or should be automated, and more and more organizations are finding that the best journeys are those that feature AI and human agents working side by side to seamlessly solve a problem. Artifical intelligence technology is still critically dependent on humans to be successful, and also at the same time, it has been proven to augment the ability of human agents to better serve customers. With blended experiences, agents train bots, and bots assist agents to guide customers down the shortest and easiest path to resolution. The reduced average handle time allows human agents to handle more tasks, makes them more productive and also allows them to focus on more complex tasks as the bot can take care of the mundane tasks under agent supervision.
Today's most advanced bots can even be integrated with business systems to perform a variety of tasks on behalf of the consumer.
Especially, advanced chatbots can improve the customer experience in different ways-
Intent Recognition and Prediction: Intent recognition leveraging predictive technology can identify the intent of the customer and also recommend the best next step on their journey. Predictive technology can also be used to predict the consumer's next question and provide agents with the most suitable resolution path in advance of the customer asking.
Natural Language Processing: Customers can type in natural language and will be given the accurate and appropriate response.
Personalization: Customers who are logged-in to a site can be served a more relevant as well as personalized journey based on their online behavior, account information, shopping cart status and other.
Continuous Experiences: Live agents entering the journey will be informed of the customer's prior interactions so that customers never repeat themselves, thereby providing a continuous experience. And, as agents discover new content that the artificial intelligence system should handle, they can also input it, so the system is constantly learning.  Tagging is one example of how this is executed. This way, the system will be continuously tweaked to perform better and handle a growing breadth of issues over time.
Rich Media: Chatbots can share all kinds of rich media such as links, videos, forms, photos, and others with customers right in the messaging window.
Targeted Marketing Offers: Predictive technology can be used to deliver targeted marketing offers to customers at the appropriate time, at moments when they are most likely to want to buy, driving incremental revenue.
Deliver the Type of Intelligent, Automated Conversations Customers Need
Today, brands have to guarantee that they enable customers to effortlessly engage with their company across channels, time, and devices without having to start over. And in many cases, it is the chatbot that is the first point of contact for customers, giving them the option to self-serve and complete their journey. This is also leading to higher expectations of customers from the chatbots they interact with and the only way to meet the expectation is through deployment of the right chatbot technologies that map customer journeys, predict their intent and offers a personalized experience across channels and time. AI powered intelligent chatbots are the way to go in delivering these effortless and memorable customer experience.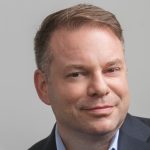 Scott joined [24]7 in 2015 as the Chief Marketing Officer and brings over 20 years of global marketing experience with leading technology companies. Prior to joining [24]7, he was the VP, Global Marketing for Seagate Technology, a global storage technology leader, where he drove revenue with a redesigned product line strategy, focused digital and demand marketing efforts on enhancing customer acquisition and loyalty and spearheaded the company's rebrand from a component manufacturer to a technology solution provider. Previously, he spent 17 years in Seattle at Microsoft in marketing and product development roles across various lines of business, including Windows Phone, Windows Embedded and Developer Tools.