We often hear about the Cloud as a "technology disrupter" — but for those who know how to benefit from that disruption, the Cloud becomes an "opportunity creater."
Starting a telecom business was once only possible for a privileged few, since infrastructure costs are prohibitive.  But using today's cloud-based switching and billing requires zero capex for hardware and software.  Entrepreneurs can easily start their own Hosted PBX business harnessing the power of the Cloud.
How big is the opportunity?
The global Hosted PBX market is sized at over USD 5 billion and growing fast.
Industry experts Global Markets Insights sized the Hosted PBX marketplace at over USD 5 billion in 2020, poised to grow at over 12% CAGR between 2021 and 2027.  Another analyst, Technavio, expects the growth rate to be even higher (13%) with more than half the growth coming from outside the US. Bottom Line: The growth opportunity for Hosted PBX exists worldwide!
Other trends contributing to this phenomenal growth:
International Calling is Growing
International traffic grows as more businesses than ever need to communicate across borders.  For Hosted PBX providers, international calling is a handsome revenue source, as well as an incentive for your customers to move away from high-cost legacy telecom providers.  The more a company calls internationally, the more attractive cost-effective VoIP will be.
Popularity of Portable Devices
Once upon a time, when an employee was away from their desk, they could not make or receive calls.  Multiply this by several weeks of vacation, sick days, holidays, business trips, and even simpler things like lunch breaks and bathroom trips.  All this factored heavily into decreased revenue opportunities if your service is tethered to a physical desk.  The world has changed, and today smartphones and tablets have made the "Mobile Extension" a standard part of Hosted PBX service.
The Need for Remote Work Solutions
In our post-pandemic world, the "new normal" requires businesses to turn on a dime when the unexpected arises.  If the office is inaccessible to employees today, will it re-open tomorrow?  Next week?  Next Spring?  Companies need the ability to route (and re-route) calls as their situation changes.  Once your customers get used to this flexibility, they are unlikely to give it up.  Ever.
Unprecedented Bandwidth Speeds
With broadband becoming more affordable, most businesses already have the connectivity they need to enjoy VoIP calling for Hosted PBX.  The famous "Moore's Law" explains how technology advances over time.  This law was named after Gordon Moore, Intel's founder.  While named after Moore, perhaps a better name would be "more" – more speed, more computing power, and (or course) more bandwidth as time progresses.
Why is Hosted PBX attractive to business customers?
As the name implies, Hosted PBX is a cloud-based solution where its sophisticated intelligence and functionality resides within the provider's network, outside the customer's premises.  This means no bulky equipment to house or maintain on-premises.  From an end user's point of view, it all happens "out there" somewhere.  But where is out there?  Today, it could be anywhere.  VoIP is global, and your softswitch can even reside on another continent.  For example, since 2002 Telinta has served customers on every continent.
The more advanced softswitch providers deploy a global network of Real-Time Transfer Protocol (RTP) servers in key markets.  Setting this trend, Telinta's main infrastructure is deployed in a Tier-1 datacenter near Manhattan, with additional facilities in Bangalore, Dallas, Frankfurt, London, New York, Newark, San Francisco, Singapore, Toronto, and Tokyo.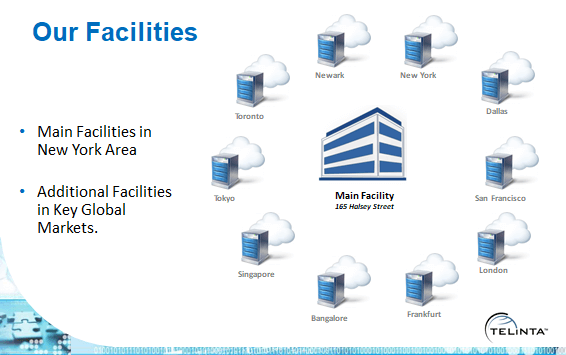 Different Hosted PBX types
Hosted PBX comes in two major types: Full-Featured Hosted PBX and Virtual PBX.
Hosted PBX is extremely flexible and can be configured to include a vast array of features and capabilities customized for your users' needs.  For example, Telinta's Hosted PBX solution includes over 60 different features, capabilities, and add-on solutions.  In short, Hosted PBX brings something for everyone.
Two categories:  Full-Featured Hosted PBX and Virtual PBX.
Most providers and users are likely already familiar with this, where the user's business has a physical location, with IP phones sitting atop each and every desk.  The customer likely has an IT staff or other Administrator who (via a self-care portal) can add/delete extensions, make minor changes, and other tasks.
How many PBX features do you need to offer?
More is better.  Why?  Even if your customers never (ever) use a feature, if you offer that feature and your competitors do not, it makes your PBX business look superior.
Popular features:
Class 5 Features (Call Forwarding, Call Waiting, etc.)
Voicemail
Auto-Attendant/Virtual Receptionist ("Press 1 for sales, 2 for Support.")
Dial-by-Name Directory
IVR (multiple languages, with options for users to record their own)
Customizable Music on Hold
Hunt Groups and Call Queues
Voicemail to Email (audio file attachment)
Voicemail Transcription (text)
Fax to Email / Email to Fax
Auto-Provisioning
Full-Featured PBX requires IP Phones, so service providers will need quick and easy ways to deploy those phones, and Auto-Provisioning is the key.  Providers who can provision phones with automated solutions have a significant advantage, since they avoid manual provisioning and installer visits.  Less truck rolls equals more profits.
With Auto-Provisioning, the service provider builds their inventory of IP Phones, entering MAC address and other details into their provisioning interface.  Telinta enables its customers to use the same Administrative Interface for provisioning which is used for other key functions like billing and call routing, so that no third-party interface is needed for provisioning any number of phones, large or small.
When the device is plugged into an IP network at the customer prem, it reaches out to Telinta's platform to download a complete provisioning profile.  Users merely power the phone and attach the Ethernet cable, and the cloud-based provisioning tools do the rest.
With Auto-Provisioning Profiles for hundreds of popular IP devices, Telinta's Auto-Provisioning solution can be used for not just provisioning, but also for firmware updates and other functions.
Virtual Hosted PBX
Virtual PBX providers can serve customers across town, across the country, or around the world.
While business customers with physical locations have IP Phones on their desks, what about small and home-based businesses using virtual locations?  Small businesses don't want to "look small" so they seek features used by larger companies, for example, an Auto-Attendant.
Virtual Hosted PBXs enable users to sign up online via a series of self-serve portals to select their own phone number, configure extensions, route calls, and more.  While some PBX providers focus on a single city, a Virtual PBX provider can serve customers across town, across the country, or around the world.
Telinta's unique Virtual Office solution won two prestigious industry awards.  Virtual Office is unique in two ways.  First, it is totally "self-service" for the user.  Second, users can enjoy PBX features using their existing analog landline or mobile phone, without IP Phones.
Why is Offering Hosted PBX Important?
Many forms of telecom have been eroded away by freemium services like Skype.  (When was the last time you used a calling card?)  Hosted PBX is different though, as it offers features above and beyond basic voice and chat.  PBX features are here to stay, and providers can profit from its growth.
Whether your PBX service provider business is just starting out, or already established, Telinta has white label cloud-based solutions that can help you and your resellers to grow.  Our TeliCoreTM hosted softswitch and billing platform is the largest of its type, anywhere in the world.  Visit us at telinta.com to learn more.